Retirees lose out on up to £12,000 by not shopping around for best pension deals
Pensioners are potentially missing out on thousands of pounds worth of income in retirement when they don't shop around for the best annuity deal. We explain what to do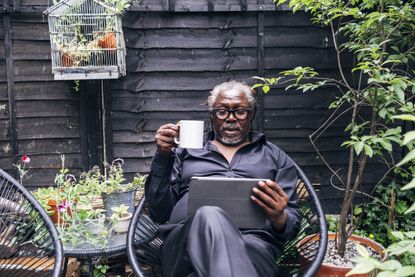 (Image credit: Getty images)
Retirees are missing out on up to £12,000 if they blindly accept their pension provider's annuity option, otherwise known as a guaranteed income for life, and are being urged to shop around.
You could lose out financially and have a worse standard of living in retirement if you do not actively seek the best annuity rate available to you, according to retirement specialist Just Group.
The cost of not shopping around in this competitive market can be high. The difference between the best and worst providers can be up to 16% a year in extra income, its highest level for four years, says Just Group.
A 65-year-old who is in good health with a pension pot of £50,000 would get £3,378 a year from the best annuity deal compared to £2,900 for the worst deal. That means missing out on an extra £478 per month - or £12,000 over 25 years - if you choose the worst annuity deal.
Nick Flynn, retirement income director at the investment and pensions firm Canada Life, said it is crucial to shop around: "With annuity rates currently at a near 14-year high, using some of your pension fund to lock in an annuity could make sense. Providers competing in the open market for business will always try to offer the best rates, so it will always pay to shop around for not only the best rate, but also the right type of annuity.
"That extra work will reap dividends as you will then have the confidence that not only have you achieved the best rate, but also you have the right protections by way of guarantee for your loved ones."
Stephen Lowe, group communications director at Just Group, pointed out that the chances of your own pension provider offering the best deal are small.
"It could be an expensive mistake to assume either that the existing pension provider will offer a competitive rate or that [not shopping around] will not make much impact," he added. "At a time when budgets are squeezed, this extra income could make a sizeable difference in the standard of living pensioners are able to afford both now and in the future."
You may also be able to get a bigger annuity - and therefore a higher income from your pension pot – if you provide health and lifestyle information. Some annuity providers use people's health and lifestyle information to calculate the rates offered, but not all.
You should ask your pension provider if it is using this information as this could provide a significant increase in retirement income, said Lowe.
If it is not using your medical and lifestyle data, then you could move to one that does.
Once you buy an annuity, you can't change your mind - so it's even more important to shop around for the best rate.
We explain everything you need to consider.
Shop around to get the best pension deal
Remember, once you've bought an annuity, you cannot change your mind or switch to another deal.
Flynn said getting actual annuity quotes to consider is the first step because at least then you will know exactly what is available in the market.
"This should take into account you and any spouse's health details, even modest health issues will make a huge difference to the rates available. In addition, get quotes with numerous options. Being fully informed of all the options is without doubt the best first step. And never accept the offer from your existing pension company at face value," he added.
The government-backed MoneyHelper service provides a free annuity calculator. There are also short videos of people describing their experience of buying a guaranteed income for life on the website, as well as impartial guidance on pension issues such as avoiding paying extra tax or identifying scams.
You can also use a professional adviser or broker who will take your health and lifestyle into account – this way you should at least receive the best possible rate for you.
Fully disclose your medical history and any medication you are receiving plus personal information such as height, weight and alcohol consumption as this can make a big difference.
Can I claim mis-sold pension annuity compensation?
Your pension provider should inform you that you are entitled to shop around for a better annuity rate, and not automatically sell you one of its own deals.
If your provider failed to do this or failed to inform you that you qualified for an enhanced annuity deal, you may be entitled to claim compensation.
Here are four questions to ask yourself if you think this may be the case:
Were you suffering from a medical condition when you purchased your annuity, which your pension provider or financial adviser failed to ask questions about?
Did they fail to ask you about your lifestyle habits, such as smoking and drinking habits, before you bought your annuity?
Did your pension provider or financial adviser fail to tell you that a better deal may be available through another provider?
How to make a complaint about a mis-sold pension annuity
If you think you may be able to claim compensation, you'll need to dig out any paperwork you have relating to your annuity. Don't worry if you can't find it all. Advisers are supposed to document all aspects of the advice process and sale.
You usually have six years to complain to the following:
Go to the pension provider or financial adviser first: Tell the firm you're not sure if the advice it gave was best for you and ask it to investigate. If the pension provider or adviser has gone into administration, make a complaint to the Financial Services Compensation Scheme, which takes on complaints relating to failed firms.
Go to the Financial Ombudsman Service if you get no result with the pension provider or financial adviser. If you win, the Ombudsman will force the firm to put you in the financial position that you would have been in had you been correctly advised.
Avoid claims management companies. These firms make complaints for you and charge as much as 20% of any sum you get back.
Look After My Bills Newsletter
Get the best money-saving tips, tricks and deals sent straight to your inbox every week. Make sense of your money in partnership with The Money Edit.
Katie is staff writer at The Money Edit. She was the former staff writer at The Times and The Sunday Times. Her experience includes writing about personal finance, culture, travel and interviews celebrities. Her investigative work on financial abuse resulted in a number of mortgage prisoners being set free - and a nomination for the Best Personal Finance Story of the Year in the Headlinemoney awards 2021.