Retirees lose out on £7,800 by not shopping around for best pension deals
Pensioners are being hit by a 'torpor tax' and potentially missing out on thousands of pounds worth of income when they don't shop around for the best annuity option. We explain what to do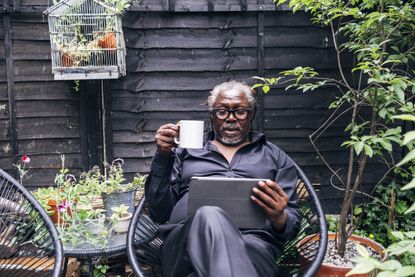 (Image credit: Getty images)
Retirees are missing out on up to almost £8,000 if they blindly accept their pension provider's annuity option, otherwise known as a guaranteed income for life, and are being urged to shop around.
Accepting your own pension provider's offer rather than actively seeking the best rate available to you means being hit by the so-called 'torpor tax', according to retirement specialist Just Group (opens in new tab).
And the torpor tax can be hefty. The difference between the best and worst providers can be up to 15% a year extra income, according to research by Just Group. It means on a pension of £50,000 that would be £206 a month in income instead of £180. This is equal to £7,800 in extra income over 25 years.
The research found that two-thirds of retirees are also likely to successfully get more income - also known as the annuity rate - by shopping around for 'personalised' rates that take their health and lifestyle into account.
"Not shopping around for that extra income – cash that will be paid every month for as long as you live – is like accepting a 'torpor tax' that should enrage people who are losing out," said Stephen Lowe, group communications director at Just Group.
Becky O'Connor, Head of Pensions and Savings, interactive investor, said: "The saying 'every penny counts' is never more true than when you are retired and on a limited income. This is exactly what you get when you buy an annuity - guaranteed income for life, in exchange for some or all of your pension pot.
"So it's really important, if going down the annuity route, to shop around and make sure it's the best value one out there. It's a decision that could literally affect the rest of your retirement and could leave you out of pocket for years, especially during times like these, when inflation is rising rapidly. The difference between the best and worst value annuities could literally mean the difference between struggling and being comfortable," she added.
You only get to buy an annuity once - so it's all the more important to shop around before taking money from your pension. Once you buy an annuity you can't change your mind.
We explain what to consider.
Shop around to get the best pension deal
Remember, once you've bought an annuity, you cannot change your mind or switch to another deal. You get one chance at this so it has to be the right decision for you.
There's a free annuity calculator (opens in new tab) from the government-backed Moneyhelper (opens in new tab) service. There's also short videos of people describing their experience of buying a guaranteed income for life on the website as well as impartial guidance on pension issues such as avoiding paying extra tax or identifying scams.
You can also use a professional adviser or broker who will take your health and lifestyle into account – this way you should at least receive the best possible rate for you.
Fully disclose your medical history and any medication you are receiving plus personal information such as height, weight and alcohol consumption as this can make a big difference.
"The age that is important when considering your income is your biological age rather than your calendar age," said Stephen Lowe. "By understanding your personal situation rather than assuming you are in good health, pricing can more fairly reflect your situation."
Can I claim mis-sold pension annuity compensation?
Your pension provider should inform you that you are entitled to shop around for a better annuity rate, and not automatically sell you one of its own deals.
If your provider failed to do this or failed to inform you that you qualified for an enhanced annuity deal, you may be entitled to claim compensation.
Questions to ask yourself if you think this may be the case for you:
Were you suffering from a medical condition when you purchased your annuity which your pension provider or financial advisor failed to ask questions about?
Did they fail to ask you about your lifestyle habits, such as smoking and drinking habits, before you bought your annuity?
Did your pension provider or financial advisor fail to tell you that a better deal may be available through another provider?
How to make a complaint about a mis-sold pension annuity
If you think you may be able to claim compensation, you'll need to dig out any paperwork you have relating to your annuity. Don't worry if you can't find it all. Advisers are supposed to document all aspects of the advice process and sale.
You usually have six years to complain to the following (opens in new tab):
Go to the pension provider or financial advisor first: Tell the firm you're not sure if the advice it gave was best for you and ask it to investigate. If the pension provider or adviser has gone into administration, make a complaint to the Financial Services Compensation Scheme (opens in new tab), which takes on complaints relating to failed firms.
Go to the Financial Ombudsman Service (opens in new tab) if you get no result with the pension provider or financial advisor. If you win, the Ombudsman will force the firm to put you in the financial position that you would have been in had you been correctly advised.
Avoid claims management companies. These firms make complaints for you and charge as much as 20% of any sum you get back.
Additional reporting from PA
Katie is staff writer at The Money Edit. She was the former staff writer at The Times and The Sunday Times. Her experience includes writing about personal finance, culture, travel and interviews celebrities. Her investigative work on financial abuse resulted in a number of mortgage prisoners being set free - and a nomination for the Best Personal Finance Story of the Year in the Headlinemoney awards 2021.