Paying at the pump: why is my payment card pre-authorised for up to £120 when I fill up?
If you choose to 'pay at the pump' when filling up with fuel, your payment card could be pre-authorised for up to £120. We explain why this happens and what it means for motorists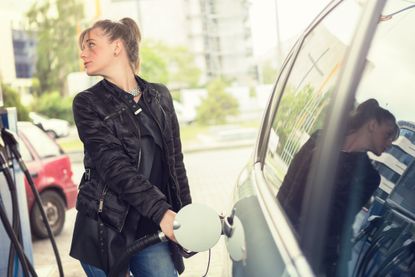 (Image credit: Getty images)
With fuel costs still high, we're all looking at ways to keep costs low as possible - but has paying at the pump left you worried that you have paid too much for fuel?
If you choose to 'pay at the pump' when filling up with fuel, your payment card could be pre-authorised for up to £120. We explain why this happens and what it means for motorists.
Paying at the pump means your credit or debit card is checked before you fill up to ensure you're good for the money.
This process of 'pre-authorising' customers' payment cards was introduced in 2021 and applies to all fuel providers with 'pay at the pump' services.
Payment providers like Mastercard and Visa set the rules not the supermarket forecourts or individual petrol stations.
A Mastercard spokesperson said: "Banks, card schemes and petrol stations are working together to update and improve the way payments are made at 'pay at pump' sites. The new process is designed to protect customers by ensuring they can't fill up with more fuel than they can pay for."
The amount ring-fenced used to be just £1, before increasing to £100, and is now up to £120, according to UK Finance. Some petrol retailers, including Tesco, previously had a £99 pre-authorisation amount.
However, there seems to be confusion among motorists over how the system works, with Tesco hitting the headlines after some drivers claimed they had been 'charged' £120 when filling up with far less fuel.
What is pre-authorisation and how does it work?
If you choose to pay at the pump, your card will be checked and pre-authorised for up to £120 before you can fill up. Some petrol retailers may request a lower amount.
When you have finished filling, the correct amount due for the fuel taken should be charged to your card. Any remaining reserved amount should be immediately released back to your account, according to Mastercard and Visa.
This means if your card is pre-authorised for £120, but you only fill up with £50, the remaining £70 should be immediately released.
Why does it look like I've paid £120?
Visa says that if you're using a mobile banking app, you may see two 'pending' transactions. This is both the 'funds check' amount along with the actual amount charged for the fuel.
However, a spokesperson said: "The funds check will not leave your account and you will only be charged the amount displayed on the pump when you finish."
The chief executive of the British Retail Consortium, Helen Dickinson, wrote to Visa, Mastercard, UK Finance and several of the major banks when the scheme launched, to express concern about the confusion and frustration it can create for customers.
"Banking apps can be slow to update after customers have finished fuelling and the real transaction value has been processed. Some customers see two transactions, for the estimate and for the actual amount of fuel purchased, resulting in financial distress."
If you have any problems – for example if your card issuer hasn't updated your balance quickly enough and the ring-fenced amount is still showing – you should contact your bank or card company directly.
What happens if I don't have £120 in my account?
If you don't have the full pre-authorised amount in your account, you can still fill up to a certain limit.
A spokesperson for UK Finance said: "If a customer's account balance is less than £120, this is communicated to the petrol pump by their bank or card company, enabling only that amount of fuel to be dispensed."
The pump will automatically cut out when the approved amount of fuel is reached.
How can I pay if I don't want my card pre-authorised?
The pre-authorisation process only happens if you opt for the pay at the pump option at petrol stations.
If you prefer not to do this, make sure you use a petrol station with a kiosk where you can pay in person, which means your card won't be pre-authorised.
It's worth knowing that pre-authorisation on cards isn't exclusive to petrol stations, as some hotels or car hire companies may do this too.
Read more
Sue Hayward is a personal finance and consumer journalist, broadcaster and author who regularly chats on TV and Radio on ways to get more power for your pound. Sue's written for a wide range of publications including the Guardian, i Paper, Good Housekeeping, Lovemoney and My Weekly. Cats, cheese and travel are Sue's passions away from her desk!