Revealed: £263 million of unused credit on TFL Oyster cards - how to get it back
If you had a TFL Oyster card and no longer use it, then here's how to get your money back on unused credit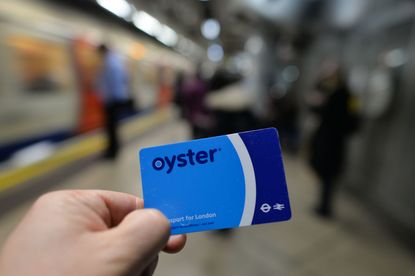 (Image credit: Getty images)
Look After My Bills Newsletter
Get the best money-saving tips, tricks and deals sent straight to your inbox every week. Make sense of your money in partnership with The Money Edit.
Thank you for signing up to The Money Edit. You will receive a verification email shortly.
There was a problem. Please refresh the page and try again.
Figures obtained by The Money Edit reveal a staggering £263m sitting on unused Oyster cards.
If you have a Transport for London Oyster card that you haven't used for more than 12 months, you could claim back a share of £263m that's estimated to be sitting on them.
According to Transport for London data, seen by The Money Edit, of the £263m, around £218m of it is in pay-as-you-go credit.
Guy Anker, director of The Money Edit, says: "This is a staggering amount of unclaimed money that people may have forgotten about given so many commuters now use payment cards or their phone instead of Oyster cards when they travel.
"If you have an Oyster card in your wallet, or gathering dust in a drawer, check if you've unused money sitting on it and claim it back or use it instead of a payment card or phone next time you travel, as it's your cash. With the cost-of-living crisis biting hard for so many people, every penny counts."
With the growth of contactless payments and the impact of the pandemic on commuting, the Oyster card is in decline. Many commuters are choosing to tap their phones or debit cards when they travel on London's public transport.
The Oyster system is still essential for those who are entitled to a Freedom Pass, other discounted travel rates, for example for teens, and visitor cards convenient for international travellers that require no registration. Many people also prefer to keep money on a spare Oyster card in case friends or family need it when they visit.
But, if this isn't you and you have an Oyster card lying around that you no longer need, then here is everything you need to know about getting a refund on your Oyster card.
Oyster card refunds: how much could I claim?
There are almost 70 million Oyster cards that have not been used for at least 12 months. Data shows the average amount of money stored on an unused standard Oyster card is £3.13. It means depending on the deposit you paid to activate the Oyster, an average card could be worth £6.13 or £8.13.
You can check how much you have on your Oyster card by checking your account online or tapping on a ticket machine. You can also call TfL on 0343 222 1234 - but charges may apply.
How much deposit you paid will depend on when you got your card. Oyster cards issued before 2011 had a £3 deposit while those afterwards had a £5 deposit. Any card purchased after February 2020 had a £5 charge rather than a deposit – with TFL crediting you the £5 back after a year providing the card is still being used.
Of the £263m in total on these 70 million cards, £218 million is pay-as-you-go credit. This figure goes back to the beginning of the Oyster card scheme in 2003. The figures also include those which may have been lost during that time but not reported as lost as they weren't registered
How to get money back from an unused Oyster card
The credit on an Oyster card never expires so you can claim back unused credit plus the £3 or £5 deposit anytime by several means.
In the station: You can get a refund at any London transport station ticket machine provided your pay-as-you-go balance is less than £10. Touch your Oyster on the yellow card reader. Select 'Oyster refund' and follow the instructions to get a refund in cash. You can get a refund of up to £10 plus your deposit this way.
By phone call: You can also get a refund by calling TFL on 0343 222 1234 which is open from 8am to 8pm, seven days a week. You'll need your Oyster card number which is a 12-digit number on the top right hand corner of the white side of the card.
Online refunds are currently not possible. TFL has suspended online refund applications but hopes to reinstate this option in the future.
If you are feeling charitable you can also donate your old Oyster card to TFL's nominated charity the Railway Children. The charity raises money for vulnerable children in the UK and abroad. If you request a refund from your Oyster card on a TFL ticket machine you will see an option for 'charity refund'.
What if my Oyster card is lost, stolen or broken?
If you lose or break your Oyster card, TFL will transfer your credit to a new Oyster card and cancel the old card - you'll need to sign into your TfL account, select the card, click on 'Report card lost, stolen or failed' and follow the instructions. Alternatively, you can call TfL customer services on 0343 222 1234.
If you never registered your lost or broken card, then you'll need to open a free TFL account and register your new card when you receive it because if your card isn't registered you cannot get a refund or a replacement.
Look After My Bills Newsletter
Get the best money-saving tips, tricks and deals sent straight to your inbox every week. Make sense of your money in partnership with The Money Edit.
Katie is staff writer at The Money Edit. She was the former staff writer at The Times and The Sunday Times. Her experience includes writing about personal finance, culture, travel and interviews celebrities. Her investigative work on financial abuse resulted in a number of mortgage prisoners being set free - and a nomination for the Best Personal Finance Story of the Year in the Headlinemoney awards 2021.