O2 scam call: 40% discount and free upgrade scams
We explain how the O2 scam call works, how to spot it and how to stay safe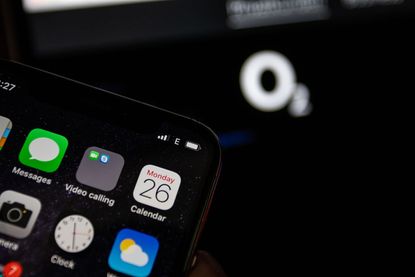 (Image credit: Ant Palmer / Getty images)
Look After My Bills Newsletter
Get the best money-saving tips, tricks and deals sent straight to your inbox every week. Make sense of your money in partnership with The Money Edit.
Thank you for signing up to The Money Edit. You will receive a verification email shortly.
There was a problem. Please refresh the page and try again.
Mobile phone users are being warned about a "dramatic increase" in scam calls from fraudsters offering a free upgrade to an expensive handset or a 40% saving off their bill.
The latest convincing scam involves fraudsters taking control of a customer's phone account and ordering an expensive device for themselves. In some cases, the victim's bank account is hacked, and security text messages from their bank intercepted by the scammer.
Mobile network O2 told The Money Edit it had seen "a dramatic increase in the numbers of 'account takeover fraud attempts' being reported to us".
It is urging customers to take care, especially during the cost of living crisis when money is tight and households may be tempted by discounts or special offers. Phone network providers may also be calling their customers with legitimate deals following the arrival of the new iPhone 14 - making a scam even more difficult to detect.
Here we explain how the scam works, how to spot it, and what to do if you're scammed.
How does the 40% discount O2 scam call work?
The scam involves a fraudster impersonating a phone network provider and phoning the customer out of the blue with an exciting offer of an exclusive time-limited deal. They pressure the customer to upgrade to the latest handset or grab a huge 40% discount on their airtime plan.
A code is sent by text message to the customer's phone, and the scammer urges them to read it out.
If the code - known as an OTAC, which stands for one-time authorisation code - is handed over, the scammer can order a new phone using the customer's bank details.
The device is sent to the customer's address, but a criminal gang will either intercept delivery, or a fraudster dressed as a courier will visit the address after the delivery, saying the wrong device was delivered and the customer should hand it over and the correct one will be re-sent. Alternatively, the scammer will call the customer again, telling them to post the phone to an unofficial address.
Can the scammer access my bank details?
Once a fraudster gets their hands on an OTAC sent by a network provider, they can sign into the customer's mobile phone account.
The fraudster can then purchase a new device using the existing payment information held there, and view the customer's sort code and account number. These bank details could be used to commit further offences.
Another common fraud attack when the customer shares their OTAC is the SIM-swap scam. This is where the scammer takes control of the victim's mobile number. They can then intercept text messages from the victim's bank, authorise payments and transfer the victim's money into a fraudulent account.
How can I protect myself from falling for the scam?
The most important advice is never to share your OTAC. Phone network providers will never ask you to read it out over the phone.
As with any scam, always be wary of unexpected calls - even if they claim to be your provider, and know some of your personal information. If a deal seems too good to be true, it probably is.
According to CIFAS, the fraud prevention service, calls from scammers will often be poor quality (the line might be crackly, or you may not be able to hear them clearly). It also advises being cautious if you receive a call telling you the wrong phone has been sent, as it's unlikely a genuine company would do this.
O2 is running a fraud awareness campaign:
Clam Up (stop talking, don't share your OTAC, and don't confirm any details)
Hang Up (put the phone down)
Call Back (customers can call their providers directly from their mobile to verify the call - O2 customers call 202, Virgin Mobile customers call 789 and Virgin Media customers call 150).
An O2 spokesperson said: "With fraud on the rise and scammers using increasingly sophisticated tricks to defraud people, anyone can become a victim so it's more important than ever that people know how to stay safe."
"I almost fell for it"
Last month I was called by someone saying they were from O2. They're my network provider, and I sometimes receive marketing calls from them, for example offering me an upgrade, so it didn't seem odd they were ringing me.
The man said he was calling from "O2 Telefonica", which sounded rather formal - why not just say "O2"? He said I was entitled to a 40% discount on my monthly bill. This sounded great - who doesn't want to save money on their mobile bill?
I was distracted when I received the call, and I couldn't hear the man particularly well, but he mentioned I would receive a code from O2. I heard a "ping" as the text message came through, which made me think it must be a legitimate call if I've received a code from O2.
However, the text message said: "*SECURITY WARNING* The one-time code you requested will arrive shortly. If someone's calling you and asking for a code, please end the call because they DO NOT work for O2."
As I read this, I could hear the man saying "Has the code come through?"
I then heard another "ping" and a text arrived with the code, repeating the message to "NEVER share this code, even with O2 staff".
I hung up immediately.
I felt shaken that a fraudster had targeted me, and that if I hadn't received O2's warning, I could have become a victim.
What happens if I fall for the scam?
O2 says it will refund any customers who fall for the scam and report it. It may be able to block the order, or if the phone is already in the hands of the fraudster, O2 will start an investigation.
If it believes it was fraud, it will write off the cost of the device, and the customer will not be out of pocket. It will also ensure any impact on their credit file is cleared.
For more on how to report a scam and tips on getting your money back, or understand what the latest Amazon scams, Royal Mail scams, Post Office scams and Whatsapp scams look like.
Look After My Bills Newsletter
Get the best money-saving tips, tricks and deals sent straight to your inbox every week. Make sense of your money in partnership with The Money Edit.
Ruth Emery is contributing editor at The Money Edit. Ruth is passionate about helping people feel more confident about their finances. She was previously editor of Times Money Mentor, and prior to that was deputy Money editor at The Sunday Times. A multi-award winning journalist, Ruth started her career on a pensions magazine at the FT Group, and has also worked at Money Observer and Money Advice Service. Outside of work, she is a mum to two young children, a magistrate and an NHS volunteer.