New Gov.uk scam email: stay alert to the latest scam tactic
Gov.uk scam emails will try anything to deceive you, including pretending to be from a real civil servant. Here's what you need to watch out for.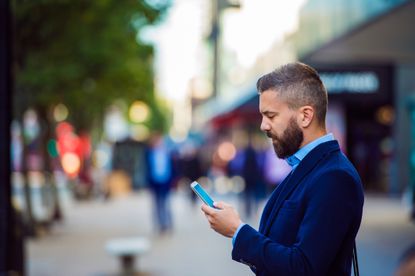 (Image credit: Getty Images)
A fake email claiming that you've been sent "a new letter" that you can open "using your vehicle registration" has been circulating. It has nothing to do with Gov.uk or the DVLA.
The latest scam tactics are becoming more intricate - fraudsters will do everything they can to make you look twice at an email.
But sometimes the most effective tweaks they make can be simple and subtle.
In August we looked at a relatively straightforward email attempting to mimic Gov.uk and the DVLA.
The scam email didn't employ any extravagant graphics or promotions, instead relying on its simplicity and wording to create a sense of panic over your vehicle tax.
This style of email remains persistent, and in one of the latest we've seen it follows a familiar pattern, but this time with a twist: signing off as a real-life civil servant.
What does the Gov.uk scam email look like?
The email attempts to lure the recipient in by claiming that they've been sent a 'new letter' that can only be opened by visiting the link contained in the email itself.
It also states that you can open it 'using your vehicle registration number (number plate)', making it similar to the fake DVLA emails we've previously seen.
The URL contained in the email has nothing to do with Gov.uk or the DVLA. Visiting the site is only likely to take you to a page that could attempt to capture sensitive personal information from you, such as your bank/card details.
But this particular email employs a slightly different tactic: it signs off as 'Jim Harra', 'First Permanent Secretary and Chief Executive'.
This adds a more personal touch to the email and may encourage some people to look twice at the email - it's an attempt to add a layer of authenticity and perhaps even make you Google Jim Harra.
If you do, you'll only be greeted by confirmation that Mr Harra is indeed the First Permanent Secretary and Chief Executive of HMRC. You can view his official profile on the real Gov.uk website.
And this is exactly what the scammers want you to find when you search for his name: a real civil servant on the real Gov.uk site.
The hope is that by viewing this confirmation you will believe that the email is real, return to it and click through on the fake link.
How can I spot these fake emails?
It's important that you're not rushed or panicked by any communication that you receive out of the blue.
Take the time to look over an email and investigate where it's been sent from. If the email looks suspicious then do not follow its instructions. Instead, come away from the email and contact the department or brand it's purporting to be from on its official contact channels.
You should also inspect any URLs an email is attempting to get you to visit closely: does it really look like the genuine version of the department or brand's website? Could it be attempting to spoof the real URL by breaking parts of the name up with full stops and long combinations of letters and numbers?
Take your time and don't be rushed. If you're not sure, don't act.
I think I've been taken in by a fake email, what should I do?
As with all phishing scams, if you think you may have entered sensitive information, such as your bank/card details, into a third-party site you were taken to via a suspicious email, you need to let your bank know what's happened via its official channels ASAP.
Your bank should work with you to cancel your card, block any pending payments (if required) and refund the money you've lost.
You should also then keep an eye out for any follow-up scams that could occur if you've given contact details, such as your email address or phone number, away to fraudsters. Treat any contact you receive out of the blue with caution.
How can I report fake emails?
Fake emails and phishing websites can be reported to the National Cyber Security Centre on report@phishing.gov.uk - action can then be taken to remove these websites before anyone else falls victim.
You can also report HMRC phishing emails directly to HMRC on phishing@hmrc.gov.uk
If you're going to warn friends and family about a fake email, send them a screenshot - do not forward the email on directly.
An HMRC spokesperson said: "Never let yourself be rushed. If someone contacts you saying they're HMRC, wanting you to urgently transfer money or give personal information, be on your guard.
"Tax scams come in many forms. Some threaten immediate arrest for tax evasion, others offer a rebate. Contacts like these should set alarm bells ringing, so take your time and check HMRC scams advice on Gov.uk.
"To help us fight these crimes, forward suspicious texts claiming to be from HMRC to 60599 and emails to phishing@hmrc.gov.uk. Report tax scam phone calls to us on GOV.UK.    
"You can also contact HMRC directly but make sure you use phone numbers from our contact details on GOV.UK.
"Scam HMRC phone calls fell 82% over the last year thanks to the work of teams across HMRC. The department also saw a 76% drop in phishing email reports and an 82% drop in scam text reports.
"Since 2017, our technical controls have prevented 500 million bogus emails reaching the public."
Related articles
Look After My Bills Newsletter
Get the best money-saving tips, tricks and deals sent straight to your inbox every week. Make sense of your money in partnership with The Money Edit.
George is a freelance consumer journalist with a keen interest in scams and housing. He worked for the Consumers' Association for seven years where he was the editor of Which? Conversation - his work on exposing new scams saw him often quoted in the national press.
George has been at the forefront of the cladding and building safety crisis, campaigning for the rights of leaseholders and giving a voice to those caught up in the scandal - as a result he was nominated for Property Journalist of the Year in 2021 at the Property Press Awards.