Netflix scam email warning: fake 'account suspended' message
Netflix scam emails are attempting to steal your bank and card details by inviting you to 'retry' a 'payment'. Here's what you need to be aware of.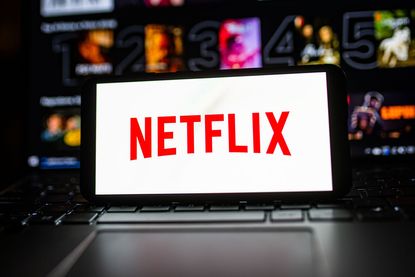 (Image credit: SOPA images)
Netflix scam emails are attempting to lure you into visiting a fake website that's been designed to capture your bank details.
It's the latest scam to impersonate streaming services, with Disney+ scam emails also hitting inboxes recently.
In this case, fraudsters are hoping that Netflix subscribers will be panicked into taking action as it informs them that their account has been 'suspended'.
Here we reveal what the latest Netflix scam email looks like, and what to do if you receive it.
Netflix scam emails
These emails are sent from email addresses that have nothing to do with Netflix - they're attempting to catch genuine subscribers off-guard.
If you've recently taken out a Netflix subscription or your payment is coming up, you may be deceived into thinking that your payment really has failed. The threat of your account being suspended and the service being withdrawn could be enough to make you attempt the 'payment' again, as instructed.
But doing so will only hand the scammers your bank/card details.
How can I spot a fake Netflix email?
It's important to take the time to assess any communication you receive out of the blue, particularly when it's asking for sensitive information or instructing you to make a payment.
Check the email address that it's been sent from and investigate the URL of the page it's attempting to take you to by hovering over any links - your browser should show where the URL leads to in the lower left corner.
You should also check the way the email has been written. For example, in this case the email has addressed the recipient with 'dear customer' rather than by name - a common tactic of scammers trying their luck with mass phishing emails.
Netflix states (opens in new tab) that it will never ask you to enter your personal information in an email, including credit or debit card numbers, bank details or passwords.
It will also never request payment through third-party sites.
I think I've been scammed by a fake Netflix email: what should I do?
If you think you may have entered sensitive information, such as your bank/card details, into a third-party site you were taken to by a suspicious Netflix email, you must let your bank know what's happened via its official channels ASAP.
You can report a scam and get your money back. Your bank should work with you to cancel your card, block any pending payments (if required) and refund the money you've lost.
You should also then keep an eye out for any follow-up scams that could occur if you've given contact details, such as your email address, postal address or phone number, to fraudsters. Treat any contact you receive out of the blue with caution.
How can I report Netflix scam emails?
Fake emails and phishing websites can be reported to the National Cyber Security Centre at report@phishing.gov.uk (opens in new tab) - action can then be taken to remove these websites.
You can also report these fake emails directly to Netflix on phishing@netflix.com (opens in new tab)
If you're going to warn friends and family about a scam, send them a screenshot instead of forwarding suspicious emails directly.
George is a freelance consumer journalist with a keen interest in scams and housing. He worked for the Consumers' Association for seven years where he was the editor of Which? Conversation - his work on exposing new scams saw him often quoted in the national press.
George has been at the forefront of the cladding and building safety crisis, campaigning for the rights of leaseholders and giving a voice to those caught up in the scandal - as a result he was nominated for Property Journalist of the Year in 2021 at the Property Press Awards.