Cheaper Netflix with ads – how can you make the switch?
Cheaper Netflix with ads? From November you'll have the choice to do so with the Netflix basic subscription. Here's what you need to know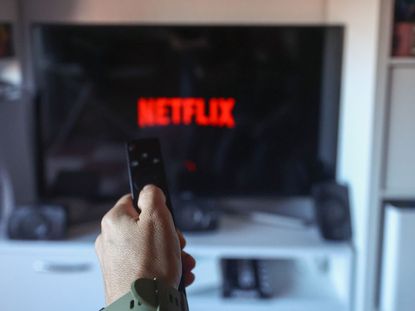 (Image credit: Europa Press News / Getty images)
A cheaper Netflix subscription is around the corner after the streaming giant announced it will launch a new ad-based subscription costing just £4.99 per month from 3 November.
In the midst of a cost of living crisis and rising energy bills, the cost of a Netflix subscription is becoming more of a luxury for households.
The move comes against a backdrop of a declining customer base and increasing competition from streaming sites like Amazon Prime and Disney+, the number of homes in the UK with at least one paid video subscription dropped by 937,000 between January and September, according to analytics firm Kantar.
Now, with the new addition to Netflix's subscription model, it is clearly hoped it could fit more readily into household budgets.
Here we explain how it will work and what to do if you already have a Netflix account but want to switch to the cheaper ad-based model.
HOW DOES CHEAPER NETFLIX WITH ADS WORK?
The basic subscription which the streamer calls "a plan for every fan" will give mean adverts before and during shows for the first time on Netflix, but it will be £2 cheaper per month than the 'standard' £6.99 subscription plan. And £10 cheaper than its premium offering - potentially saving you as much as £120 per year.
Netflix has confirmed the adverts will be as long as 15 to 30 seconds each and per hour of viewing, there will be four to five minutes worth of adverts. The adverts will show at the start of shows and films and whilst streaming.
But there will be a couple of differences- not all shows and films will stream on the basic subscription due to licensing issues. Netflix has said they are working on this.
You also won't be able to download anything you watch, so when you're not connected to wifi, you will have to stream on mobile data which tends to be not as good in quality.
To sign up for the new basic plan you can visit netflix.com and register with the following: email, date of birth, and gender.
WHAT TO DO IF YOU ALREADY HAVE A NETFLIX SUBSCRIPTION
Netflix have said that members on their existing plans will not be affected in any way and that the basic plan is here to 'complement' the existing ones.
If you are an existing customer and want to switch to the new basic plan, all you need to do is login to your account, and under 'plan details' you can select 'change plan' and pick 'basic with adverts'.
Vaishali graduated in journalism from Leeds University. She has gained experience writing local stories around Leeds and Leicester, which includes writing for a university publication and Leicester Mercury.
She has also done some marketing and copywriting for businesses.
When she is not writing about personal finance, Vaishali likes to travel and she's a foodie.