Best music streaming apps for free trials and free access
The best free music streaming app free trials can bag you up to six months free listening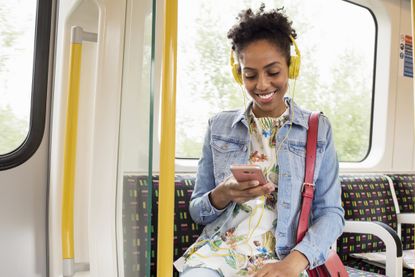 (Image credit: getty images)
Some music streaming apps are free to use, others come with a monthly subscription but generous free trial periods. Here we round up your best free streaming options.
Whether you're looking for music to help you keep fit, entertain the kids or to enjoy some relaxing 'me' time, there's a music streaming service to fit any occasion.
In fact, you're spoilt for choice. Whoever you want to listen to should be available somewhere, from Madonna to Mozart and Billie Eilish to Billie Holiday.
But costs can add up, especially if you need multiple accounts at home to avoid your family member's own listening choices messing with your recommendations.
And if you want to stream on a smart speaker or download music to your phone you'll likely need to pay even more.
But be careful when streaming from your mobile phone when not connected to wi-fi. To listen to the tunes you'll be using your data allowance, and it can get eaten up quickly if you're not careful. Extra data is expensive.
To avoid this, most apps let you download tracks to your phone while you're on wi-fi, and then you can turn off the app's access to data within your phone's settings.
To help you keep costs low, here are the top ways to stream your favourite music for free.
BEST MUSIC STREAMING APP FREE TRIALS
All the big streaming services will give you a free trial as long as you're signing up for the first time.
This is usually for one month. But from time to time you might even be able to find extended trials of up to three months, if not more. So it can pay to wait and time when you start for when these are happening.
But because these come and go you might need to search around for the latest offers, or check a site like becleverwithyourcash.com (opens in new tab).
If you're happy to mix and match different services, you could even get up to a year of free trials. Here are our best picks.
Amazon Music Unlimited (opens in new tab) | £9.99 month | 90 days free trial
Amazon Prime members get a £2 monthly discount for Amazon Music Unlimited, but you can save even more if you pay upfront for a year at £79 - that works out as £6.58 a month (But you need to factor in the monthly Prime subscription on top).
Apple Music (opens in new tab)| £9.99 month | One month free trial
Apple Music offers lossless streaming and spatial audio support at no extra cost — it has also launched Apple Music sessions with exclusive live performances to take on Spotify Sessions.
And there is an extended free trial: six months if you buy Apple Beats or AirPods (opens in new tab)
Spotify Premium (opens in new tab) | £9.99 month | One month free trial
Spotify has a library of more than 70 million songs, and around 2.6 million podcast titles. It also offers exclusive live tracks via its Spotify sessions.
And you can get an extended free trial: three months free Spotify via PayPal (opens in new tab)
Tidal (opens in new tab)| £9.99 month | 30 day free trial
Tidal is a popular choice for audiophiles. Offering high-end sound quality with a library of more than 90 million songs. It even has a premium membership costing £19.99 per month that boasts "innovative high-res audio formats".
YouTube Music (opens in new tab) | £9.99 month | One month free trial
YouTube music replaces Google Play Music offering more than 70 million songs and exclusive live performances, covers, remixes and other music content.
Deezer Premium (opens in new tab) | £11.99 month | On month free trial
High Fidelity audio but at a more premium price. Deezer claim its AI-powered 'Flow' feature serves up an infinite mix of all your favourites and new discoveries based on your mood.
Only £8.99 per month if you choose to pay annually.
BEST FREE MUSIC STREAMING APPS
You don't have to pay extra to listen to music online. There are some free options with some of the major services, along with a number of online radio players. However there are restrictions, and you might not be able to choose which song you want to listen to. There's also likely to be adverts interrupting your listening experience.
Here are the best free music streaming options:
Spotify (opens in new tab) | Free
You get access to Spotify's huge library of songs but you can't download any music to your phone, most playlists are shuffle play only and adverts play every few songs.
Deezer (opens in new tab) | Free
You get access to Deezer's huge library of songs but you can't download any music to your phone, and you can only pick playlists, not individual tracks. Adverts play every few songs.
Soundcloud (opens in new tab)| Free
You get access to exclusive tracks and mixes from the artists but there is a limited catalogue. You can't download to your phone and adverts play every few songs.
Amazon Prime Music (opens in new tab) | Free with Prime
Free if you already have Amazon Prime (£7.99 a month), you can listen offline without any adverts but you only have access to smillion songs, instead of the full library of 90million songs you get with a full Amazon Music Unlimited subscription.
HOW TO CUT THE COST OF STREAMING MUSIC
Pay for a year Some services allow you to pay upfront for a year, which will normally be something like 12 months for the price of 10. If you know you will absolutely keep listening to a single service then these can be worth it. But once you're paid up you won't get a refund.
Pick a family plan for your household Premium plans are great for an individual, but they are difficult to share - especially if more than one person wants to listen to something different at the same time. You can of course buy a membership each, but that gets very expensive.
Instead, all the major services offer a Family plan, giving you access to up to five or six accounts for one price, as long as you share an address with the other users.
The savings vary, with these plans costing between £15 and £18 a month:
Apple (£14.99 a month)
Amazon (£14.99)
Deezer (£16.99 a month)
Spotify (£16.99 a month)
Tidal (£14.99 a month)
Spotify also has a Duo plan, which as the name suggests is two accounts for a single price of £13.99.
STREAMING VS DOWNLOADING: WHICH IS MORE COST-EFFECTIVE?
The big difference is you are listening live with streaming. So if your internet connection drops or you're in a blackspot, it will stop working.
Downloading on the other hand stores a copy of the song on your device. If you are downloading tracks from a streaming service this will only be temporary, and you'll need to connect to the internet again to keep listening, usually once every 30 days to ensure you still have an account.
There's also a big difference between downloading, or listening offline, with streaming services and paying to download a track or album from an online store. With the former you're just renting the track, while with the latter you own the download.
Streaming can be a huge money saver for music fans as the monthly cost can be the same as buying a single album. However, it's proved controversial in terms of how much money artists actually make from each stream.
Andy Webb is a journalist and blogger. He runs the personal finance blog becleverwithyourcash.com (opens in new tab) and the AndyCleverCash YouTube channel and Cash Chats podcast.
Andy writes a weekly column for the Metro and monthly for Reader's Digest. He co-presented Channel 5's Shop Smart Save Money series and regularly gives talks about being clever with your cash at events. Previously he ran the blog and acted as a spokesperson for the Money Advice Service.
When he's not writing or talking about money he's probably playing tennis or listening to BBC 6 Music.