Morrisons offering free Jacket Potato and Heinz beans - extended to 27 November
Morrisons has partnered with Heinz to offer free jacket potatoes with baked beans at Morrisons Cafes to help with the cost of living crisis, but you have to say the secret word. Here's how to get one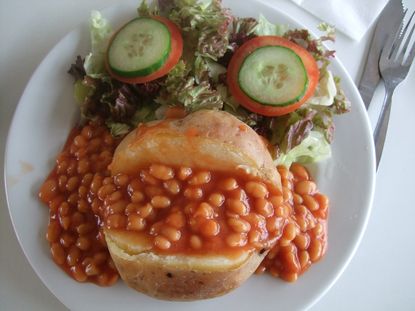 (Image credit: Getty images)
Heinz has partnered with supermarket chain Morrisons to give customers a free jacket potato and Heinz baked beans at their cafes.
The offer is available at all 397 Morrisons cafes across the UK and it will be served when other hot meals are on. Find your nearest Morrisons Cafe (opens in new tab) and check the opening times.
It's one meal per customer, per day, regardless of age.
Initially, this offer was for a limited time only, from Wednesday 26 October to Sunday 6 November. It has been extended until 27 November.
The supermarket giant has launched this short term scheme to help households with the cost of living crisis, saving customers around £5 for which they would normally get a Jacket potato with baked beans and salad.
HOW TO CLAIM A FREE JACKET POTATO MEAL
To claim the offer, go to a Morrisons cafe and ask for 'Henry' when you order at the till point.
If you're confused where the name 'Henry' came from, Henry Hienz is the founder of Heinz Beans.
It's a way for people to get a free meal without any embarrassment whilst the rising cost of living causes financial difficulties for many.
This way of purchase is similar to Morrisons 'Ask for Sandy' scheme which gives people access to free period products.
A poster emphasising 'Ask for Henry' has been circulating on Twitter and people are spreading the word.
Free jacket potato with beans to anyone that needs it. Brilliant work @myfoodandfamily @Morrisons pic.twitter.com/kgMDYsV64cOctober 26, 2022
See more
WHAT COST OF LIVING HELP ARE OTHER SUPERMARKETS OFFERING?
Asda has launched a scheme which offers £1 meal deals for over 60s to help with the cost of living crisis. It's running until the end of December and itt includes free unlimited tea or coffee if you attend.
The supermarket has also cut the prices of more than 100 'family favourites, including rice, noodles and fresh fruit, which will last until the end of this year.
Asda's new budget label 'Just Essentials at Asda' will offer a lower price on more than 300 essential products.
Iceland is giving shoppers over 60 a 10% discount off their total bill every time they shop. They have also given out 40,000 vouchers worth £30 to pensioners to help tackle the cost of living crisis.
Their latest interest-free loan scheme aims to help shoppers spread their costs without having the worry of paying interest like you would on a credit card. See how it works and how you can apply.
Morrisons has slashed the pierce of more than 500 products, including frozen food, cupboard stored food and items from the fridge. For example, Morrisons iced ring doughnuts which used to be £1.25 are now 99p.
Co-op has frozen more than 1,000 prices in an aim to reduce food waste and help with the cost of living crisis.
Vaishali graduated in journalism from Leeds University. She has gained experience writing local stories around Leeds and Leicester, which includes writing for a university publication and Leicester Mercury.
She has also done some marketing and copywriting for businesses.
When she is not writing about personal finance, Vaishali likes to travel and she's a foodie.