"I binged on money shows, saved £20,000 in 18 months and started investing"
A reader tells us how she binged on money shows before slowly overhauling her personal finances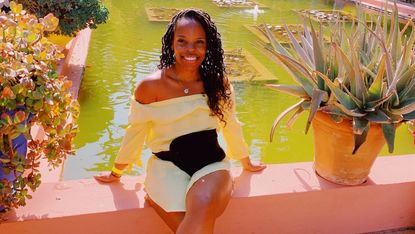 Money shows and podcasts triggered one reader to do better with her money.
Natasha Evita had no savings nor anything left from her pay each month when she became addicted to watching money shows at the end of 2019. "Save Well, Spend Better on Channel 4 caught my eye one day and just like that I was sucked into watching similar shows during my lunch break and after work. I realised I wanted to stop living paycheck to paycheck."
The 27-year-old social media manager who lives in London threw herself into listening to money podcasts, signed up for personal finance newsletters and took a free month-long budgeting course. "Then I hired a financial coach who helped me come up with a plan."
Almost two years later and Natasha has £1,000 in an emergency fund, six months' living costs in another fund in case she becomes unemployed, £13,000 in a home deposit fund and £1,000 in a stocks and shares ISA. "I started small and saved an emergency fund first - I had learned the importance of one after getting stuck in Morocco during a storm which resulted in me having to borrow money from a friend."
"I had to unlearn a lot of habits and adopt new ones," she explains. "I had to start saying no to all kinds of things. Subscriptions – I was paying around £200 a month for loads I wasn't using. Eating out all the time. Helping out family. Going out with girlfriends. There were some hard conversations about money at first."
She admits it took her several months to find a balance between saving and spending. "I felt bad at first spending on myself but realised all I had to do was set a budget when going out with my friends. We were at a spa in Bath last week - I just made sure to get a discount!"
The fun began when she started experimenting with different apps. "I use Plum and Moneybox as you can separate pots of money for different things. I have a Moneybox lifetime ISA for example in order to get the government's annual £1,000 bonus to boost my home deposit. My stocks and shares ISA, with Plum, that I opened with just £1 allows me to invest in tech and it calculates future projections which is great as a beginner investor."
When the pandemic hit, Natasha was able to maximise her savings. "I wasn't spending £150 on my monthly travel card nor have I been on holiday for two years –which has made a difference."
Other plans have changed along the way. "I thought I would use the £6,000 I saved to buy a car after passing my driving test this summer – but my mindset has changed and it's cheaper to use my mum's old banger and better to put that money towards my house deposit."
Her advice to others? "You need to get out of any mindset that is saying you can't do anything finance-related. Ask yourself what you want and then picture it. I want a home and a dog so I have an image of that in my mind."
Take small steps to build good money habits
Once you know what you want, Natasha advises being humble. "Start small, ask for help, join Facebook groups – you do have to get out of your comfort zone. Tell people who will support you – it might be your family or it might be a social media community."
Consider hiring an expert. "If it's a financial coach you need, or a mortgage broker because you want to buy a home, or an accountant because you are starting a business, hire someone you identify with. My coach is a black woman with a similar background and outlook to me - that helps."
She strongly advises getting your household bills in order too. "It's boring but it's an easy win. Learn as much as you can from television shows, podcasts and newsletters - and make changes to your finances as you learn. Set boundaries with your finances and celebrate small wins. And treat yourself - if you become too rigid, you will feel depleted!"
Her other achievements include helping her mum better understand personal finance, making a will and consolidating two old workplace pensions. Her next stop is to improve her credit score. "I've had to do things like update my address and deal with defaults on a credit card I made years ago while at uni. I need to ensure I am in a good position to eventually buy a home."
Look After My Bills Newsletter
Get the best money-saving tips, tricks and deals sent straight to your inbox every week. Make sense of your money in partnership with The Money Edit.
Katie is staff writer at The Money Edit. She was the former staff writer at The Times and The Sunday Times. Her experience includes writing about personal finance, culture, travel and interviews celebrities. Her investigative work on financial abuse resulted in a number of mortgage prisoners being set free - and a nomination for the Best Personal Finance Story of the Year in the Headlinemoney awards 2021.