Maternity Allowance boost for 40,000 mums - are you eligible for the extra £600?
Maternity Allowance has increased from £156.66 a week to £172.48 - an extra £15.82 a week, or £617 in total. We explain who is eligible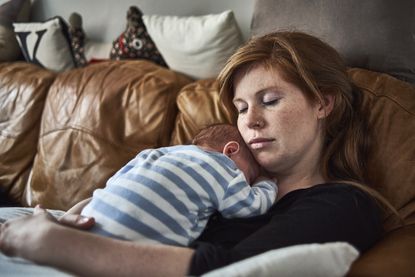 (Image credit: Getty images)
Maternity Allowance for mothers who take time off work to care for their newborn baby has increased by £617.
Maternity Allowance is a state benefit for self-employed women or those out of work and is available to around 40,000 women a year. Last year it was paid to 46,000 new mothers.
Those who qualify will see weekly payments rise 10.1% from £156.66 a week to £172.48 - an extra £15.82 a week, or £617 over the 39 weeks the allowance covers.
It means those eligible will receive a total of £6,727 over 39 weeks. The higher rate kicked in on 10 April, 2023.
The move follows an identical increase of 10.1% in the state pension and Universal Credit, aimed at reducing the impact of high inflation, as well as "Awful April" when bills and costs ranging from council tax and broadband to prescriptions and stamps rise.
Maternity Allowance is designed to provide financial help to mothers who don't qualify for Statutory Maternity Pay.
Statutory Maternity Pay is paid to working women by their employer. This has also gone up by the same 10.1% this month. Paternity Pay for new fathers similarly went up this month. All three allowances now pay £172.48 a week.
Viscount Younger of Leckie, a minister at the Department for Work and Pensions (DWP), said: "We want every child to have a good start in life, which is why we are increasing our support for mums.
"This builds on our extension of free childcare for working parents from this summer, alongside an increase to the Universal Credit childcare cost cap and further help with upfront payments. These changes will help parents progress in work and earn a better living to support their family."
When can I claim Maternity Allowance?
Maternity Allowance can be claimed as soon as you are 26 weeks into pregnancy.
But you will still be entitled to the full 39 weeks of payments worth £6,727 if you wait to claim the benefit within three months after giving birth.
If you claim the benefit after that, you will receive some payments but not the maximum amount.
How do I apply for Maternity Allowance?
In order to claim Maternity Allowance, you'll need a Maternity Allowance (MA1) claim form. You can either:
print it and fill it in
fill it in online and print it
order a form if you cannot print it
You'll need to give information about your employment in the 66 weeks before your baby is due (called the 'Test Period'). You can use an online Test Period calculator to work out these dates.
You will need to include other documents with the form. These include:
Proof of income, such as original payslips or a Certificate of Small Earnings Exemption
Proof of a due date and birth with a letter from your doctor or midwife on headed paper, your MATB1 certificate or a birth certificate
Then send your claim to the address on the form.
What other help is available to new mothers?
The government also provides extra financial support for mothers receiving Universal Credit who are unemployed or on a low income.
First-time parents receiving qualifying income-related benefits such as Universal Credit or tax credits can apply for a one-off £500 grant from the DWP's Sure Start Maternity Grant to help towards baby essentials.
Be aware you could be missing out on other financial help. For example, more than 215,000 pregnant women and parents entitled to healthy start payments worth more than £200 a year are not claiming it, NHS data reveals.
Read next
Katie is staff writer at The Money Edit. She was the former staff writer at The Times and The Sunday Times. Her experience includes writing about personal finance, culture, travel and interviews celebrities. Her investigative work on financial abuse resulted in a number of mortgage prisoners being set free - and a nomination for the Best Personal Finance Story of the Year in the Headlinemoney awards 2021.