Manchester tourist tax: why you will now pay £1 to stay the night
Manchester is the first UK city to introduce a tourist tax if you stay overnight – we look at who pays it and where the money goes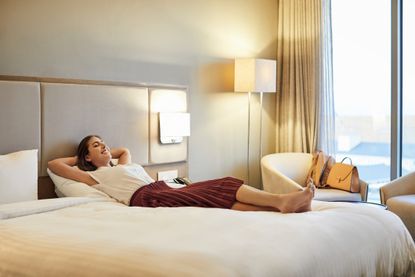 (Image credit: Getty images)
Manchester is the first UK city to introduce a tourist tax if you stay overnight.
The new 'City Visitor Charge' means people will face an extra £1 per room, per night, for their accommodation cost.
It's something you may already be familiar with if you holiday abroad: tourist tax or city tax as it's often known is charged to final bills in hotels in countries from France to Spain and the USA.
We look at who will exactly pay the Manchester tourist tax and where the money will go.
Why is Manchester introducing a £1 tourist tax?
The Manchester Accommodation Business Improvement District (ABID) is introducing the new tax with the aim of raising an estimated £3 million that will go towards encouraging more people to visit Manchester and Salford.
Funds raised will also go towards putting on new events like festivals as well as marketing, promoting hotel deals, and keeping the city clean.
Manchester will also have a designated city welcome team who can welcome visitors and help tourists.
Who will pay the Manchester tourist tax?
The new £1-a-night tourist tax will apply to overnight stays from 1 April 2023
But not everyone spending the night in Manchester will need to pay.
The tourist tax is being charged by a total of 73 city centre hotels and serviced accommodation providers that fall within the Manchester ABID zone. This is roughly the area within the inner city ring road.
Annie Brown, Chair of Manchester ABID, said: "The Charge will be collected from all paid accommodation establishments that fall into the Manchester ABID zone and has a rateable value of £75,000".
It means if you stay in an Airbnb and smaller hotels under the £75,000 rates limit in the city, you won't pay the £1 tourist tax, as they are exempt according to Manchester ABID.
What happens if I've pre-paid for a future stay?
The £1 nightly charge has been payable on stays since 1 April, and with future bookings, you should be told in advance if the tax is payable.
If so it should be itemised and added to your final accommodation bill.
In the event you pre-booked and pre-paid for accommodation, say you booked back in January for a May visit, your hotel or accommodation provider should contact you in advance of your stay, to let you know about the extra charge.
How much will I pay?
The new tourist tax is £1 per night, per room, or unit, (in the case of serviced apartments), and any tourist tax payable will be added to your final bill.
As this is a nightly charge, it means even if you rent a three-bedroom apartment, and several of you stay there, you will still only pay £1 per night.
It means even if you stay for a week and pay £7, it's a much smaller charge than many tourist taxes imposed in other countries around the world.
For example, tourist tax in France can mean a charge of 4 Euros per person, per night. This can add around £32 to the bill if a couple stay for four nights, or up to £64 for a family of four.
Where will the money from Manchester's tourist tax go?
The money raised from Manchester's new tourist tax will go towards putting on concerts, festivals and events across the city as well as marketing to attract companies to host conference events.
Chief Executive of Manchester City Council, Joanne Roney OBE, said: "This innovative initiative will enhance the experience of visitors to Manchester by creating new events and activities for them to enjoy".
The tourist tax is anticipated to generate around £3 million of funds a year, "which will be invested directly into these activities, supporting Manchester's accommodation sector to protect and create jobs and benefiting the city's economy as a whole."
Read more
Sue Hayward is a personal finance and consumer journalist, broadcaster and author who regularly chats on TV and Radio on ways to get more power for your pound. Sue's written for a wide range of publications including the Guardian, i Paper, Good Housekeeping, Lovemoney and My Weekly. Cats, cheese and travel are Sue's passions away from her desk!