How to turn your unwanted clothes into cash
Here's how to make money from your unwanted clothes - and save it as well by going second-hand, just like this year's Love Island contestants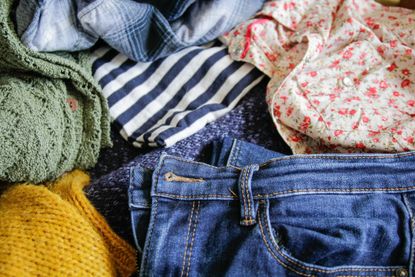 (Image credit: Getty images)
Look After My Bills Newsletter
Get the best money-saving tips, tricks and deals sent straight to your inbox every week. Make sense of your money in partnership with The Money Edit.
Thank you for signing up to The Money Edit. You will receive a verification email shortly.
There was a problem. Please refresh the page and try again.
We all have clothes we don't wear, right? Now could be the time to sell your unwanted clothes and make some extra cash as we continue to grapple with rising living costs, such as high energy prices, food costs and even fuel.
If you're a fan of the dating show Love Island, you won't have missed the fact that this season the contestants are ditching what is known as 'fast-fashion' and dressing in second-hand clothes instead courtesy of eBay.
The eco-friendly move means fewer clothes will end up in the landfill, but it's also a great reminder that you can earn cash by selling what you don't wear - and also save money by buying second-hand instead of new.
With inflation affecting the cost of clothes and shoes, there's extra motivation to save money on your wardrobe. While the most dramatic increases have been in energy bills, clothes and footwear prices have risen by 8.3% over the past year.
Here's how to sell clothes to extend the life cycle of clothes and pocket some extra cash too.
How to make money from unwanted clothes?
The pre-loved market is rapidly growing and it is now easier than ever before to sell online or using an app. Here are the best apps to help sell your old clothes to make some extra cash.
Depop attracts buyers with an eye for vintage style looking for pre-loved scarves, handbags, clothes and trainers. To start selling, download the free app, take pictures of the items you want to sell, and set a price. Depop charges a 10% fee on everything you sell. The buyer pays for shipping costs.
You'll need a PayPal account to take payments.
Vinted makes it simple to sell anything online or via its app and it's free to sell. You can sign up with your Facebook, Google or Apple account.
Vinted has its own payment system, which means it is easier to take payment from buyers; when an item is sold, the app will transfer the money to your bank account.
The buyer also pays for shipping.
eBay is great for selling things in bundles, such as jeans or tops. It takes a cut of between 1.5% and 15% of anything you sell. You can list 1,000 items for free per month, after which it's 35p per item.
If you have designer clothing such as Burberry, Stella McCartney, Gucci or Yves Saint Laurent, Vestiaire Collective is the place to sell them. The items are checked by its team of experts for authenticity before it is shipped to the buyer. You can expect to get 80% of the purchase price.
Facebook Marketplace
Facebook is still a popular way to sell if you have an account. You can list your clothes using the 'marketplace' button. Most people sell locally and take cash payments. If you decide to post something, you may want to charge extra for postage and use Paypal for payments.
Buy second-hand clothes
As well as selling your old clothes for cash, buying second-hand can also save money.
More people are buying this way to be greener and save cash - the average shopper saves an average of £12.81 per second-hand clothing purchase according to a survey by Vinted.
Natacha Blanchard, consumer lead at Vinted, said: "While one key motivation behind Brits choosing to shop second-hand is still financial, this is not the only driver. Brits see the emotional benefits of pre-loved fashion in helping to boost confidence and happiness, with more people expressing that buying second-hand feels satisfying, than those who buy new."
Recycle old clothes for vouchers
If you can't sell your old clothes, you can instead swap them for vouchers instead using recycling schemes run by a number of retailers.
H&M
Get a £5 voucher (to be redeemed against a £25 shop) if you recycle a bag of unwanted clothes or textiles from any store in any condition at a branch of H&M.
If you hand in a minimum of three garments weighing a maximum of 10kg to River Island, you get a £5 voucher in return to spend in-store on a minimum £40 shop.
Gives you a £5 voucher (to be redeemed against a £35 shop) if you donate items (one item must be from M&S) to Oxfam. They must not be damaged or soiled as clothes will be resold.
Gives you a £10 voucher (to be redeemed against a £50 spend) when you recycle an old pair of leggings of any brand to the store.
Get 10% off your next purchase when you bring a bag of clothes, textiles and shoes of any brand to one of its stores.
Gives you 15% off your next shop when you take pre-loved fashion to your local hospice charity shop and simply scan the QR code on the counter.
Schuh
Get a £5 voucher (to be redeemed against a £25 spend) when you bring any brand of old shoes.
Gives you 25% off a new pair of jeans if you send in any brand of jeans to it to recycle.
Rent clothes out for cash
Don't want to completely let go of something? You can still make money from clothes you're not currently wearing by renting it out instead.
Rent out an item enough times, and it could become a profitable investment.
Renting clothes is ideal if you need something to wear for a one-off occasion. Prime Minister's wife Carrie Johnson notably rented her £2,870 wedding dress by designer Christos Costarellos for a mere £45 a day from My Wardrobe HQ - one platform offering short-term clothes rentals.
Other platforms include By Rotation where renting a dress costs from £9, the minimum rental period can be as low as one day and the app charges 15% commission. Prices vary: a dress from a high-end designer like The Vampire's Wife will cost from £50 a day.
Hurr allows you to rent from a collection of 20,000 luxury designer pieces. A Needle & Thread dress, for example, can be rented out for £40-£123 a day.
Hirestreet focuses on loaning out high street brands with the average price per hire around £15. Its bundle option lets you rent three different pieces for £50 across a 30-day rental period. It's a good option if you're looking to freshen your wardrobe without damaging the planet nor spending too much.
Meanwhile, Baukjen's clothing rental platform lets you rent everything from dresses to jackets for as little as £13 for two weeks while Bundlee specialises in renting out babywear.
By Rotation, for example, ensures your items come back professionally cleaned and looked after, which is incorporated within the 15% site fee.' Simply download the free app, create an account and you're ready to go.
However, do read the small print and do the maths. Often you choose whether to offer free postage and cleaning, or charge them separately. By not charging a certain amount for the item of clothing, other costs like postage and dry cleaning may eat into your returns. As apps often simply facilitate clothes sharing, it may not take responsibility for your item if anything goes wrong except 'on a case-by-case basis'.
Other ways to save money on clothes - without buying new
Repair rather than throw away
If your shoes have seen better days, see if a cobbler can help before buying a new pair. A pair of smart shoes can cost anything from £60 to £500 depending on the brand and quality of leather while replacing the soles can cost as little as £30. A jumper debobbler costs as little as £5 and can make a wool jumper (cost £15 upwards) look new

Buy shoes from the shop window
High street shoe chain Schuh sells ex-display shoes that may have minor wear-and-tear at a reduced price. Similarly, high street store Office sells end of line, ex-display and last pairs of shoes at a reduced price.

Big brands are available including Birkenstock, Adidas, Doc Martens, Puma, Nike and Timberland. The Money Edit found a pair of Women's Timberland 6 Inch stack boots reduced from £135 to £52 at Office and a pair of orange Adidas Gazelles reduced from £70 to £24.99 at Schuh.

Dye your jeans
Black jeans fade easily but you can re-dye them for £3-£6. Dylon pods of dye for your washing machine cost around £6 while hand dye costs a bit less. Both options are clearly much cheaper than buying a new pair of jeans.
Look After My Bills Newsletter
Get the best money-saving tips, tricks and deals sent straight to your inbox every week. Make sense of your money in partnership with The Money Edit.
Katie is staff writer at The Money Edit. She was the former staff writer at The Times and The Sunday Times. Her experience includes writing about personal finance, culture, travel and interviews celebrities. Her investigative work on financial abuse resulted in a number of mortgage prisoners being set free - and a nomination for the Best Personal Finance Story of the Year in the Headlinemoney awards 2021.