Which is the cheapest supermarket to buy Lurpak?
With Lurpak hitting £9 a tub (yes, £9) - we look at how you can get it cheaper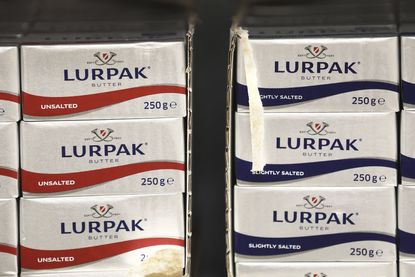 (Image credit: getty images)
With food price increases significantly denting household budgets, the cost of Lurpak butter may have shocked some readers as it hit £9 for a 1kg tub.
Inflation and the war in Ukraine have added to the recent food price rises for staples like bread and butter.
While switching to supermarket own brands is almost always going to be cheaper, we understand some food items are non-negotiable. If you feel like that about Lurpak, then here's how you can save money on your next tub by finding the cheapest supermarket for your spread.
How much are supermarkets charging for Lurpak?
If you're buying 1kg, expect to pay £9. But only Ocado and Iceland stock these, so to help you find the best price, we have compared the price of a 750g tub.
Some of the prices below do include discounted deals - with Waitrose, its 500g size - the biggest we found, usually sells for £4.20 but is currently on offer at £3.75.
However if you shop around you can save around 25% on your Lurpak across the major supermarkets.
| Supermarket | Price | Size |
| --- | --- | --- |
| Sainsbury's | £7.25 | 750g |
| Morrisons | £7.25 | 750g |
| Ocado | £7.25 | 750g |
| Asda | £6 | 750g |
| Iceland | £6 | 750g |
| Tesco | £5.30 | 750g |
| Waitrose | £3.75 (normally £4.20) | Only available in 500g size |
If you are happy to switch, supermarket own brand butter is significantly cheaper, saving you around 40%. For example, Asda's Spreadable with Real Butter costs £2.50 for 500g compared to £4.20 for the same amount of Lurpak.
Why is the price of butter going up?
Lurpak's owner, Arla Foods, told the BBC: "Our farmers are facing a similar situation with prices for the feed, fertiliser and fuel they need to produce milk, all rising significantly in recent months. While we don't set the prices on the shelves, we do work closely with the retailers to ensure our farmers receive a fair price for the milk they produce."
What other products are affected by massive price hikes?
Rising prices are a major cause for concern but some brands are disappearing from supermarket shelves due to shortages or as in the case of Tesco rows over refusing to pass on price hike prices for consumers.
Brands including Whiskas, Dreamies and Pedigree, all owned by the US company Mars, are out of stock on some Tesco shelves due to a row over pricing. There have also been similar issues with Heinz products at Tesco.
It appears that after Heinz; Tesco could also be running in to dispute with Mars in the Pet category....(Whiskas, Pedigree Aquarian, Sheba, Cesar, Iams etc etc)Some lines are already showing as out of stock online. pic.twitter.com/RSFUkhnZ1fJuly 4, 2022
See more
In a statement, Tesco (opens in new tab) said: "Now more than ever we have a responsibility to ensure customers get the best possible value and we will not pass on unjustifiable price increases to our customers.
If you can't get your pets' favourite pet food in the supermarkets right now - other options include Pets at Home (opens in new tab) – which sell a big range of tinned cat food including Whiskas in bulk buy sizes and you can get Dreamies there too.
There's also a big selection on Amazon (opens in new tab) and while Aldi (opens in new tab) sells its own brand.
Sue Hayward is a personal finance and consumer journalist, broadcaster and author who regularly chats on TV and Radio on ways to get more power for your pound. Sue's written for a wide range of publications including the Guardian, i Paper, Good Housekeeping, Lovemoney and My Weekly. Cats, cheese and travel are Sue's passions away from her desk!