Energy bills to be frozen until 2024 at £2,500 for typical bills
Prime minister Liz Truss announces an energy price freeze for households and businesses to support them with their energy bills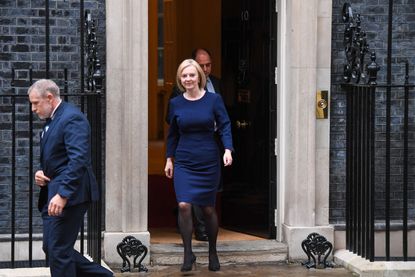 (Image credit: Bloomberg / Getty images)
Look After My Bills Newsletter
Get the best money-saving tips, tricks and deals sent straight to your inbox every week. Make sense of your money in partnership with The Money Edit.
Thank you for signing up to The Money Edit. You will receive a verification email shortly.
There was a problem. Please refresh the page and try again.
The Government is bringing an 'Energy Price Guarantee' which caps energy bills at £2,500 for households based on typical use, to protect people from rising prices.
A new 'energy price guarantee' - which supersedes the energy price cap - will mean typical average annual bills are frozen at this level for two years from 1 October. This includes both variable and fixed tariffs. However, the actual amount you pay will depend on your usage - if you use more, you pay more and if you use less, you pay less.
The Chancellor of the Exchequer, Kwasi Kwarteng, said: "The government's Energy Price Guarantee will save the typical household £1,000 a year on their energy bill."
According to Truss, this will save a typical household £1,000 a year. The energy price cap was supposed to rise from its current level of £1,971 to £3,549, based in typical use, in just a few weeks' time.
There will also be help for businesses, as they will benefit from an equivalent guarantee for the next six months, "with the Energy Bill Relief Scheme halving the cost of business energy bills," the Chancellor adds.
The prime minister promised that people who aren't usually covered by the price cap - such as those who use heating oil or have communal heating schemes, and people in mobile home parks - won't miss out either. A new fund will be set up so they can also receive support.
The government has said, taking into account the whole energy package, it is costing them £60 billion in the first six months.
That includes the energy price guarantee for homes and businesses, the £400 energy bill discount and a new measure called the Energy Markets Financing Scheme.
The Chancellor says: "To support the market, we are announcing the Energy Markets Financing Scheme. Delivered with the Bank of England, this scheme will provide a 100% guarantee for commercial banks to offer emergency liquidity to energy traders."
This means the government is eliminating any risk of energy suppliers going bust, whilst supporting households and businesses.
Unveiling the measures, Truss said: "This is the moment to be bold, we are facing a global energy crisis." She added that the energy price guarantee would "curb inflation and boost growth".
Independent forecasters believe these energy plan measures will reduce peak inflation by around 5%.
How will the new energy price guarantee work?
The energy price guarantee temporarily replaces the energy price cap, which is set by the regulator Ofgem.
This means the expected 80% rise in energy bills that was going to take a toll on households from 1 October, will not go ahead. Instead the unit price of energy is fixed for two years from 1 October, meaning bills will cost a typical household around £2,500 per year.
Households will still pay for their gas and electricity bills in the normal way. But if you're on a default energy tariff, the guarantee will now limit how much your supplier can raise your tariff.
These households will likely see an increase in their bills next month as the £2,500 guarantee is still 23% higher (a £529 increase) than the current price cap of £1,971. But it's much lower than the £3,549 cap that was scheduled to be introduced.
The guarantee will affect energy prices in England, Wales and Scotland, and Truss said in her speech that there would be equivalent help for Northern Ireland.
Chancellor Kwasi Kwarteng said: "People need to know that help is coming and help is indeed coming. We are taking three steps to support families and businesses with the cost of energy.
Millions of families and businesses across the country can now breathe a massive sigh of relief, safe in the knowledge that the government is standing behind them this winter and the next."
However, Alice Haine, personal finance analyst at the investment platform Bestinvest, said the government support "does not take away all the pain for consumers. Energy prices are still significantly higher than they were a year ago, with some households struggling to absorb the rising costs, and food prices are high too. It means household budgets are not completely out of the woods yet."
She added: "It is also wise to remember the [guarantee] is not a cap on the maximum bill a household can be charged as what you pay depends on your usage. This means that those using more energy than average will pay higher bills."
Will I still get the £400 energy grant?
Yes, households will still receive the £400 energy grant, which was previously announced by former chancellor Rishi Sunak.
It will start being paid from next month. When this grant is factored into the new £2,500 price guarantee, average annual bills will be £2,100 - slightly higher than the current price cap of £1,971.
But it's still a saving of £1,400 per household on energy bills if taking into consideration the energy price guarantee of £2,500, and the £400 payment.
Danni Hewson, financial analyst at the investment platform AJ Bell, points out that the freeze at £2,500, coupled with the £400 support, will mean most households will be paying a bit more than they did last winter - around £36 a month based on typical energy usage.
Will I have to repay any of the money?
Customers will not be expected to repay any of the money that is being used to keep average annual energy bills at £2,500.
The support package takes account of temporarily removing green levies, worth around £150, from household bills. But it will also be funded by huge government borrowing, estimated to be in the region of £100bn - £150bn. In future, this could be paid off by higher taxes, or by reducing spending on public services.
Justina Miltienyte, head of policy at the comparison site Uswitch.com, noted: "The longer we have to rely on government support to keep prices down, the higher the final bill will be for taxpayers for years, if not decades, to come."
Is there any support for people with heating oil?
The prime minister said a fund would be created for those who are not covered by the new energy price guarantee, so "everyone can enjoy similar support".
This includes people who use heating oil in their homes, those who have communal heating schemes, and people in mobile home parks who pay the park-owner rather than an energy supplier.
It is not clear yet how the fund will work, or how customers will be able to access it.
Haine said the announcement was "good news for the 1 million UK homes with an oil-fired heating system that previously received no protection against rising prices".
I recently fixed my energy tariff on a higher rate. What can I do?
If you recently locked into a fixed-price energy deal, and are worried you'll be paying much more than the £2,500 cap rate, don't panic.
It's always possible to leave a fixed-rate - and The Money Edit understands that customers will have the option to switch to a cheaper tariff penalty-free. Some suppliers don't impose any exit fees, while others impose a charge ranging from £60 to £600.
However, we understand that customers on fixed rates will be allowed to move to a cheaper tariff from next month - when the energy price guarantee kicks in - without incurring any penalties. We will update this article as soon as we know more.
What help is available for businesses?
Similarly, households, businesses, charities and public sector organisations like schools will benefit from their own £2,500 energy price guarantee, called The Energy Bill Relief Scheme.
The scheme will lower wholesale gas and electricity prices for businesses.
Businesses do not benefit from Ofgem's energy price cap, and many had reported projected increases in energy costs of more than 500%.
After the initial six-month scheme, the government will provide focused support for vulnerable sectors like hospitality.
Haine said: "The new assurances for businesses that energy bills will be capped at the same price per unit as households for six months will hopefully ensure companies can continue to operate throughout the window and aren't forced to shut up shop – a move that protects jobs and livelihoods.
"However, what happens after the end of the six months is unclear, as only 'vulnerable sectors' are likely to benefit."
How will freezing the energy price cap affect inflation?
Truss will be hoping her first big announcement as prime minister will have a triple whammy effect of helping people with their energy bills, dampening inflation and averting a deep recession.
Inflation is currently running at its fastest rate in 40 years, with prices 10.1% higher than the same time last year. The high cost of living is largely due to the sharp rise in energy prices.
There were predictions that inflation could reach about 15% next month, and even hit 20% in 2023.
However independent forecasters are saying, after all of the measures the government is taking to tackle rising energy costs, peak inflation will go down by around 5%.
Economists have now reduced their inflation forecasts following the prime minister's announcement. Investment bank Goldman Sachs said inflation may peak at 10.8% in October, rather than 14.8%, and slow to 2.4% by December 2023.
What other help is available for energy costs?
If you're struggling with rising bills, then there is some help available from a number of energy suppliers. Hardship funds Hardship funds include grants that don't have to be repaid, as well as writing off debt up to a certain amount.
You'll need to be an existing customer - with the exception of the British Gas Trust, which offers grants up to £1,500 to customers irrespective of their energy supplier.
Look After My Bills Newsletter
Get the best money-saving tips, tricks and deals sent straight to your inbox every week. Make sense of your money in partnership with The Money Edit.
Ruth Emery is contributing editor at The Money Edit. Ruth is passionate about helping people feel more confident about their finances. She was previously editor of Times Money Mentor, and prior to that was deputy Money editor at The Sunday Times. A multi-award winning journalist, Ruth started her career on a pensions magazine at the FT Group, and has also worked at Money Observer and Money Advice Service. Outside of work, she is a mum to two young children, a magistrate and an NHS volunteer.