Get £5 off your shop at Lidl and Asda - here's how to claim
You can get £5 off your weekly shop at Lidl and Asda for a limited time only - we explain how to claim the discount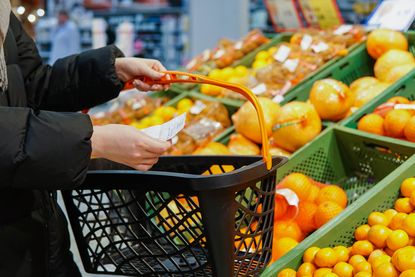 (Image credit: Getty images)
Supermarket giants Lidl and Asda are offering £5 off your shop for a limited time - but there are a couple of things you have to do in order to claim the discount. We have all the info.
Food inflation is currently at a record high of 17% so you might be searching for the cheapest supermarket to do your weekly shopping.
To help with the rising cost of living, Lidl and Asda are offering you £5 off your grocery shop. Here we run through what you need to do to qualify for the discount and how to claim it.
How to get £5 off your Lidl shop
You can get £5 off your Lidl shop until 28 February. Here's how:
First you will need to download the Lidl Plus app (opens in new tab) (available on Apple and Android) and log in or register.
Once you're logged in, you will find a 'more' tab at the bottom of your screen. You need to click that and then go to 'redeem code'.
Now enter the code FEELGOOD. The voucher should appear and you can go back to it in the app's 'coupons' section.
On your next Lidl shop, just show this coupon at the till. You will need to show it live in the app; any screenshots or printouts won't be accepted.
You need to bear in mind that you can only use the £5 off voucher if you spend at least £25 on a shop and this includes any other vouchers you use, such as Lidl Plus coupons. So even after other vouchers are used, the total shop should come to at least £25.
A couple of other terms and conditions to consider are:
You must claim and use the voucher before the offer ends on Tuesday 28 February.
There are only one million vouchers available. Since this Lidl offer is making its first comeback after more than a year, it's expected to be popular, so claim it as soon as you can if you want to be in the chance of bagging a £5 code.
The £5 voucher can be used against most of the items in store, but it excludes alcohol, gift cards and infant formula.
How to get £5 off your Asda shop
Supermarket giant Asda is also offering £5 off vouchers, and it's a bit simpler than claiming the Lidl voucher. However, to qualify you must be new to the Asda Rewards app.
Here's what you need to do to claim the Asda £5 voucher:
First you will need to download and sign up for the Asda Rewards app (available on Apple and Android).
Be warned, you won't get the £5 voucher straight away. You will need to do your first online or in-store shop and scan the app for you to claim the £5, which you can then use on your next shop. The good news is there is no minimum spend on your first shop, so you could spend as little as 30p on a bag of carrots. But you will need to do your first shop and claim the voucher before 11.59pm on 28 February.
After your first shop you will find your £5 voucher in the app under the tab 'earn' or as Asda calls it, 'missions'. The voucher will be listed as 'First Scan Bonus'. You have up to six months to then spend the voucher, so there's no rush to get your second shop done before the offer ends.
Remember, you must be a new Asda Rewards customer to be eligible for the £5 and you only have until 28 February to claim your free voucher.
Other ways to get cashback on your supermarket shop
There are some more longstanding cashback offers which offer you the chance to get money back on your supermarket shop.
Topcashback is offering up to £15 cashback when you spend at certain supermarkets
The cashback website and app (opens in new tab) is offering a number of exclusive offers to get money back on your supermarket shop:
Up to £15 cashback at Asda
Up to £14 cashback at Sainsbury's
Up to £8 cashback at Tesco
However, each supermarket has its own terms and conditions you'll need to meet in order to qualify for the cashback. These may include a minimum spend and restrictions over whether it's an online or in-store shop, for example.
Get 5% cashback with Nationwide
Nationwide Building Society is offering its current account customers 5% cashback on supermarket shopping. The cashback is limited to a maximum of £10 per month, and the offer is only running until the end of April.
Find out more about the 5% cashback offer with Nationwide and the supermarkets where you can earn the cashback.
Chase customers get 1% cashback
Existing Chase customers can get 1% cashback on their supermarket spend, as the bank says its customers are eligible for cashback on eligible everyday debit card spending.
But terms and conditions apply, so read more about the Chase cashback offer and get familiar with the small print.
Get 1% cashback with Santander
The Santander Edge current account allows account holders to earn cashback on both their direct debits and some of their debit card spending. You can get 1% cashback at supermarkets, as well as on travel spending, which is capped at £10 cashback per month.
On top of that, you can also bag 1% cashback on certain household bills that you pay by direct debit. Be warned, there's a £3 monthly fee, while you also have to pay in at least £500 into the account each month.
Vaishali graduated in journalism from Leeds University. She has gained experience writing local stories around Leeds and Leicester, which includes writing for a university publication and Leicester Mercury.
She has also done some marketing and copywriting for businesses.
When she is not writing about personal finance, Vaishali likes to travel and she's a foodie.