The latest scams and how to protect yourself
We outline the latest scams to watch out for, the golden rules to protect yourself, and what to do if you are scammed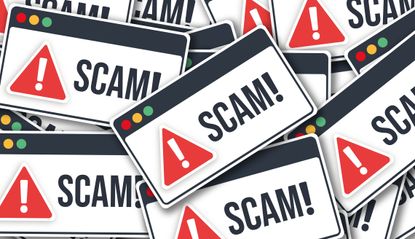 (Image credit: Getty images)
You probably think it won't ever happen to you: you'll easily be able to sniff out the latest scams and you won't be outwitted by a fraudster.
In fact, more than half of adults think they'll never fall victim to a scam, according to a study by Virgin Media O2.
But, that same research shows that 43% of people know someone who has been scammed.
We highlight the latest scams, how to protect yourself and what to do if you become a victim.
The latest scams
As fraudsters use increasingly sophisticated tricks to deceive us, even the mobile phone apps you download can be a security risk, it's never been more important to stay vigilant and protect yourself against scams.
Fraud offences have been rising steadily as scammers prey on our anxieties over the Covid pandemic and cost-of-living crisis. There were 4.5m fraud offences in the 12 months to March 2022, a 25% increase on pre-pandemic levels, according to the Office for National Statistics (ONS).
Linda Morgan, information security culture manager at the wealth manager Quilter, comments: "People are increasingly worried about their finances, which is ultimately a gift to scammers looking to take advantage."
Energy bill discount scam
Be wary of texts and emails from "gov.org" or Ofgem addresses asking you to apply for energy bill discounts, rebates or payments.
The National Cyber Security Centre received more than 1,500 reports of scam emails pretending to be energy rebates from Ofgem in just two weeks during the summer, according to the ONS.
For most people the discount is applied to their energy bill automatically – there's no need to apply.
Phishing attacks
Fraudsters often send messages over email, text or social media, posing as well-known organisations to trick people into handing over money or personal details. Those aged 25 to 44 years are most likely to be targeted, according to the ONS.
Banks, delivery companies and the NHS are often impersonated. According to analysis by payment provider Dojo, DPD, Amazon, Paypal, Post Office and Santander are the top five most commonly impersonated brands.
Other potential scams include DVLA requesting car tax payment, a 40% discount on your mobile phone bill and a suspended Apple Pay wallet.
Petrol gift cards
Amid rising fuel prices, fake social media ads and emails are popping up offering fuel gift cards at reduced prices. For example, a scam Facebook advert impersonating BP claims to give you the chance of receiving 200 litres of fuel for just £1.78.
To get the gift card or voucher, you first need to complete a survey. Morgan explains: "This is a scam that aims to harvest your bank details."
Whatsapp scams
Millions of us use WhatsApp to stay in touch with friends and family. However, users must be alert to scams, as criminals are increasingly using the service to target victims.
The National Fraud Intelligence Bureau has seen a sharp rise in reports about WhatsApp scams where criminals pretend to be someone they know – typically the victim's children. This has been dubbed the "Mum and Dad scam" and involves con-artists convincing parents their children are in trouble and need a cash transfer.
Between 3 February and 21 June 2022, 1,235 reports were linked to this scam, with total reported losses exceeding £1.5 million.
Investment scams
Fraudulent investments can appear perfectly legitimate, with professional-looking websites and glowing testimonials. They may involve shares (often unlisted, and perhaps in a foreign country), alternative investments like cryptocurrency or wine, and even assets like bamboo forests and storage units. Some offer high, guaranteed returns, like 10% a year.
Linda Morgan at Quilter comments: "A growing number of investment scams involve cryptocurrencies such as Bitcoin. These scams often involve someone being persuaded to buy cryptocurrency through a legitimate intermediary but then sending money to what they believe is a genuine investment platform - in reality, it's operated by fraudsters.
"The important rule of thumb is investments that appear too good to be true are often a scam waiting to happen."
Email scams
The latest scam emails will often pop up in your inbox pretending to be from brands you recognise, such as this phishing purporting to be from Tesco.
Many of these are sent from email addresses that quite clearly have nothing to do with the brands they claim to be from, which is an easy way of telling a fake from a genuine communication.
But some phishing emails take it a step further by spoofing a legitimate firm's email domain, making fake emails more difficult to spot. Such as these scam emails impersonating big brands like Amazon, DHL, Currys, Aldi and ASDA.
How to protect yourself
There are several steps you can take to protect yourself from becoming a victim of a scam:
Don't be pressured into acting quickly. Amber Burridge, head of intelligence for the fraud prevention service Cifas, says: "Stop and think carefully before parting with your personal or financial details, only a fraudster will try to rush or panic you."
Be wary. Treat all unexpected calls, emails and text messages with caution. If it sounds too good to be true, it usually is.
Never hand over your security codes, a password or a PIN to anyone - not even friends or family.
Scam messages often have spelling or grammatical mistakes, so keep a lookout for these.
Update your passwords! More than eight in ten adults (83%) are not changing their online passwords enough, putting themselves at risk of cyber attacks, according to the cybersecurity firm CSS Assure.
What to do if you are scammed
If you do fall victim to a scam, it's important to act quickly. Contact your bank to prevent the scammer taking more money from you, and to see if you can get your money back. You should also report the scam to Action Fraud, and possibly the police.
We have lots more information on reporting scams and getting your money back.
Related articles
Look After My Bills Newsletter
Get the best money-saving tips, tricks and deals sent straight to your inbox every week. Make sense of your money in partnership with The Money Edit.
Ruth Emery is contributing editor at The Money Edit. Ruth is passionate about helping people feel more confident about their finances. She was previously editor of Times Money Mentor, and prior to that was deputy Money editor at The Sunday Times. A multi-award winning journalist, Ruth started her career on a pensions magazine at the FT Group, and has also worked at Money Observer and Money Advice Service. Outside of work, she is a mum to two young children, a magistrate and an NHS volunteer.