"At 35 I had £23,000 across six pensions - now I pay £250 a month into one scheme to have £300,000 by 65"
Later life finances became a concern for Naomi after learning about her grandmother's care costs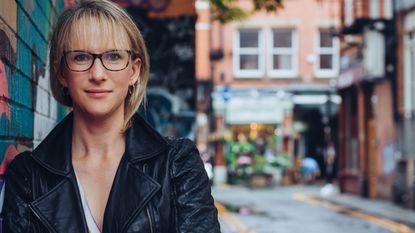 Later life finances became a concern for Naomi Mellor after seeing her 103-year-old grandmother pass away. "I was aware of the huge care costs in the last five years of her life. I had always put off dealing with anything pension-related but started thinking seriously about later life."
While she has made other sensible money decisions, such as overpaying her mortgage when possible, she had always viewed pensions with suspicion. "It seemed so opaque. I had lived in Australia during my twenties and when I left with my superannuation - their version of a pension - it looked like a decent amount in Australian dollars. But once converted into pounds and taxed I ended up with £4,000 - which I spent on a trip to Africa."
The first thing was to seek help. "I always thought 'I will deal with it later' but now that time had come. A friend was involved in setting up a new pension platform called Raindrop so I jumped at the chance to participate in an early trial."
Raindrop found six small workplace pensions that she wasn't aware she had and consolidated them. "I discovered I had £23,000 in total. The projections showed if I left it as it was I would have £50 a month in retirement! I was shocked!"
Two years on the 37-year-old has two pensions. "I have a workplace pension as a part-time vet that I contribute 3% to plus, as founder of The Skylark Collective and the International Women's Podcast Awards, I contribute £250 a month to my personal pension with Raindrop and plan to increase that to £500 a month in the next couple of years. I like that I can easily adjust my contributions to my Raindrop pension so I could boost it if my business has a good year, for example."
Excluding her workplace pension, if Naomi contributes £250 a month into her Raindrop pension for the next couple of years before increasing her monthly payment to £500 until the age of 65 she will have around £300,000 for retirement.
She has also taken time out to understand the tax benefits of her pensions. "Benefiting from an employer contribution and tax relief is also a no-brainer now I understand it's free money! Also my personal pension counts as an allowable business expense therefore my limited company receives tax relief against corporation tax."
She has even been encouraged to open a stocks and shares ISA with Fundsmith and pay in £200 a month. "My cash ISA only paid 1% interest so I better understand the likely potential of higher returns of investing over saving now."
She admits to feeling so much better about her later life finances. "I feel more in control being able to access my pension with such ease, and somehow settled knowing I am building it up."
Read why and how Georgie Frost prioritises her pension plus 10 ways to boost your pension savings
Later life finances: The advantages of consolidating your pension pots
Less paperwork and hassle of keeping track of different schemes
Potentially lower fees
Easier to monitor investments
Potential wider range of investment options
What to consider before consolidating
Before transferring a pension you should ensure you will not be giving up any valuable benefits such as:
Enhanced tax-free cash lump sums - where you take more than the standard 25% out of your pension tax-free
A protected pension age - which allows you to take your pension earlier
Lifestyling - where investments in your pension are moved to less risky areas as you approach retirement age
A guaranteed annuity rate - given low annuity rates, a promised generous rate might be worth holding onto
Life insurance or critical illness insurance
Look After My Bills Newsletter
Get the best money-saving tips, tricks and deals sent straight to your inbox every week. Make sense of your money in partnership with The Money Edit.
Katie is staff writer at The Money Edit. She was the former staff writer at The Times and The Sunday Times. Her experience includes writing about personal finance, culture, travel and interviews celebrities. Her investigative work on financial abuse resulted in a number of mortgage prisoners being set free - and a nomination for the Best Personal Finance Story of the Year in the Headlinemoney awards 2021.