Government u-turns on plan to abolish 45p tax rate
Kwasi warteng has reversed his decision to scrap the top rate of tax which affects people earning more than £150,000 a year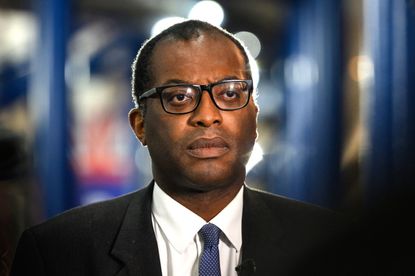 (Image credit: Leon Neal / Getty images)
Chancellor Kwasi Kwarteng has confirmed that the government will not abolish the top rate of income tax following a fall in the pound and a backlash from Tory MPs.
The plan to abolish the 45p rate in the mini-budget announced on 23 September - paid by workers earning over £150,000 a year - was seen by many as unfair amid the cost of living crisis and likely to fail to get through parliament.
Dozens of MPs have made clear they would refuse to back the proposal in the Commons including former cabinet minister Grant Shapps and Michael Gove who have publicly criticised the move.
'We get it and we have listened,' tweeted Mr Kwarteng. "It is clear that the abolition of the 45p tax rate has become a distraction from our overriding mission to tackle the challenges facing our country. As a result, I'm announcing we are not proceeding with the abolition of the 45p tax rate."
We get it, and we have listened. pic.twitter.com/lOfwHTUo76October 3, 2022
See more
In several interviews on Monday morning, Kwarteng stood by his mini-budget, saying the controversy had been 'drowning out' the details of a 'strong package'.
Only the day before Prime Minister Liz Truss had defended the mini-Budget and denied there would be a rethink.
The u-turn is seen as necessary to shore up Tory support for the rest of the mini-Budget during the Conservative Party Conference in Birmingham this week.
The pound rose to $1.12 against the dollar as the news was announced - this is close to the level it was before the mini-budget was announced.
Tom Selby, head of retirement policy at AJ Bell, says: "In the end it was politics that did it for the measure, with the Government facing a significant revolt from its own backbenches over the move, which would have seen taxes for high earners cut at a time when millions of households already facing an inflation squeeze are braced for further pain from rising mortgage costs.
He added: "The u-turn also ends the possibility of a pension tax relief 'gold rush' from higher earners, who would have had until April next year to contribute to their retirement pots and take advantage of 45% tax relief.
Under Kwarteng's plan, the pension saving 'bonus' for additional-rate taxpayers provided by tax relief would have reduced from 82% to 66%. This will now not be the case.
Katie is staff writer at The Money Edit. She was the former staff writer at The Times and The Sunday Times. Her experience includes writing about personal finance, culture, travel and interviews celebrities. Her investigative work on financial abuse resulted in a number of mortgage prisoners being set free - and a nomination for the Best Personal Finance Story of the Year in the Headlinemoney awards 2021.