Klarna starts reporting customers to credit rating agencies
Warning: If you use 'buy now, pay later', it will now go onto your credit file. Here's how shoppers will be affected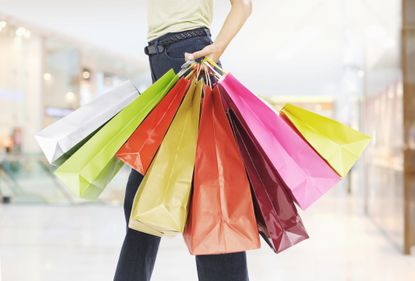 (Image credit: getty images)
With Klarna now reporting buy now, pay later transactions to credit reference agencies, we look at how this may impact your credit score and future ability to take out credit.
Buy now, pay later (BNPL) service Klarna has started reporting customer purchases to UK credit reference agencies.
It is sending information about purchases paid on time, late payments and unpaid purchases for 'pay in 30' and 'pay in three' orders made on or after June 1 to Experian and TransUnion - two of the main UK credit reference agencies.
This means your transactions will become part of your credit file. Anything on your credit file is visible to potential lenders and could impact eligibility for applications ranging from mortgages and loans to car insurance and utility bills.
Klarna said the move will protect customers and provide the industry with greater visibility of BNPL use, helping to improve affordability assessments. Klarna has 16 million UK consumers; Alex Marsh, head of Klarna UK, said the vast majority make Klarna BNPL payments in full and on time and would therefore "be able to demonstrate their responsible use of credit to other lenders".
Laybuy, another BNPL provider, already provides data to credit reference agencies. Since its launch in 2019, it has worked with Experian, reporting defaults as well as "positive payment data" to help customers improve their credit scores. More recently, it has begun reporting customer purchases to Credit Kudos.
The credit reference agency TransUnion said that starting this summer buy now, pay later agreements will appear on its credit reports. Credit scores won't be impacted initially - as TransUnion needs to update its credit scoring mechanism - but missed payments would be visible to lenders and could affect someone's ability to borrow.
Klarna added that the data it sends to Experian and TransUnion will be reflected on consumer credit files, but will not impact credit scores at this stage. This could come later in 2022.
The BNPL lenders and credit reference agencies maintain that adding the information to credit reports will support customers in managing their finances, help lenders make informed credit decisions, and make the sector more transparent.
Gary Rohloff, managing director of Laybuy, told The Money Edit: "BNPL can provide consumers with a convenient and interest-free alternative to credit cards, as well as a powerful tool to better manage their money by providing a structured repayment cycle. But it is a credit product, and consumers do have an obligation to make their payments on time.
"Failing to do so should rightly impact their credit score for their own protection and we believe all BNPL providers should be credit checking and reporting defaults.
"It is pleasing to see other players in the sector are now following Laybuy's lead as we continue to champion a more responsible BNPL sector."
The Money Edit asked Clearpay, Openpay and PayPal - which offers BNPL with its "Pay in 3" option - whether they reported purchases to credit reference agencies.
PayPal said it reported the "ongoing performance of our Pay in 3 customers to our credit reference agencies, as we believe this promotes responsible lending". It said the data did not currently impact shoppers' UK credit scores and was "working with the rest of the industry to address this".
Clearpay does not report customer purchases to credit agencies, but said it was "reviewing its approach to credit checks and recognised that appropriate and proportionate credit reporting can add value for customers".
Openpay did not immediately respond when contacted.
Rachel Harte, head of financial planning at the coaching app Claro Money, said shoppers should approach BNPL schemes with the same caution they would when taking out a credit card, due to the impact it could have on their credit files and ability to access credit in the future.
She added: "Hopefully this change from Klarna will encourage sustainable usage of BNPL products as people will be even more cautious of the impact it can have on them long term. We hope to see the changes being communicated to customers clearly and before the point of purchase."
WHY IS BNLP POPULAR?
BNPL has soared in popularity in recent years. According to the Financial Conduct Authority (FCA), the sector nearly quadrupled in 2020 to reach £2.7 billion. The consultancy Bain & Company estimates annual BNPL transactions now total about £6.4 billion.
Thousands of retailers accept BNPL, from M&S and Ikea to Adidas and Asos. Instead of paying at the till or online checkout, the BNPL provider pays the retailer for you. You then pay the provider back over several weeks or months. There is usually no interest or fees to pay, as long as you make your repayments on time.
As well as providers like Klarna and Clearpay, NatWest is set to become the first UK high street bank to enter the buy now, pay later market when it launches a product this summer. It is expecting to make an announcement in the coming weeks.
However, while BNPL products can help shoppers avoid paying interest on their borrowing, they can also quickly build up debts, and could incur fees.
In February, the FCA said some BNPL firms had agreed to change the terms in their customer contracts to make them fairer and easier to understand. Shoppers who have been wrongly charged late repayment fees by Clearpay, Laybuy and Openpay could be in line for a refund.
The government is planning to change the law so the FCA can regulate certain BNPL products.
Klarna said it was committed to improving transparency and protecting consumers. It has previously announced that it will update text at checkouts to make it clear that BNPL options are credit products (with consequences for missed payments), and set up an internal complaints adjudicator (until the Financial Ombudsman Service is extended to include buy now, pay later products).
According to Joshua Gerstler, chartered financial planner at The Orchard Practice, the more transparency around buy now, pay later companies, the better.
"For those that pay on time, [reporting purchases to credit reference agencies] will potentially help boost their credit score, but for those who do not pay on time, it is likely to cause them problems.
"The solution? If you cannot afford to pay for something now, don't buy it. This is more important than ever amid the cost of living crisis and with interest rates rising."
Look After My Bills Newsletter
Get the best money-saving tips, tricks and deals sent straight to your inbox every week. Make sense of your money in partnership with The Money Edit.
Ruth Emery is contributing editor at The Money Edit. Ruth is passionate about helping people feel more confident about their finances. She was previously editor of Times Money Mentor, and prior to that was deputy Money editor at The Sunday Times. A multi-award winning journalist, Ruth started her career on a pensions magazine at the FT Group, and has also worked at Money Observer and Money Advice Service. Outside of work, she is a mum to two young children, a magistrate and an NHS volunteer.