Just Eat discounts and money saving tips: Six ways to save money on your next takeaway
Finding it pricey to order a takeaway on Just Eat? Here's how you can save money and take advantage of hot deals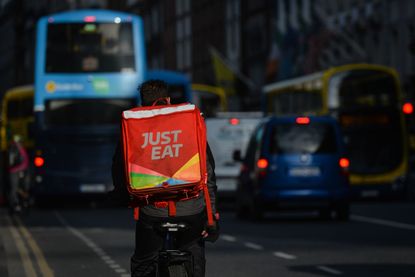 (Image credit: getty images)
Apps like Just Eat and Deilveroo have done two things: Made our favourite takeaways more accessible and more pricey.
But with a choice of more than 67,000 restaurants and 100 cuisines to indulge in, it's no surprise Just Eat is popular.
Easily ordering a meal using an app on your phone is undoubtedly easier than ordering directly from your chosen restaurant, even though ordering directly can often work out cheaper.
Delivery fees and 'minimum order' values can add up to you spending considerably more than you need to.
So, here are our best ways you can save money on Just Eat.
1. Use the Just Eat loyalty scheme
Like many other apps, Just Eat has its own loyalty scheme to ensure you keep coming back. The scheme 'StampCards' only works with participating restaurants. When you order from the same place five times, you get 10% of your previous five orders' value off your sixth order and you get 10% off the five order's combined value.
For example, if you spent £10 each on 5 separate takeaways from KFC, on your 6th order you will get £5 off (10% off £50). The more you spend, the bigger the discount.
2. Get your money back on cashback sites
These cash back options are easily forgotten about, but whether you're spending or saving, it all adds up.
Top Cashback offers money back on thousands of brands and Just Eat is one of them. It offers up to 27.5% cash back with its offers like £5 back on orders over £10.It's free to sign up unlock cash back for all of its partner brands including Just Eat.
Quidco is another cashback website and app which you can use. It is giving 20% cashback on Just Eat to new customers and 0.8% cashback to existing customers.
It's worth having a look at both as the cash back rate does change, and of course opt for the biggest discount or cashback.
3. Keep up with what's trending
Just Eat recently sponsored Love Island on ITV all summer so that was the topic of conversation on their social media (more of a reason for surprise discounts or giveaways).
Keep tabs on its twitter account - @JusteatUK - where it shares daily offers you can find on the app, as well as other giveaways.
4. Bag free delivery on the Just Eat app
A few takeaways in a month can land you an extra £15 to £20 bill for delivery fees alone
There is a trick to avoiding them, download the Just Eat app and you will find some restaurants offering free delivery, which is shown as a sticker on the restaurant icons when browsing.
5. Make the most of Just Eat voucher Codes
When it comes to saving money on food, a few minutes spent looking for voucher codes can lead to big savings, but you have to be careful. We recommend you opt for reputable sites that are offering voucher codes as it is more likely to be legitimate. Those that are often running voucher codes are Mirror, Vouchercloud and Groupon.
Vaishali graduated in journalism from Leeds University. She has gained experience writing local stories around Leeds and Leicester, which includes writing for a university publication and Leicester Mercury.
She has also done some marketing and copywriting for businesses.
When she is not writing about personal finance, Vaishali likes to travel and she's a foodie.