Food inflation hits record 16.7% - is it time to switch to a cheaper supermarket?
With food inflation at its highest since the 1970s, is it time to switch to a cheaper supermarket? Find out which comes out as the cheapest and how much you can save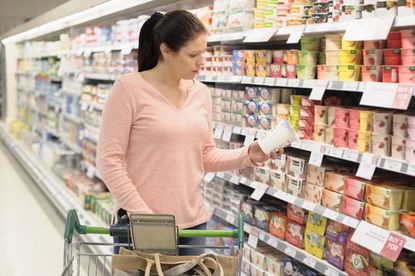 (Image credit: Getty images)
According to the Office for National Statistics (opens in new tab), food inflation is at its highest level since the 1970s, is it time to switch to a cheaper supermarket?
Analysts kantar (opens in new tab) reveals food inflation hit a record 16.7% in the four weeks to 22 January, the highest figure since 2008. It means a weekly shop that cost £100 a year ago, will now set you back more than £116.
That adds to the pile of rising outgoings with broadband prices and energy prices set to hike from April.
Fraser McKevitt, head of retail and consumer insight at Kantar (opens in new tab), said: "Households will now face an extra £788 on their annual shopping bills if they don't change their behaviour to cut costs."
it might be time to reassess where you do your weekly shopping. Here, we reveal the cheapest supermarket and how much you could save.
Switch to a cheaper supermarket
What is the cheapest supermarket?
According to the Which? (opens in new tab) Supermarket inflation tracker, Aldi was the cheapest supermarket in December 2022.
Which? (opens in new tab)took a trolley of 48 popular grocery items such as milk, teabags, bread and toothpaste and this is how much it cost at each supermarket.
Swipe to scroll horizontally
| Supermarket | Cost of trolley of goods |
| --- | --- |
| Aldi | £81.63 |
| Lidl | £83.24 |
| Tesco | £93.42 |
| Asda | £93.44 |
| Sainsburys | £95.71 |
| Morrisons | £97.12 |
| Ocado | £102.87 |
| Waitrose | £112.62 |
Aldi and Lidl come in close with just less than a £2 difference.
Tesco takes third place, beating Asda by just 2p.
Out of the big four, Morrisons comes out as the most expensive, costing you £15.49 more than Aldi for a trolley of goods.
Mckevitt from Kantar adds: "Aldi, Waitrose and Lidl's efforts seem to have been particularly well received by shoppers. Our latest customer satisfaction data shows that Aldi scores best on pricing and overall value for money, while Waitrose stands out for knowledgeable staff, product quality and clean shops. Meanwhile, Lidl delivers on easy access to stores and on-shelf availability."
In 2022, Which? also named Aldi the cheapest supermarket and Lidl wasn't far behind, taking second place.
How much can you save by shopping at Aldi?
If you switch your current supermarket to Aldi, here's how much you could save per shop, based on December's trolley of goods.
Swipe to scroll horizontally
| Switching supermarket to Aldi | Your saving per trolley | Your saving per month (based on the cost of four trolleys) |
| --- | --- | --- |
| Lidl to Aldi | £1.61 | £6.44 |
| Tesco to Aldi | £11.79 | £47.16 |
| Asda to Aldi | £11.81 | £47.24 |
| Sainsburys to Aldi | £14.08 | £56.32 |
| Morrisons to Aldi | £15.49 | £61.96 |
If you live closer to a Lidl, it won't make the biggest difference switching to Aldi.
But if you switch from any of the big four to Aldi, you could make a saving £50 per month or more, based on one big shop each week.
Other ways to save on your food shop
If you still want that quality over quantity or for convenience reasons you don't want to switch supermarkets, there are other ways to save on your weekly shop.
Sign up to your supermarket loyalty program. The best supermarket loyalty cards can help you cut costs. For example, If you shop at Tesco, Tesco Clubcard is a raved about scheme which offers 'Clubcard prices' or in other words, discounted prices on a load of groceries. This Tik Tok user saved £57.10 after scanning their Clubcard at the till:
Others include the Lidl Plus app, you can use the Iceland Bonus card at Iceland or Sainsbury's Nectar Card.
Shop supermarket own brands. Instead of opting for a tin of Heinz Baked Beans (415g) for £1, you could opt for Aldi's baked beans for just 45p, giving you a 55p saving. If you do this for most products in your trolley, the pennies will soon add up and give you a big saving. And with the rising cost of living, more supermarkets have come out with their own value range, for example, the Asda Just Essentials range and M&S with Remarksable.
Shop in the evenings or at night. This is the time when the reduced stickers come out on food that has a short shelf life, bringing you more savings. Supermarkets usually dedicate an area or an aisle to reduced food.
Buy frozen rather than fresh. There's nothing wrong with opting for the frozen over the fresh option and it works out cheaper. Fresh food also tends to have a shorter shelf life, so if you know half of it will end up going to waste, the frozen option might be better as it will also last longer. Frozen fruits and vegetables are popular amongst shoppers.
Read more tips on how to save on your food shop.
Related articles
Vaishali graduated in journalism from Leeds University. She has gained experience writing local stories around Leeds and Leicester, which includes writing for a university publication and Leicester Mercury.
She has also done some marketing and copywriting for businesses.
When she is not writing about personal finance, Vaishali likes to travel and she's a foodie.