Inflation drops to 10.1%: what it means for your money
Rocketing food prices mean inflation remains above 10%. We explain why inflation is still so high, and the impact it is having on your finances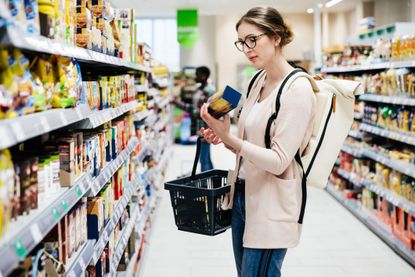 (Image credit: Getty images)
Inflation dropped only marginally in March, and is still above 10%, as soaring prices for food items like bread and fruit pushed up the cost of living.
Data from the Office for National Statistics (ONS) revealed that the consumer prices index (CPI) measurement of inflation dipped slightly last month, from 10.4% in the 12 months to February to 10.1% in the year to March.
Economists had expected a more substantial drop in the inflation rate this month, but rocketing food prices are keeping it elevated.
Alice Haine, personal finance analyst at the investment platform Bestinvest,argued that softening inflation would "come as a relief" to households, though they are unlikely to see any benefit in their bank accounts just yet.
She added: "When you consider the additional challenges posed by higher mortgage costs, falling real incomes, higher taxes and the prospect that the Bank of England could still hike interest rates for the 12th time in a row next month, households should not start splashing the cash just yet."
Why is inflation still so high?
One of the big drivers in inflation remaining stubbornly high is the cost of our food.
According to the ONS, prices of food and non-alcoholic drinks rose by 19.2% in the year to March 2023, up from the 18.2% registered in February.
To put that into context, that is the highest rate of food price inflation seen for more than 45 years, with indicative modelling suggesting that the last time food prices were growing at such a pace was 1977 when it was estimated to be 21.9%.
The ONS pinpointed certain foodstuffs, such as bread, cereals, fruit and meat, which have seen particularly notable price growth over the past year.
James Smith, research director of the thinktank Resolution Foundation, noted: "Headline inflation should fall sharply next month as the effect of last April's energy price spike falls out of the data. But the acceleration of food price inflation to nearly 20% is a major cause for concern, particularly for low-income families who spend a far greater share of their income on food than richer households."
Prices for recreation and culture were also up over the month, with an annual inflation rate of 4.6%.
However, a big factor behind inflation's fall in March was the drop in transport costs. The ONS found that the annual rate of inflation for transport moved from 3.1% in February to 1% in March, off the back of falling prices for petrol and diesel.
There was also a marginal slowing in household costs, covering the likes of energy and water bills, from 11.8% in February to 11.6% in March.
Sarah Coles, head of personal finance at the wealth manager Hargreaves Lansdown, said: "Petrol prices eased again in February, falling 1.2 pence per litre during the month – taking us to 146.8p for petrol and 166.5p for diesel, as the threat of global recession meant less demand for oil. It means annual price rises are now down 8.4% in a year for petrol and 2.4% for diesel."
What does the drop in inflation mean for you?
One of the main remits of the Bank of England is to try to keep inflation under control ‒ it has a target of 2% inflation, which is clearly some way off what is actually happening at the moment.
Inflation concerns have led to a succession of base rate increases, and the fact inflation is dropping more slowly than forecast may mean further base rate increases are ahead. That could be bad news if you are on a variable rate mortgage, since it will mean your mortgage repayments will go up, while rates on other forms of credit like credit cards may also rise.
The big consideration with inflation is that it erodes the purchasing power of the money you earn. Most of us are not seeing our wages increase at the same rate as inflation, which means we get less for the money we spend, putting finances under pressure.
Savings are also impacted significantly by inflation. One of the main drivers when selecting a savings rate should be whether it beats the rate of inflation. If it does, then the value of your money is growing in real terms, but if it doesn't then even though your balance is increasing, the value of your savings is actually falling.
Unfortunately there aren't any savings accounts paying close to a 10.1% rate at the moment, though you can still find a better deal by heading over to our article on the best savings rates.
What will happen next with inflation?
The expectation among economists remains that inflation will drop more substantially in the months ahead.
Martin Beck, chief economic adviser to the EY ITEM Club, an economic forecaster, explained: "We still think headline inflation will fall at pace this year, mainly reflecting strong base effects and falling wholesale energy prices, which should feed through into lower household bills from the summer.
"Less expensive energy will likely directly lower inflation, and by reducing businesses' costs, should indirectly bear down on core and services inflation. However, the recent persistence of underlying price pressures poses a risk to just how quickly inflation will fall."
John Fitzsimons has been writing about finance since 2007, and is a former editor of Mortgage Solutions and loveMONEY. Since going freelance in 2016 he has written for publications including The Sunday Times, The Mirror, The Sun, The Daily Mail and Forbes, and is committed to helping readers make more informed decisions about their money.