Inflation rises to 10.4% as food prices surge: what does it mean for you?
As prices rise again, household finances are coming under a lot more pressure. We look at what's increased and why, and how you can beat inflation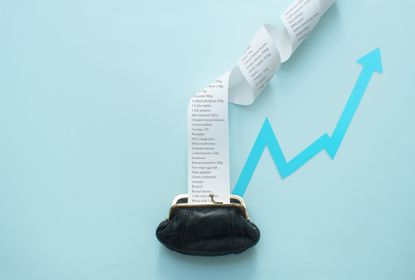 (Image credit: Getty images)
Food shortages have helped push inflation to 10.4%, which comes as a blow to consumers who are already grappling with high living costs such as high energy prices, food and expected rises in council tax.
The Consumer Prices Index, the measure for inflation, was 10.1% year-on-year in January but today the Office for National Statistics revealed it rose to 10.4% in February.
Inflation had been falling for three months in a row and was widely expected to continue to fall this year due to wholesale energy costs falling. February's 10.4% inflation rate is far off the Bank of England's prediction of 9.9%.
This means that prices may continue to increase for longer and will put more pressure on household finances and disposable incomes.
Alice Haine, personal finance analyst at BestInvest said rising inflation delivers a fresh blow to households that were hoping the financial squeeze was finally starting to ease.
"The reality is that average household costs are 10.4% more expensive on average than they were a year ago meaning the cost-of-living crisis is still very much with us," she said. "While everyone's inflation number will be slightly different to the headline figure generated by the ONS, which tracks a virtual basket of 700 items, as it depends on the specific goods and services you buy, the message is clear - people still need to spend very carefully to ensure they continue to live within their means and don't take on expensive debt."
Why has inflation risen?
Higher inflation in February was primarily driven by price increases in restaurants, cafes, groceries, alcohol, and clothes.
A 12.1% annual price rise up from 10.8% in January among hospitality businesses such as hotels and restaurants means that the cost of going out and staycations is increasing.
Prices at restaurants and cafes rose by 11.4% in the year to February 2023, up from 9.4% in the year to January 2023.
Food prices and non-alcoholic beverages have risen 18.2% year-on-year in February compared to 16.8% in January – the highest level in 45 years. This has been partly driven by shortages of salad vegetables and bad weather affected supplies from southern Europe and Africa, as well as high electricity prices.
Sarah Coles, head of personal finance at Hargreaves Lansdown, said healthy eating has become an "increasingly expensive business" as the tomatoes, cucumbers and peppers that made it to the shelves did so at a much higher price.
There is also a high chance that we will see rising food prices for longer, she said:
"Unfortunately, when food producers face sky-high prices, it doesn't just affect what they're producing today, it also feeds into decisions they make about what crops to plant or animals to breed for the future, which means we're likely to see higher food inflation stick around for longer."
Clothes are more expensive with price inflation at 8.5% compared to a year ago, particularly men's clothes which recorded price rises of 10.4% than 12 months ago.
Energy prices are still high with electricity prices up 66.7% in a year and gas up 129.4%, according to the ONS.
However, the good news is consumers can have protection from the Energy Price Guarantee which is now guaranteed to stay at £2,500 until July, from when the energy price cap is expected to fall below £2,000.
On a positive note, fuel prices dropped with inflation falling from 7.7% to 4.6% between January and February.
What does the rise in inflation mean for you?
Higher than expected inflation means that the Bank of England is likely to raise the base interest rate this week by between 25 and 50 basis points to control inflation after it was widely expected to hold off due to the recent banking turbulence. If it does raise rates, that would increase the cost of borrowing money with mortgage and credit card rates edging higher.
BestInvest's Haine warned that people's disposable incomes are still very much under threat considering the additional challenges posed by higher mortgage costs, falling real incomes, looming tax rises and the prospect that the Bank of England may hike rates for the 11th time in a row tomorrow.
Higher inflation heavily dents your purchasing power which lenders consider when checking your suitability for a mortgage. This will make it much harder for first-time buyers and those looking to re-mortgage who will not be able to afford as much for their money.
Inflation also erodes the value of savings pots and is turning real returns negative.
What will happen next?
In last week's Spring Budget, the Office for Budget Responsibility said it expected inflation to plunge to 2.9% by the end of the year due to the government's additional measures such as the EPG.
Haine said: "With wage growth easing in January and energy bills saved from a 20% hike in April thanks to Jeremy Hunt's extension to the EPG, the road ahead appears brighter."
If the central bank does not raise rates, this will mean inflation will be high for longer as workers benefit from end of tax year pay rises, she added.
How can I beat inflation?
There are several ways to save money and protect yourself from rising prices.
Higher interest rates mean you can make more money on your savings, with the best savings accounts paying the highest rates in almost a decade. So, if your money is sitting in an account with a very low interest rate, you could move it to one offering a higher rate to make the most of your savings.
Or you could invest in stocks and shares which can potentially deliver higher returns than a saving account. By investing just a small amount regularly, you can beat inflation as well as growing your money over the years.
Tips to save money
With the cost of groceries at eye-watering levels combined with stubbornly high energy prices, the pressure on household finances is immense.
If you want to reduce your food bill, switching to cheaper brands and buying basics can help. Also consider moving to a cheaper supermarket or buying supermarket own brands which are usually cheaper.
Some supermarkets offer online deals for new customers such as a discount on your first shop and free delivery.
There are other ways to cut down on your outgoings to help your money go further. You could save hundreds of pounds a year by switching your mobile phone provider or broadband provider. Find out how to save money on mobile deals.