Inflation jumps to 7% - what this means for you
Price rises hit another 30-year high, adding immense pressure on household budgets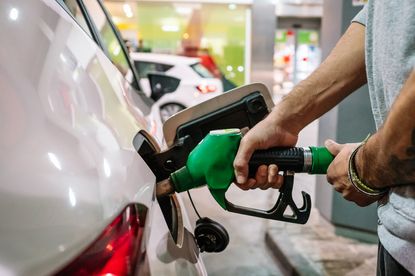 (Image credit: Getty images)
Look After My Bills Newsletter
Get the best money-saving tips, tricks and deals sent straight to your inbox every week. Make sense of your money in partnership with The Money Edit.
Thank you for signing up to The Money Edit. You will receive a verification email shortly.
There was a problem. Please refresh the page and try again.
Inflation surged to 7% in the 12 months to March - up from 6.2% in February - tightening the squeeze on already-stretched household budgets.
Prices are rising at their fastest rate for 30 years driven by a sharp increase in petrol and diesel prices, as well as a wide variety of costs, from food to furniture.
The jump in inflation marks the sixth consecutive month that prices have risen. The consumer prices index measure of inflation is now ten times higher than it was a year ago: in March 2021, it was running at just 0.7%, according to the Office for National Statistics.
"There's no way to sugar coat what's happening to prices," said Danni Hewson, a financial analyst at the investment platform AJ Bell.
"Pretty much everything is significantly more expensive than it was a year ago and there is every indication the situation is just going to get worse."
What's causing the high inflation?
Motorists will be unsurprised to learn that fuel had the biggest impact on the inflation rate last month. Average petrol and diesel prices hit record highs, with petrol prices rising by 12.6p per litre between February and March, the largest monthly rise since records began in 1990.
"Motorists winced every time they had to fill up their vehicles and the chancellor's fuel duty cut has done little to soothe," said Hewson. "Russia's invasion of Ukraine has clearly played a part as sanctions disrupted supply of oil and sent the price of a barrel of the black stuff soaring."
Households may have also noticed a rise in the cost of gas, electricity and heating oil, as well as large increases to some food items.
The cost of margarine is up a third in a year, milk is up over 14%, and pasta, ice cream, fruit juice and olive oil are all up more than 10%.
Flight prices have taken off, with an average rise of 15.4% over the past year.
Meanwhile, the cost of clothes, shoes, furniture and household equipment have all increased by about 10% over the year to March.
Myron Jobson, senior personal finance analyst at the investment platform interactive investor, said as well as higher oil prices due to the war, the price of other commodities including wheat and corn have also surged, "considering Russia and Ukraine's dominance as a global food supplier".
He added that increased staff absences due to Covid "risks squeezing supply chains even more and, in turn, places upwards pressure on inflation".
How does inflation affect my finances?
Inflation impacts the pound in your pocket in several ways. First, the cost of everyday essentials has gone up, meaning you need more money to afford the same items.
Each household now needs to spend an extra £1,957 a year on average to maintain their standard of living compared to a year ago, according to the financial services company Canada Life.
The rocketing prices are particularly painful as wages, benefits and pensions are failing to keep pace.
Second, inflation eats away at the value of your savings. When inflation is higher than the interest you're earning on your savings, you're effectively losing money. There is currently no savings account that can outpace an inflation rate of 7%. The best easy-access account pays 1.49% and the top five-year fixed-rate bond pays 2.5%, according to the financial data firm Moneyfacts.
Rising inflation also impacts certain people disproportionately. For example, pensioners relying on their state pension only saw their payout go up by 3.1% this month, less than half the rate of inflation. The cost of living crisis means homeowners potentially face a double-whammy: they struggle to afford their mortgage payments, and if there's a subsequent interest rate rise, their payments could increase too.
Will inflation keep rising?
Economists were expecting inflation to rise in March, but even they were surprised at the 7% jump: the consensus was that prices would rise by 6.7%.
Experts warn that the cost of living crisis will get even worse in the months ahead, after the energy price cap increased by 54% on 1 April, hiking gas and electricity bills for millions of people.
The Bank of England predicts that inflation could reach 8% in April, and "could go even higher later this year".
This is far higher than the Bank's inflation target of 2%.
Looking ahead, the Bank expects the rate of inflation "to fall considerably over the next couple of years".
The consultancy Capital Economics believes inflation could hit 8.5% next month, and remain above 7% for most of 2022 and above 3% for most of next year.
What will happen to interest rates?
The big jump in inflation is likely to cause the Bank of England to raise interest rates. Its Monetary Policy Committee will next meet on 5 May to decide whether to change the Bank rate.
At its last meeting, on 17 March, it increased rates from 0.5% to 0.75%.
Capital Economics said: "The rise in inflation will pile more pressure on the Bank of England to raise interest rates rapidly. We think rates will rise from 0.75% to 1% on 5 May and to at least 2% next year."
Look After My Bills Newsletter
Get the best money-saving tips, tricks and deals sent straight to your inbox every week. Make sense of your money in partnership with The Money Edit.
Ruth Emery is contributing editor at The Money Edit. Ruth is passionate about helping people feel more confident about their finances. She was previously editor of Times Money Mentor, and prior to that was deputy Money editor at The Sunday Times. A multi-award winning journalist, Ruth started her career on a pensions magazine at the FT Group, and has also worked at Money Observer and Money Advice Service. Outside of work, she is a mum to two young children, a magistrate and an NHS volunteer.