Inflation reaches 9% - what this means for you
Prices hit 40-year high, adding huge pressure to budgets. Will the government help struggling households?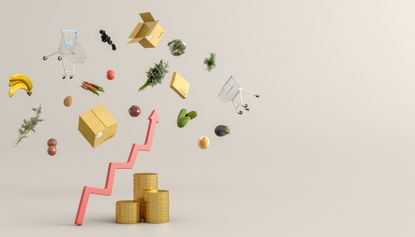 (Image credit: getty images)
Look After My Bills Newsletter
Get the best money-saving tips, tricks and deals sent straight to your inbox every week. Make sense of your money in partnership with The Money Edit.
Thank you for signing up to The Money Edit. You will receive a verification email shortly.
There was a problem. Please refresh the page and try again.
Inflation has reached a 40-year high as soaring energy bills - and the rising cost of fuel and food - squeeze millions of households.
The cost of living jumped to 9% in the 12 months to April, up from 7% in March according to the Office for National Statistics (ONS).
Rising energy bills - as a result of the increase to the energy price cap last month - was a big contributor in pushing inflation up. The price of a weekly shop and filling the car up have also increased sharply, partly due to the Ukraine war. This week, UK diesel prices hit a record high, of just over £1.80 a litre.
Steven Cameron, pensions director at the insurer Aegon, said the cost-of-living crisis "had just stepped up another gear with inflation now sitting at 9%".
He added: "After the energy price cap jumped in early April, take-home pay is being hit by a triple whammy of soaring inflation, increased National Insurance rates and a freeze in income tax thresholds."
WILL THE GOVERNMENT HELP HOUSEHOLDS STRUGGLING WITH HIGH INFLATION?
The chancellor Rishi Sunak is facing calls from business groups, charities and opposition parties to cut taxes or increase state support for firms and households struggling to cope with rising prices.
Sunak has already pledged about £22 billion in support to help households, including £9 billion to deal with energy bills - via the energy bill rebate and council tax rebate - and measures to mitigate the impact of April's rise in National Insurance contributions (NICs).
He said the government was "providing significant support where we can" and that it stands "ready to take further action".
Reports suggest that the government could be considering increasing the warm home discount by up to £600, while a package to help with energy bills could be unveiled in July. Other reports suggest that Sunak is planning to cut income tax by 1p in April 2023, a year earlier than planned.
Labour are calling for a "full emergency budget" while the Liberal Democrats are demanding an "emergency VAT cut now to slash prices at the till and fuel pump today".
WHAT'S CAUSING HIGH INFLATION?
The Bank of England has a target to keep inflation below 2%, but Governor Andrew Bailey has admitted to being helpless in the face of global pressures including a spike in energy costs and the Ukraine war.
Millions of people saw an average £700 increase to their annual energy costs last month, when the energy price cap was hiked by 54%.
Oil prices have shot up due to the war in Ukraine, while global food supplies have also been hit. Prices for both petrol and diesel have hit record highs. Meanwhile, restaurant prices are increasing, rising 1.8% in just a month.
Few prices have been unaffected by spiralling inflation: from the cost of garden furniture (up 33% in a year) to hotels (up 8%) and flights (up 12.5%).
Sunak said: "Countries around the world are dealing with rising inflation. Today's inflation numbers are driven by the energy price cap rise in April, which in turn is driven by higher global energy prices."
HOW DOES INFLATION AFFECT MY FINANCES?
Inflation affects the pound in your pocket in various ways. Rising prices mean you need more money to afford the same items.
Households have little option but to cut back expenditure to ensure they can continue to live within their means.
Alice Haine, personal finance analyst at Bestinvest, an investment platform, said: "Slashing household budgets is the best strategy, but it can only go so far if people have already trimmed out all the luxuries such as eating out, holidays and clothes shopping."
Richard Lane, director of external affairs at the debt charity StepChange, said inflation was causing some people to fall into debt. "The widening gap between people's incomes and the cost of their essential spending is opening up problematic fault lines in household finances and contributing to debt problems, especially for lower income households whose budgets have little ability to flex."
Savers will also be feeling the effect of high inflation. While Bank of England rate has increased to 1% - leading some banks and building societies to slowly raise their savings rates - there is still not a single savings account that can outpace inflation of 9%.
Pensioners may be struggling with the cost of living. This is because energy bills likely account for a larger proportion of their spending than other households. The 3.1% annual increase to their state pension last month is also far lower than the current rate of inflation.
Cameron at Aegon pointed out that pensioners could get a bumper increase to their state pension under the triple lock next April - due to high inflation - "but only after what will be a very difficult year and a long, cold winter for many".
The Institute for Fiscal Studies economic thinktank suggests that the poorest households could be facing inflation of 10.9%. This is higher than average because they spend a larger portion of their money on heating and lighting their homes.
WILL INFLATION KEEP RISING?
Households should brace themselves for even higher inflation in the coming months. The Bank of England warned earlier this month that inflation could peak at over 10% later this year.
Governor Andrew Bailey said the nation was facing "apocalyptic" global food prices rises.
Meanwhile, energy bills are set to go up again in October when the energy price cap is reviewed, pushing up inflation.
The Bank said the UK was "on the brink of recession" due to the cost of living crisis. The British Chambers of Commerce has also warned that "unprecedented" inflation could spark a recession later in the year.
Additional reporting: PA
Look After My Bills Newsletter
Get the best money-saving tips, tricks and deals sent straight to your inbox every week. Make sense of your money in partnership with The Money Edit.
Ruth Emery is contributing editor at The Money Edit. Ruth is passionate about helping people feel more confident about their finances. She was previously editor of Times Money Mentor, and prior to that was deputy Money editor at The Sunday Times. A multi-award winning journalist, Ruth started her career on a pensions magazine at the FT Group, and has also worked at Money Observer and Money Advice Service. Outside of work, she is a mum to two young children, a magistrate and an NHS volunteer.