Inflation hits 10.1% - what does it mean for your money?
Price rises reach double-digits and a new 40-year high as cost of living crisis deepens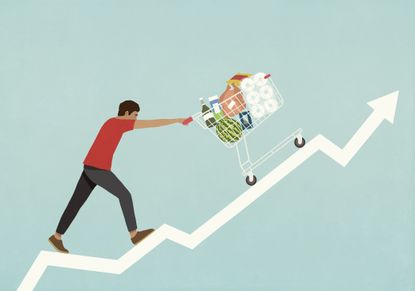 (Image credit: Getty images)
Rising food prices have pushed the UK inflation rate into double digits for the first time since 1982, with the cost of living reaching 10.1% last month.
The official inflation figure, measured over the 12 months to July by the Office for National Statistics, is higher than economists expected, and marks a big jump from the 9.4% rate recorded in June.
The Bank of England expects inflation to continue to spiral, hitting 13% in the coming months.
Food prices were the biggest contributor to rising inflation while energy bills and petrol pump prices also contributed.
As prices soar and pay rises lag behind, many experts are calling for the government to urgently act to ease the squeeze on household budgets.
"Inflation is already far outstripping the real value of wages, and with energy prices set to skyrocket in autumn, a difficult situation is set to get far harder for millions of people," said Jane Tully, director of external affairs and partnerships at the Money Advice Trust.
"The government needs to step in now to target support for those most in need. This should include significantly raising benefits, and additional direct help to households hardest hit so they can afford energy bills this winter."
Why is inflation continuing to soar?
The ongoing fallout from the Ukraine war is still driving up UK inflation, impacting energy bills, petrol and diesel costs, and the price of our weekly supermarket shop. Staff shortages and global supply problems are also having an effect.
In terms of food, the price of bread, cereals, milk, cheese and eggs rose the fastest, while vegetables, meat and chocolate also became more expensive.
Other items like toilet rolls, pet food and toothbrushes increased in price too.
"Anyone on a tight budget has had to wrestle with alarming rises in the cost of some staples - with milk prices up more than a third, and flour, butter and pasta all up around a quarter in a year," said Sarah Coles, senior personal finance analyst at the investment platform Hargreaves Lansdown.
Coles also highlighted the higher costs for holidaymakers, with flight ticket prices "up an astonishing 37.1%", while those staying closer to home facing a 25.5% hike in the cost of a UK break in a campsite or holiday centre.
Meanwhile, higher interest rates are making mortgage payments more expensive for some homeowners, which further pushes up inflation.
What does high inflation mean for savers?
Soaring inflation is bad news for savers, as higher prices will shrink the spending power of their savings pot. Can savings beat inflation?
While savings rates have started to increase in recent months, they are no match for double-digit inflation.
There are no standard savings accounts offering an interest rate of more than 10.1%. The best easy access rate is currently 1.9%, while those happy to lock their money away in a two-year account could get a rate of 3.35%, according to the financial comparison site Moneyfacts. See our article on the best savings rates for more.
"Savers must not become apathetic as they could miss out on a lucrative rate, so even if cash is being eroded in real terms, savers can at least secure a higher interest rate to mitigate its impact. Challenger banks continue to jostle for table-topping positions to entice savers' deposits, so it's wise to keep a close eye on the moving market," advises Rachel Springall, finance expert at Moneyfacts.co.uk.
If you are saving for the long term, and prepared to take a bit of risk, you could consider investing your money, such as in a stocks and shares ISA. Research shows that the stock market nearly always beats cash over five-year periods, so it has a better chance of keeping pace with inflation.
How high could inflation go?
The inflation rate is expected to rise further in October, when a higher energy price cap is introduced. The cap, which is currently £1,971 for a typical annual bill, is forecast to rise 82% to a staggering £3,582 on 1 October. This will apply to all variable energy tariffs.
The Bank of England has also warned that inflation could soar above 13% this year, and that the UK will soon fall into recession.
Unfortunately, the outlook does not look much better for 2023: higher prices are predicted to last well into next year, and not come close to the Bank's target of around 2% for two years.
The consultancy Capital Economics says households should brace themselves for more interest rate hikes as the Bank acts to put a lid on runaway inflation.
It thinks rates will go up from 1.75% to 2.25% on 15 September, and then rise further to eventually hit 3%.
What is the government doing to help?
Chancellor Nadhim Zahawi said tackling high inflation was his "top priority" but admitted there were no "easy solutions".
Responding to July's inflation figure of 10.1%, Zahawi pointed to the £37bn support package the government had put in place, and the £400 energy bill discounts that households will receive in the coming months.
But, consumer experts, charities, business owners and opposition parties have all called on the government to do more.
Shadow chancellor Rachel Reeves said: "We must get a grip on rising inflation leaving families worried sick about making ends meet.
"Labour's fully-costed plan to freeze the energy price cap will bring inflation down this winter easing the burden on households and businesses."
Myron Jobson, senior personal finance analyst at the investment platform Interactive Investor, added: "The government's cost of living support measures will not stretch far enough to shield the most vulnerable members of society from eye-watering price rises. With the worst yet to come, it remains important to take steps today to bolster financial resilience now to give you some peace of mind in the coming months."
Look After My Bills Newsletter
Get the best money-saving tips, tricks and deals sent straight to your inbox every week. Make sense of your money in partnership with The Money Edit.
Ruth Emery is contributing editor at The Money Edit. Ruth is passionate about helping people feel more confident about their finances. She was previously editor of Times Money Mentor, and prior to that was deputy Money editor at The Sunday Times. A multi-award winning journalist, Ruth started her career on a pensions magazine at the FT Group, and has also worked at Money Observer and Money Advice Service. Outside of work, she is a mum to two young children, a magistrate and an NHS volunteer.