UK inflation eases to 10.7% ‒ what does it mean for your money?
Inflation has fallen at the sharpest rate in 16 months to 10.7%. But prices are still rising - we explain everything you need to know.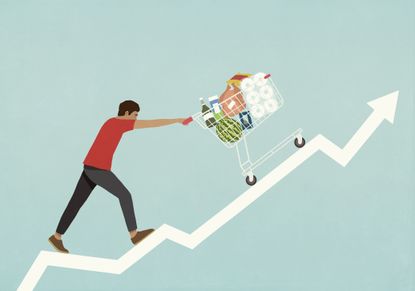 (Image credit: Getty images)
The UK inflation rate stood at 10.7% in November, down from 11.1% in October, new figures from the Office for National Statistics (ONS) show.
It means prices are still rising, but at a slower rate than the 11.1% in October when they were rising at their fastest rate since October 1981.
A drop in the price of petrol and diesel was cited as part of the reason for the fall, according to the ONS. Overall, fuel prices rose by 17.2% in the year to November 2022, down from 22.2% in the year to October.
Labour's Shadow Attorney General, Emily Thornberry, says though this month's inflation figures are to be "welcomed", they are still "the second worse for 40 years".
Food prices remain high, rising 16.5% in November compared to 16.4% the month before, with grocery bills having risen for 16 months in a row.
Prices at restaurants and hotels also rose by 10.2% in November, the highest rate in more than 20 years, up from 9.6% the month before.
The rising rates reflect the current cost of living crisis, with millions of households struggling with rising energy bills, food costs and petrol prices.
We look at what the change in inflation means for the money in your pocket.
What does it mean for my money?
In simple terms, it means a basket of everyday goods costing £100 in October 2021 now costs £110.70.
Easing inflation shows that the cost of goods and services are still rising but at a slower rate. This easing is a bit of good news for households, with some experts believing inflation has now peaked.
The ONS inflation calculator allows you to see your own personal rate of inflation, whether you're a single-person household or a family of five. It will show you where your budget is being hit the hardest and help you assess where to cut back. For example, if your food costs have gone up significantly (which will definitely be the case) you could change supermarkets or start food planning.
High inflation is a disaster for your savings. It means in order to grow your savings in real terms, you need to find savings accounts that pay rates above the rate of inflation. These simply don't exist right now. The best savings account on the market is First Direct Regular Saver that pays 7% on savings up to £3,600. (Note you need its current account)
See our article on the best savings rates for more.
Look After My Bills Newsletter
Get the best money-saving tips, tricks and deals sent straight to your inbox every week. Make sense of your money in partnership with The Money Edit.
Katie is staff writer at The Money Edit. She was the former staff writer at The Times and The Sunday Times. Her experience includes writing about personal finance, culture, travel and interviews celebrities. Her investigative work on financial abuse resulted in a number of mortgage prisoners being set free - and a nomination for the Best Personal Finance Story of the Year in the Headlinemoney awards 2021.