Iceland gives out more £30 vouchers to pensioners to help with cost of living
Iceland has boosted its voucher scheme to give out more vouchers to vulnerable customers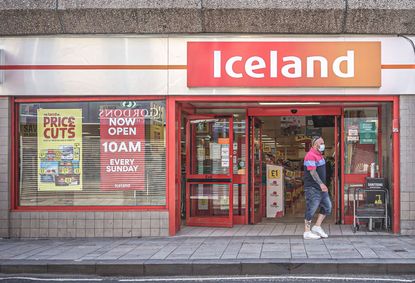 (Image credit: Getty images)
Supermarket Iceland had released an additional 40,000 vouchers to give to eligible pensioner customers in a bid to help tackle the cost of living crisis.
The move follows the news that energy bills are set to rise an average 80% from 1 October, when the new energy price cap kicks in.
Iceland launched the program early August and has received an additional £1m funding to boost the scheme and give out more vouchers. It is in addition to its interest-free loan scheme, which offers shoppers a loan to help pay for their grocery shopping
The vouchers are available until 16 September 2022, but will be made available on a first come first basis.
Here's everything you need to know about the £30 Iceland vouchers.
Who qualifies for the voucher scheme?
There are a few eligibility factors you must qualify to get the £30 voucher.
You must be of state pension age and live independently, but this doesn't necessarily mean you have to live alone. In addition, you are eligible if you rely exclusively on your state pension or other benefits for food and essentials. You can still be eligible if you live with a carer, and you can get more than one voucher per household. If you live as a couple, you can each independently apply for the voucher scheme.
You must also live in certain areas of the UK, as the scheme is only active in stores in those regions. In total, there are 269 Iceland locations where the vouchers can be used.
Birmingham
Croydon
Glamorgan
Glasgow
Greater Manchester
Huddersfield
Lambeth (London)
Liverpool
Newcastle North
Newport
North Wales
Sheffield
Strathclyde
Sunderland
West Midlands
Wirral
How do I apply for the £30 Iceland voucher?
You can apply for the £30 Iceland food voucher, call the free 'Cheer hotline' on 0800 098 7877. The line is open from 9am to 5pm, Monday to Friday.
Once your application is approved and processed, you'll be sent a paper voucher by post within seven days.
The scheme only offers paper vouchers – cash equivalents, bank transfers, cheques, or any other form of payment will not be issued.
Stores will not distribute the vouchers themselves, so it may be worth taking your time on the hotline to fully understand how the system works so you don't miss out on what you are entitled to.
Once you have received the voucher, you can use it across more than one transaction, meaning you don't have to spend it all in one go.
All vouchers will expire at 11:59pm on 31 December 2022.
What can the Iceland vouchers be used for?
The vouchers can be used on household items and food but excludes alcohol and tobacco.
Richard Walker, managing director of Iceland Foods, said: "No one should ever have to worry about how they are going to eat or drink, and we hope that the support we can offer across the UK will help pensioners access and enjoy a worry-free meal during this difficult time," he added.
The additional funding comes from the Rothesay Foundation – the same group that provided the initial £1 million for the scheme earlier in August.
Tom Higgins is a journalist covering all aspects of the financial world, from investing and sustainability to pensions and personal finance. He graduated from Goldsmiths, University of London in June 2020 and has since written online and in print for the Financial Times group, New Statesman media group, numerous trade magazines, and has worked with Bloomberg on social media projects. He has a deep interest in environmentalism, social change, and data-driven storytelling. He can be found tweeting at @tomhuwhig.