How to track down lost money
We explain to track down lost money. Are you sitting on a goldmine of forgotten savings, pensions and investments?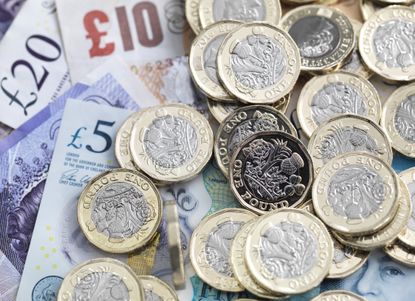 (Image credit: Getty images)
Many households are set to be £2,500 a year worse off as the cost of living crisis worsens, so it's worth making sure you don't miss out on a windfall, especially when the cash you're claiming is yours.
"With horrific price rises on all sides, every penny counts, and while you're likely to be laser focused on cutting your costs and making your money go as far as possible, there may be a pot of cash with your name on it, lying neglected and forgotten somewhere, " says Sarah Coles, personal finance analyst at Hargreaves Lansdown.
In fact there's a whopping £77bn of unclaimed cash lying around in the nation's coffers, in the form of lost or forgotten pension pots, savings, premium bonds and tax rebates.
If you don't tell banks and pension companies when you move home, it's easy to lose track of your money over time, and if companies change names or merge, this makes tracing your money even harder.
If you think you may have money you have forgotten about, here's everything you need to know to get it back.
DIG DEEP IN POCKETS AND PURSES
Start your windfall expedition by going through pockets in old coats and jackets along with clothes you may have packed away from last year's summer holiday. It's worth going through every compartment in old purses and wallets, especially before getting rid of them. Having a rummage in the glove compartment of your car may net you a windfall if you've hidden £20 there for 'emergencies', and worth scrabbling down the back of your sofa for small change that may have fallen out of pockets.
FORGOTTEN SAVINGS ACCOUNTS
Around £850m of unclaimed cash is in bank and building societies, according to the Money and Pensions Service. It's easy to check online for old accounts using My Lost Account. The free service covers all UK building societies and over 30 banks and can even help you trace lost accounts from financial institutions that no longer exist.
Following your initial inquiry, you should get a response within three months. If there is any dispute over your claim, you can appeal firstly via the bank and, if that fails, you can take your complaint to the Financial Ombudsman.
PREMIUM BOND WINDFALLS
If you've ever held National Savings & Investments (NS&I) premium bonds, then it's worth checking in to see if you are a prize winner - you could even be one of the million pound jackpot winners. According to NS&I, more than £60m in 1.5 million premium bonds prizes sit unclaimed. It also has £400m sitting in dormant savings accounts.
To see if you are a prize winner, go to NS&I's prize checker tool. Not sure if you have an account with NS&I? Then use the My Lost Account service.
For bonds that are more than 30 years old, you will need to write to NS&I to ask for the holder's number associated with them.
LOST PENSION POTS
With more of us frequently changing jobs, lost pensions are increasingly common.
According to the government's pension tracing service, £5bn is sitting inside forgotten pension schemes.
Most pension pots end up being 'lost' when people move home or change their name, but do not tell a past pension provider.
If that's you, then write to your past pension provider and update them with your new details. If you no longer have the details or are not sure if you had a pension with your past employer, you can use the Pension Tracing Service for free, which has the details of over 200,000 pension schemes. The Pensions Advisory Service can also help you find your retirement savings without a charge.
SHARES AND INVESTMENTS
If you think you might have investments but you can't locate your share certificates, you can apply directly to any or all of the three main company registrars – Capita, Computershare and Equiniti - to have them replaced for a fee. Even if you aren't entirely sure that you hold shares, you can get them to search their records for free.
You can head to the Investment Association for help in tracing lost unit trusts, while the Association of Investment Companies might also be able to assist you in getting back lost investment trust funds.
TRACK DOWN OLD INSURANCE POLICIES
An estimated £2bn is sitting in unclaimed life insurance according to Unclaimed Assets UK. Given that these policies can be held for many years, it is not a surprise that they can be easily forgotten. To find out if a loved one had life insurance, the first step would be to go through old bank statements, contact their financial advisors or solicitors, or past employers.
You could pay £25 to the Unclaimed Assets Register, which will look through all the companies signed up to the register to help you find any insurance policies, lost pensions or shareholdings you may have. If they uncover any of your lost accounts, they will give you the provider's details but it's up to you to take the next step to get your money back.
CHECK CHILD TRUST FUNDS
Children born between 1 September 2002 and 2 January 2011 were given tax-free savings products known as Child Trust Funds. These are now closed to new savers. To give a financial leg up to each fund, the government gave each child between £250 and £500 each. However over one million such bonuses have not been claimed, meaning as much as £1bn could be lost.
We explain in our article on Child Trust Funds how you can trace a lost one.
You can submit a request on behalf of your child via GOV.UK to see if money is owed to them.
ENERGY BILL CREDITS
If you pay your energy by direct debit, you can easily over or underpay - which is why it is important to give regular meter readings. If you have paid more money to your supplier than the energy you have used, then they owe you money. If your account is live, then you can ask your supplier to refund you at any time. For a closed account, the regulator Ofgem has implemented strict rules stating that suppliers have six weeks to send you your final bill and 10 days after that to pay you any outstanding amount or you should be compensated. If you have moved home, contact your supplier if you haven't received anything.
TAX REBATES
Your tax code may look like a jumble of letters and numbers, but it helps HM Revenue & Customs (HMRC), work out much how much tax you pay.
There may be times when you pay too much tax, especially if your income suddenly changes. If you've been made redundant, or changed jobs and HMRC don't have your tax details, you may be put on a 'emergency' tax code. And if you have income from several sources, that fluctuates, say with payments from investments and pensions, there's a chance you may pay too much tax.
In most cases, any over payment should be sorted out automatically at the HMRC end, but if you think you're owed money, you should contact HMRC about claiming a tax rebate or give them a call on 0300 200 3300.
Look After My Bills Newsletter
Get the best money-saving tips, tricks and deals sent straight to your inbox every week. Make sense of your money in partnership with The Money Edit.
Georgie is a multi award-winning financial broadcaster and journalist. She is a trusted voice on all matters personal finance and consumer affairs, hosting a number of money podcasts and appearing regularly on TV, radio and in print. Georgie speaks with both authority and personal experience. Before moving into money journalism, Georgie spent a decade traveling around the country as a BBC sports broadcaster, however a spinal injury changed that. Georgie's journey into and out of debt due to her injury sparked a deep interest in consumer rights, financial education and social mobility, which drives much of her work today.