How to get the best deals on Amazon Prime Day
It's easy to get caught up in the buying frenzy on Amazon Prime Day. We explain how to make sure you always get the best price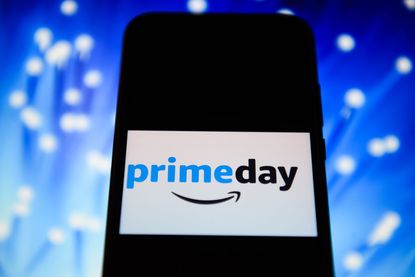 (Image credit: getty images)
Contributions from
Amazon Prime Day (opens in new tab) is upon us yet again, running on 12 and 13 July. At a time of rising prices, the temptation to bag a bargain is understandable, but before you part with your cash, make sure you're getting the best deal and avoid overspending with our top tips.
As the name suggests, this 'sale' is only for Amazon Prime customers. If you are not a Prime member, it's easy to sign up to Amazon Prime (opens in new tab). Although Prime does cost you £7.99 a month, new members can get a 30-day free trial that will allow you access to all the benefits of Amazon Prime, including free and fast delivery, exclusive member-only discounts on select items and Prime Day deals.
If you don't want to continue with your membership after the Prime Day event, remember to cancel it.
Amazon Prime Day promises bargains galore, as the deals are slowly released throughout the two-day sale.
However, as well as potential bargains, there is also plenty of hype - so make sure you don't fall for an eye-catching offer, which could actually be cheaper elsewhere. Try not to get caught in the buying frenzy, and remember to be a savvy shopper: compare prices and ask yourself if you really need the item.
Here are a few easy ways to make sure you get the best deal on Amazon Prime Day.
Make a wishlist and set yourself a budget
It's easy to overspend during big shopping events. However, it's vital to take a step back and think about whether you actually need the item, and if you'll ever use it. Are you just buying it because it looks like a good deal? With the cost of living crisis squeezing many people's finances, consider whether you can actually afford buying the product right now.
Think about how much you're happy to spend, and stick to it. You could also make a wishlist to narrow down the products that you do actually need.
Remember that deals will come and go. Amazon cuts its prices all the time, and you've still got the Black Friday sale to come later in the year too. Never let yourself over-spend just because there's a sale – you may regret it later.
Get a free £6 when you buy a £60 gift card
If you're planning to spend at least £60, Amazon Prime members can currently buy a gift card (opens in new tab) for this amount and get an extra £6 added to the balance. This bonus is only available if you haven't topped up your account in the last 36 months.
And if you're planning to spend at least £120 over two items and there's two Amazon Prime members in the household you can double up the free £6 to £12 and coordinate the buying so that each of you is buying an item with a gift card and gaining an extra £6.
Compare prices
If you've got your eye on an item, shop around first to check if the price really is the cheapest. It's easy to compare prices online. You can search on Google the exact make and model of what you want and see how much other retailers charge. You can do this on Google Shopping (opens in new tab) or just use the usual Google search engine and then when the results come up, click 'Shopping'.
Price comparison sites Kelkoo (opens in new tab), Price Spy (opens in new tab), Idealo (opens in new tab) and Price Runner (opens in new tab) can also do the hard work of shopping around for you.
Prices can change very quickly, with online retailers using complex algorithms to slash prices throughout the day. So, even if you compared prices in the morning and found Amazon to be cheapest, it's worth searching again when you actually want to buy the product (even if this is just a few hours later), as prices may have moved. This is especially true for Prime Day, when the online retail giant drops new deals at different times of the day.
Katy Phillips from Idealo comments: "Discounts are often put live in stages, meaning that the morning could be more expensive than the evening."
Amazon price tracker CamelCamelCamel (opens in new tab) will let you check how much products have been sold for previously. If you find that your product has been advertised at the same price in the months prior to Amazon Prime Day, then flag this item as low priority for your seasonal shopping.
Stick to Amazon products for the biggest discounts
The biggest discounts are often on Amazon devices such as Echo speakers (opens in new tab), Kindles (opens in new tab) and Fire tablets (opens in new tab). Fitbit fitness trackers (opens in new tab) have also been pencilled as having potential for super saving.
Nick Drewe, founder of discounts platform Deal.Town says: "The best discounts will probably be on Amazon's own lineup of hardware products on the homepage. The Amazon Devices department will have some of the best discounts on products reviewed which they can first-handedly recommend. Items including Echo smart speakers and smart displays, Fire tablets, Fire Kindle ereaders, will most likely be on sale for much less than they usually retail for.
Take account of delivery fees
If you find a product cheaper with another retailer, make sure you factor in any delivery costs. One of the perks of being a Prime member is that you won't be charged a penny in delivery fees.
So, if say an electric toothbrush is cheaper with Boots or Argos than it is with Amazon, check the delivery costs too so you're comparing the overall price.
Also be mindful of how long delivery takes. For example, Amazon's delivery could be quicker than a rival retailer. Check the returns policy too: can you return the item free of charge? How long do you have to decide before returning a product?
Check out Amazon Warehouse and Outlet
There's also Amazon Warehouse (opens in new tab) and Amazon Outlet (opens in new tab). The Warehouse was designed for those who are happy to pay less for products that have previously been returned as they were unwanted purchases, the customer changed their mind or so on. The product will be in full working order after tests are carried out and even though it may have been used and the box could be damaged, you will benefit from an essentially new product at a fraction of the price.
Similarly, the Amazon Outlet is the home for overstock which will be sold at lower prices in a bid to get rid of it. People don't always know about this section, as it's hidden within the site.
Use all of your Prime Benefits
Prime (opens in new tab) Day isn't just about browsing through deals until you find items you like. If you click on the Prime Day banner on your Amazon homepage, you'll be able to click through to your personalised promo codes. You may not have known that some of these offers were available - for example, when you create a Baby Wishlist, you can claim a free welcome gift, and Prime members can try Audible free for 3 months.
Tom Church, co-founder of money-saving community LatestDeals.co.uk, said: "The official Audible site only gives newcomers a 30-day trial, so you're getting triple the amount with this particular deal! Plus, now is a great time to sign up for Amazon Music (opens in new tab), as instead of one month free, you'll get four months free. That's a third of a year."
Katie is staff writer at The Money Edit. She was the former staff writer at The Times and The Sunday Times. Her experience includes writing about personal finance, culture, travel and interviews celebrities. Her investigative work on financial abuse resulted in a number of mortgage prisoners being set free - and a nomination for the Best Personal Finance Story of the Year in the Headlinemoney awards 2021.
With contributions from