How to complain if you're unhappy with building work: "I've waited six months for my builder to fix my patio - how can I get it sorted?"
Money Edit reader Chris is unsure how to complain about building work completed six months ago. Katie Binns helps him find a way to resolve the situation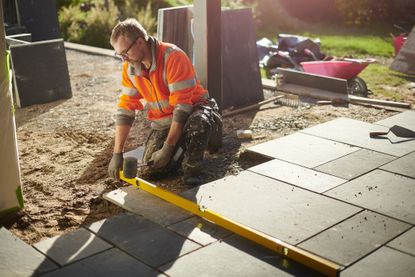 (Image credit: Getty images)
It's useful to know how to complain if you're unhappy with building work: despite the ongoing cost of living crisis, almost half of Brits (46%) still intend to spend an average of over £2,400 on home improvements in the next 12 months, according to Checkatrade (opens in new tab).
We explain what action you can take if you run into a similar issue as our reader Chris.
Chris says:
"I had a builder carry out some work earlier in the year which included laying tiles on my patio and installing ACO drains. Part of the tiling was not done correctly, however. The tiles are supposed to fall towards the drain - and they don't in one area.
The builder acknowledged there was an issue and said those tiles could be relaid as the rest of the patio is fine. Unfortunately he has left me high and dry - and not come to fix the job in the six months since completing. He's always said the right things when I've called to follow up but now he's not replied to the last message I sent a month ago.
I got a quote from another tiler who confirmed that only the area affected needs addressing.
I've emailed the builder to explain that since I've been waiting six months I am engaging this tiler to fix the patio and that I request he pay for the work which will cost £600.
What courses of action can I take? The builder is not a member of a trade association so I can't raise a dispute this way!
If the builder replies saying he will fix the patio rather than pay for the tiler am I entitled to refuse at this point?
Would going ahead with the new tiler and claiming back costs from the builder via the small claims court be an option here? I am hoping the thought of a CCJ will motivate him to provide payment.
I am armed with a schedule of work from him including a payment plan, proof I have paid the full balance as required and a collection of Whatsapp messages confirming that someone would return to do work.
How to complain: Money Edit's Katie Binns replies
You're not alone Chris. In the past 12 months X number of people who needed help sorting out home improvement problems have contacted Citizens Advice.
Firstly, under the Consumer Rights Act, when you enter into a contract for services you can expect them to be supplied with reasonable care and skill. If the job hasn't been done to this standard, the builder should put the work right free of charge and within a reasonable time.
So, at this point it is too late for your builder to offer to do the work. You have lost confidence in him given his failed promises and the law doesn't expect you to wait for him.
And it's great that you've pulled together all the digital paperwork that you have and tried to resolve the issue with the builder first before considering the alternatives. You've done all you can, really.
Solicitor Gary Rycroft suggests you send a 'letter before action' to the errant builder to say the following:
It is unacceptable that more than six months have passed & the work is still not completed.
You have no alternative but to pay another tradesman to complete the work.
You have obtained a report on the defects with regard to the job he has carried out and the cost to complete the work & enclose that evidence.
You now have no choice but to have the work completed as per the quote & it will be going ahead asap.
It is too late for him to offer to do the work. You have lost confidence in him given his failed promises and the law does not expect you to wait for him.
You would like him to pay the costs you will incur to complete the job as per the estimate. Your right to claim this arises from his breach of the contract he entered into to do the work and for you to pay him for the work.
"Give your builder 14 days to respond and say after that you will issue a Money Claim and seek a CCJ against him and make the Court aware you put him on notice," say Rycroft.
Starting a court claim yourself (opens in new tab) doesn't require a solicitor, can be done online and is quite straightforward. If the claim is below £10,000 - which it is in your case - it will be considered a 'small claim' in the county court system.
How to go to the small claims court
Claiming money back via the small claims court is an option if the amount involved is less than £10,000 in England and Wales, £5,000 in Scotland and £3,000 in Northern Ireland.
There's a fee of up to £410 which will depend on how much your claim is for. You'll get this fee back if you win.
You have to complete a number of forms and include as much information about the parties involved, what was supposed to happen, the expected timeline, what went wrong and what needs to happen to fix the situation.
Most cases are settled before going to court - but if you do end up in court make sure you gather all necessary paperwork.
In need of a helping hand? Get in touch. If you've got a money problem or question, email Katie at katie.binns@futurenet.com
Be aware we cannot help with, or respond to, every email we receive. The inbox is monitored periodically during office hours, Monday-Friday 9am-5pm.
Katie is staff writer at The Money Edit. She was the former staff writer at The Times and The Sunday Times. Her experience includes writing about personal finance, culture, travel and interviews celebrities. Her investigative work on financial abuse resulted in a number of mortgage prisoners being set free - and a nomination for the Best Personal Finance Story of the Year in the Headlinemoney awards 2021.