"I caught out a WhatsApp scammer posing as my daughter when I asked for her middle name"
WhatsApp scams have soared by 2,000%. One reader tells us how quick thinking stopped her from losing £1,000 to a scammer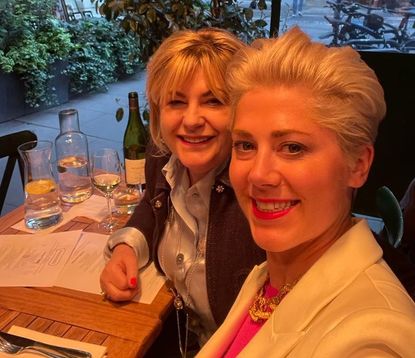 (Image credit: Future)
Look After My Bills Newsletter
Get the best money-saving tips, tricks and deals sent straight to your inbox every week. Make sense of your money in partnership with The Money Edit.
Thank you for signing up to The Money Edit. You will receive a verification email shortly.
There was a problem. Please refresh the page and try again.
With Whatsapps scams on the rise, fraudsters are increasingly getting away with stealing cash from unsuspecting users. One reader tells Katie Binns how she managed to stop herself from becoming a victim.
The total number of scams reported as starting on WhatsApp from 2020 to 2021 soared by more than 2,000%, according to Lloyds Bank.
Christine Hawthornthwaite didn't initially think anything of a WhatsApp message she received one evening that read 'Hi, mum. I've lost my phone, please can you save this as my new number?'
It was the start of a type of fraud known as an authorised push payment (APP) scam. In the first half of 2021, a total of £355.3m was lost to APP scams – a massive increase of 71% compared with the same period in 2020, according to UK Finance.
APP scams involve tricking you into sending money to an account the scammers control. Methods include pretending to be an organisation - for example a bank, Government department or delivery firm - or a person. Scammers don't just use WhatsApp: telephone, email and text are also used to make contact.
In Christine's case, the WhatsApp scammer posed as her daughter, Elizabeth. "The next day she messaged to say she was having difficulty with her banking app on the new phone and had some urgent payments she needed help with - I was immediately concerned."
The 60-year-old PA who works in the finance sector tried to call the new number but no one picked up. "Shortly after, I received a message explaining the microphone was broken and she couldn't speak."
So far, so believable. Christine received a name, account number and sort code to transfer £970 to. "I started entering the details via my banking app, ready to send the £970 the scammer had asked for. An alert from her bank popped up, asking her to confirm she definitely knew the recipient.
"I decided to ask who I thought was Elizabeth, her middle name. The response was: 'I forgot x'. Immediately, I knew this wasn't right and I didn't make the payment."
Another scam to have emerged recently is the council tax rebate scam.
How to spot a scam
Pretending to be someone you know is common, but also look out for anyone calling or texting you with a strong sense of urgency. Email and texts that are not genuine often have spelling errors and poor grammar. Asking something personal as Christine did is clearly another way to check if someone is genuine.
Some text messages can also take you to a fake website, which will have been created and designed to capture the information that you enter.
Campaigners say companies like WhatsApp need to do more to combat scams, there are certain methods that fraudsters use to get you to hand over your money.
What to do if you are a victim of a scam?
If you think you have been a victim of a scam, let your bank know immediately. You should also call Action Fraud on 0300 123 2040.
Also take a look at the Take Five Stop Fraud website to find information on the latest scams and advice on how to keep safe.
Look After My Bills Newsletter
Get the best money-saving tips, tricks and deals sent straight to your inbox every week. Make sense of your money in partnership with The Money Edit.
Katie is staff writer at The Money Edit. She was the former staff writer at The Times and The Sunday Times. Her experience includes writing about personal finance, culture, travel and interviews celebrities. Her investigative work on financial abuse resulted in a number of mortgage prisoners being set free - and a nomination for the Best Personal Finance Story of the Year in the Headlinemoney awards 2021.