How to save on pet care costs
From cheaper pet food and cut-price insurance to DIY grooming and bargain vet plans, we outline different ways to save on pet care costs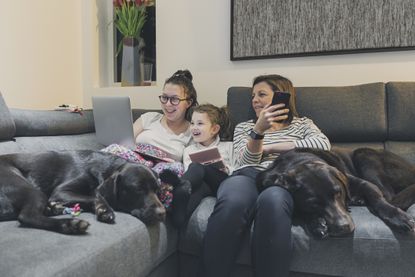 (Image credit: Getty images)
It's easy to get swept up in the excitement of getting a new pet and forget about the more practical things — such as how you're going to afford all the costs associated with them.
But it's something current and prospective pet owners have to think about, especially as the cost of living crisis continues to bite.
"Many people are telling our teams how they're going without food themselves in order to afford food and vet care for their pets," says a spokesperson for animal welfare charity Blue Cross. "Some are having to make the heart-breaking decision to re-home their beloved companion."
In light of this, we've put together a list of things you can do to ease the pressure on your wallet and make sure your pets continue to thrive.
Five ways to save on pet care costs
1. Consider cheaper pet food
If the cost of your pet's food has gone up, try finding a cheaper alternative. However, make sure the food still meets your pet's dietary requirements, especially if they have a medical condition. You can use pet food comparison site allaboutdogfood.co.uk to filter brands by dog breed, age, weight and budget.
If you have food that's gone out of date, you might still be able to use it. A best before date is a minimum storage life of the product, so if you have food that has gone out of date it's still safe to feed but "may not be as nutritionally complete as the label states… We would not advise to use out-of-date puppy or kitten food for young animals as deficiencies can affect growing animals more quickly," says Blue Cross.
If you are struggling to buy food for your pet, search for food banks. Blue Cross has several of them throughout the country.
Make sure you're buying the most cost-effective treats, too. A 100g bag of dried sprats from a local seller costs me £3.50 for my dog Moose, a small jack russell, and lasts him the whole week, whereas a bag of treats from the supermarket often only lasts about three days. You can also find recipes for dog treats online if you want to try making them yourself.
Invest in insurance, or switch to a cheaper provider
Standard pet insurance covers non-routine vet fees, such as those for accidents or treatments. According to comparison site gocompare.com, the average cost of insurance for a dog works out at £23.33 a month, and £10.92 for a cat. The amount will increase the older your pet gets.
Policies offered by providers include lifetime policies, which cover injury and illnesses up to an annual limit which is reset at the end of the year, accident-only policies, maximum benefit policies which will only cover up to a pre-established limit, or time-limited policies which have a cap on how much you can claim for treatment and a time limit too (usually a year).
But these will not typically cover regular check-ups or vaccines, neutering, and non-emergency dental treatments.
If you want to lower the cost of your insurance you can pay an excess. Multi-pet cover might also get you a better deal, so see if you can put all your pets on one policy. Use a comparison website to find the cover that is best for you.
If you already have insurance and decide you want to switch to a cheaper one, there are several things to keep in mind. Some providers won't cover your pet until a few weeks into the policy, so if you need to take your pet to the vet in that time you will have to pay the bill yourself.
Additionally, any conditions they developed under your previous policy will be classed as pre-existing and might therefore not be covered in future. Make sure the monthly savings you're making outweighs the cost of having to pay for treatment related to their pre-existing condition in the future.
3. DIY grooming
According to data provider NimbleFins, the average cost of dog grooming in the UK is £43, but prices range from anywhere between £20 to £90 depending on your dog's size and coat type.
You can save money by giving your pet a trim yourself. You can watch tutorials online specifically for your dog breed first, as it can feel overwhelming. Invest in a good set of clippers and scissors (the cost of these two will likely add up to the cost of one or two dog grooming appointments).
You can also carefully cut your pets' claws yourself, with either a dog trimmer specifically for pets or a nail grinder.
4. Bargain vet plans and flea treatment
Some vets will offer care plans that are paid on a monthly basis and cover the cost of flea and worm treatment, booster vaccinations, a yearly routine check-up, discounts on medicine and even neutering for a monthly fee.
You would be paying this on top of your insurance, but it's sensible to stay on top of your pet's health to avoid conditions from worsening and leading to more expensive treatment. If you do find yourself having to pay a hefty bill, speak to your vet to see if you can arrange an instalment plan.
5. Find cheaper walkers
According to Pet Business Insurance, the average dog walker charges £14 for a walk ranging between 45 minutes to an hour. Once a week this adds up to £728 a year, or £2,184 per year for three walks a week.
Dog walkers will all have individual quotes, so you might find a more affordable one. You can use websites such as rover.com or tailster.com to search for a walker that's within a distance and price range that suits you.
Borrow My Doggy is another option. You can list your dog on the site for an annual fee of £44.99 and allow people near you to borrow them, free of charge, as they often do it just to spend time around a dog. I met the couple who borrow my dog on the site about a year ago, and they take him once or twice a week for the day while I go into the office. The fee covers insurance and a 24-hour vet hotline, too.
Alternatively if you spot someone around your neighbourhood walking their dog, you could ask them what their dog care arrangements are. If you both work from home on different days you could agree on a mutually beneficial schedule.
If you have a puppy, check out our article on ways to lower your costs further and save hundreds of pounds a year
Nicole graduated with a BA in Journalism & Communications from Cardiff University and then went on to do a Masters in Magazine Journalism at City, University of London. She started off as an editorial assistant at MoneyWeek in 2019, and now as well as contributing to the website she's a writer and section editor for the magazine. Outside of work she loves cooking and eating, her dog Moose and her cat Fish, and buying more plants than she can fit in her house.