Cost of Living help: Here's how to get the help you need if you can't pay bills
With the cost of living hitting a 40-year, we've put together a guide on all the help available if you can't pay bills or need extra financial support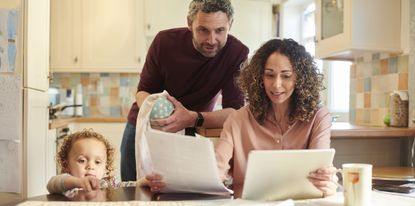 (Image credit: Getty images)
With energy prices on the rise, food costs soaring, and fuel and other living costs going up, many households are struggling to keep up with bills. Here's our guide if you need help with bills.
Many households are finding they can't pay bills as they get squeezed by the cost of living crisis.
Inflation is running at a 40-year high, with energy bills, supermarket prices and fuel costs all soaring. Many workers are seeing a hit to their take-home pay too, after a hike in National Insurance contributions last month.
A report by Yorkshire Building Society and the Centre for Economics and Business Research lays bare just how challenging it is becoming for many people. Households could be left about £100 a month short of what they need to cover their spending in just two years' time on average, as costs rise faster than incomes.
The report also found that the rising cost of living has already forced nearly four in 10 (39%) people to dip into their savings in the past 12 months. Those who don't have the financial resilience to withstand higher prices may struggle to afford to pay their bills.
Experts say the risk of a recession has risen, and the number of people who can't pay bills could surge, after official figures revealed that the UK economy shrank by 0.1% in March. The National Institute of Economic and Social Research, a think-tank, has warned that the UK could fall into recession in the final half of 2022, while the Bank of England says the country faces a "sharp economic slowdown".
We explain what to do if you can't pay your bills.
Can't pay bills? Don't ignore these
If you're struggling to pay your bills, it's time to sit down and have a look at all of your bills together.
You'll quickly realise that there are priority debts - which you really must pay - and non-priority debts that you should deal with only once the priority debts are under control.
Priority bills are ones that if you fail to pay could have serious consequences. These include:
Rent or mortgage payments (your landlord could evict you / lender could evict and repossess your home)
Council tax bill (local authority could take you to court)
Energy bill (your gas and/or electricity could be cut off)
TV licence bill (you could be fined)
Court fines (a court could take the money from your wages or benefits)
Child maintenance (the Child Maintenance Service can take the money from your wages or bank account)
If you have any overpaid tax credits, these are also a priority debt. If you fail to pay them back, HMRC can take the money from your wages, benefits or tax credits, and potentially use bailiffs to take items from your home.
HMRC can do the same thing if you fail to pay unpaid income tax, National Insurance contributions or VAT.
You may class other bills as priority debts depending on how important they are to you. For example, if you stopped paying your broadband bill, how would you feel if your provider cut your internet off? Do you need the internet for your work?
Or if you bought something on hire purchase like a car, and can't afford the repayments, how would losing your car affect you?
The key is to list your priority debts and make a plan to pay them. Don't ignore them. If you don't think it's possible to pay them, follow the steps below, such as speaking to your bank or contacting a debt charity for free advice.
Then there are the "non-priority debts". If you don't manage to pay these, the problems are less serious than with priority debts. They include credit card debts, payday loans, unpaid parking tickets, overpayment of benefits (apart from tax credits) and your water bill (your provider is not allowed to cut off your water supply).
If you need to stop paying any of these while you focus on paying your priority debts, it's important to talk to your creditors and explain your situation. They may be able to lower repayments or create a payment plan.
If you don't contact them and don't pay the bills, they could ultimately take you to court.
Can I get help from my bank if I need help with bills?
It's important to talk to your banks or the creditor if you're worried you can't pay a bill. For example, your bank may be able to alter your credit card payments, your broadband provider could move you to a cheaper contract, while your energy firm may have a hardship fund that you're eligible for.
Due to the cost of living crunch affecting household budgets, lots of companies have put in place new protocols for customers struggling to make payments. This is particularly the case if someone in your household is on benefits. So, it's worth calling to check how a company that you owe money to could help. If you can't get through on the phone, try using web-chat.
In terms of rent payments, consider speaking to your landlord. If you have a good relationship, they may be sympathetic to your situation and suggest a solution. Speak to Citizens Advice to find out what else you could do if you're struggling to pay your rent.
For mortgages, do not stop your direct debit payments without first speaking to your lender. Otherwise it will count as a "missed payment" on your credit score. In a worst-case scenario, your home could be repossessed.
Banks and building societies were required to offer mortgage payment holidays during the coronavirus pandemic, but this guidance finished last year. However, some lenders will still allow payment holidays - but it will depend on the terms of your mortgage, and if you meet certain eligibility criteria.
For example, Nationwide Building Society says you must have had the mortgage since before March 2010, your account can't have been in arrears in the last year and your mortgage can't be shared ownership, among other criteria.
Halifax says customers wanting a payment holiday must have taken out the mortgage more than 12 months ago, have up-to-date mortgage payments and not be jointly owned under a shared ownership scheme.
Remember that if you take a payment holiday the total amount you owe will go up, as the debt will still be accruing interest.
If you have overpaid on your mortgage in the past, you may be able to lower your future payments to take account of this. Talk to your lender first, don't just automatically pay less.
Take a look at hardship funds and social tariffs
Contact your local council to see if you qualify for financial support via its Household Support Fund or welfare assistance schemes. If you are claiming Universal Credit and other benefits you could get extra support on top.
Many energy firms have a hardship fund. For example, British Gas, Scottish Power, Shell Energy, Ovo Energy, Eon, EDF Energy and Octopus Energy all have hardship funds or grants for certain customers.
British Gas and Octopus Energy recently increased the size of their hardship funds.
Also, see if your broadband and/or phone provider is offering a social tariff. Sky, Vodafone, BT and Virgin Media have reduced packages for customers on low incomes and/or on benefits. Check to see if you might be eligible.
TalkTalk doesn't offer a social tariff, but has a separate scheme that offers free broadband for six months through a partnership with Jobcentre Plus.
How debt charities can help with bills?
Debt charities like StepChange, Turn2Us and National Debtline can offer a lifeline when you're feeling overwhelmed by your bills. They offer free advice, and may be able to help you apply for the government's Breathing Space scheme. This is where your creditors aren't allowed to add interest or fees to your debts, or take enforcement action, for 60 days.
Debt charities can also help you create a debt management plan that helps you manage your debts and pay them off at a more affordable rate by making reduced monthly payments.
If you're self-employed, contact Business Debtline for advice on how to pay bills and manage debts.
How to save money by switching providers
At times like this it makes sense to go back to basics and check you're with the cheapest provider for all your bills. Can you save money by switching your phone provider, home insurance, car insurance and so on? What about your current account? If you're paying for a packaged bank account, chances are you don't need the perks, or you could buy them more cheaply separately.
In fact, you could get paid to move your current account, thanks to some decent switching offers from banks and building societies. You can even move your current account if you have an overdraft.
Right now, you can bank £170 for moving your current account to HSBC. Or move to First Direct and get paid £150, plus you'll get a £250 interest-free overdraft, which could come in very handy when money's tight.
Check out the best offers in our article 'free cash for switching bank accounts'.
If you've fallen onto your mortgage provider's standard variable rate (SVR), now's the time to act. By moving onto a tracker or fixed-rate mortgage, you could save hundreds of pounds a month. See if your current mortgage lender has any good deals, compare rates online, and/or speak to a mortgage broker if you need advice.
Check for benefits
More than £15 billion of benefits goes unclaimed from the government each year, with more than seven million households missing out on things like council tax discounts. Make sure you get all the benefits you're eligible for by using an online benefits calculator like this one from Entitledto.
If you're on a low income, have a disability, or even if you live alone, you could be entitled to benefits. For example, anyone living alone can get a single-person discount off their council tax bill, worth 25% - but you have to apply for it, you don't get it automatically.
Pension credit is another benefit that many people don't know they can claim. Official figures estimate there are up to 850,000 families who could receive pension credit but aren't doing so. A total of £1.7 billion of pension credit remains unclaimed – about £1,900 a year for each household.
If you're over state pension age and on a low income, you could be eligible.
How to cut costs and my outgoings
Many households have already tightened their belts and cut unnecessary expenses. Netflix lost 200,000 subscribers in the first three months of 2022.
Check your monthly outgoings. Do you really need your Hello Fresh or Mindful Chef subscription? Maybe you could reduce the frequency from once a week to once a month as a treat.
Consider switching to a cheaper supermarket for your local shop. Look for low-cost (or free) delivery slots if you order online. For example, Sainsbury's saver slots are cheaper than standard delivery slots, as they have a longer time window of four hours or more - but you do need to actively select a 'saver slot' on the website, otherwise you'll only see the more expensive slots.
Look After My Bills Newsletter
Get the best money-saving tips, tricks and deals sent straight to your inbox every week. Make sense of your money in partnership with The Money Edit.
Ruth Emery is contributing editor at The Money Edit. Ruth is passionate about helping people feel more confident about their finances. She was previously editor of Times Money Mentor, and prior to that was deputy Money editor at The Sunday Times. A multi-award winning journalist, Ruth started her career on a pensions magazine at the FT Group, and has also worked at Money Observer and Money Advice Service. Outside of work, she is a mum to two young children, a magistrate and an NHS volunteer.