How to get free coffee: save more than £100 on your takeout habit
The cheapest way to get a free coffee revealed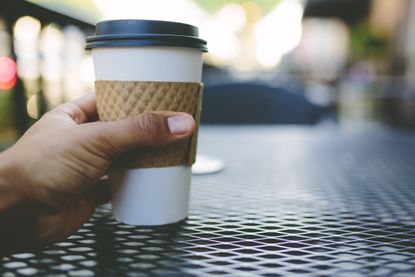 (Image credit: Getty images)
Picking up a take away coffee might kick start your morning, but at £2 - £3 a time it can rapidly put a dent in your bank balance. We reveal how you can get a free coffee every week, saving you more than £100 a year on your coffee habit.
Most of us have probably got a half used coffee shop loyalty card stuck in the back of our purse or wallet – but now it's even easier to get your hands on a free coffee as you can get a freebie simply for downloading an app or signing up for a subscription.
With most of us spending hundreds of pounds a year on takeaway coffee, plus coffee prices continuing to rise, now is the time to do what you can to bag a free coffee. We look at how you can maximise loyalty schemes, what they are worth, and how long it will take you to get that free cup of coffee from your favourite barista.
How to get free coffee at Waitrose
Waitrose has bought back giving a free cup of tea or coffee to customers. But with one important change.
You need to scan your myWaitrose card (opens in new tab)
You need to buy something in store
NEW - you need to bring your own reusable cup
How to get a free coffee at Costa
Joining the Costa Club (opens in new tab) via the app and bowling up with a reusable cup means you only have to buy 4 hot drinks to get your 5th drink free. If you don't have a reusable cup, you'll need to buy 8 drinks before your 9th is free. The freebie can be any 'barista made' drink of any size.
How to get the free Costa drink:
Download the Costa (opens in new tab) app and set up an account
You will earn one 'bean' for every drink you purchase
If you use your own cup, you you will earn two beans
You need to stack up 8 beans in total and your 9th drink is free
To claim your free drink, tap the rewards tab on the app, followed by 'Free Drink' and 'Use Now' and scan the QR code at the till.
Once signed up you'll also get a free cake on your birthday – with details on what you can claim sent to you.
How to get a free coffee at Pret
The Pret (opens in new tab) loyalty scheme is called 'Pret Perks' and you earn stars on purchases which all add up to perks. But, if you buy a lot of coffee, then Pret's monthly coffee subscription deal means you can enjoy a daily Pret for less than 10p a day.
Pret's subscription costs £25 a month, which gives you five barista made drinks per day - that's £150 drinks a month, which includes coffees, teas and hot chocolate. If you buy at least two lattes a week, then the subscription will save you money, says Pret.
Currently, Pret's has a half price deal on for the first month - so for £12.50 you can have 150 drinks, which works out at less than 10p per cup.
But be aware of the small print, you can only go back once every 30 minutes for another drink, so you can't use your subscription to treat colleagues or friends to free coffee.
How to get a free coffee at McDonalds
Buy five hot drinks and your sixth free one is on McDonalds (opens in new tab) using the McCafe loyalty scheme. While you don't have as much choice with frothy coffees as some specialist coffee chains, you can still pick up a flat white, cappuccino or latte.
To bag a free drink:
Download and use McCafe's loyalty app (McDonalds has now stopped its 'stickers' loyalty scheme) to collect points every time you buy a hot drink. Your 6th drink is free.
McCafe loyalty scheme is only for hot drinks – no milkshakes or cold drinks.
Your free hot drink is a regular sized one.
How to get a free coffee at Greggs
Download the Greggs app (opens in new tab) and you can go in and get a free coffee, or any other hot drink simply for downloading the app.
After that for every nine coffees you buy – your 10th one is free.
How to get a free coffee at Caffe Nero
With Caffe Nero (opens in new tab) you need to buy nine hot drinks to get your 10th free. To get your free drink:
Download the Cafe Nero app or choose to have a paper stamp card if you prefer
You get one stamp per purchase, but two if you take your own cup
If you collect Nectar points (opens in new tab), you can exchange 350 points to get a free hot or iced drink.
And if you happen to buy a 'qualifying product' with Comparethemarket.com, you get the 'Meerkat Meals' deal; while it's not a free coffee – you can save 25% on 'barista made' drinks at Nero as well as pastries twice a day every day of the week with this perk.
How to get a free coffee at Starbucks
The Starbucks (opens in new tab) loyalty scheme is the more complicated and more expensive. You'll need to pick up a card, which you then pre-load, in the store and register it to get going. Here's how it works:
For every £1 you spend, you get 3 stars and once you've got 150 stars you'll get a free drink. While prices in Starbucks can vary according to location, if you were paying £3 a coffee to get 3 stars, you'd need to spend around £50 on coffee – that's 15 or more cups of coffee to reach the 150 points target and get a freebie.
If you get to 450 stars – which is 'gold' level – you qualify for extras like another shot of espresso or syrups and whipped cream on your hot drinks. You can also get a free drink on your Birthday at Gold level.
Kalpana Fitzpatrick, editor of The Money Edit, says: "The lure of free coffee here may sound great, but if you're keeping money stored on pre-loaded card, then remember, this is money that could be in your bank account earning interest instead."
USE YOUR OWN CUP TO GET A FREE COFFEE - and save money… and the planet
As well as helping you stack up loyalty points, taking your own cup will save you money for each purchase - plus, it's good for the environment (and we're all for that).
Here's what you can save:
Pret - get 50p off
Greggs - get 20p off
Starbucks - save 25p
Cafe Nero - double points
Costa - double points
You will however have to stump up the cost of a reusable coffee cup initially. If you purchased one for £20, you'll have to buy around 40 cups of coffee at Pret to break even.
Sue Hayward is a personal finance and consumer journalist, broadcaster and author who regularly chats on TV and Radio on ways to get more power for your pound. Sue's written for a wide range of publications including the Guardian, i Paper, Good Housekeeping, Lovemoney and My Weekly. Cats, cheese and travel are Sue's passions away from her desk!