When to get financial advice
When should you get financial advice and is it worth it?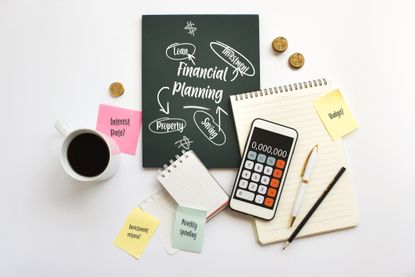 (Image credit: Getty)
Getting financial advice could be the best money decision you ever make, but whether it is the right choice for you right now depends on your personal circumstances and goals.
Most people don't need financial advice to manage their money on a day to day basis, but there may come a time in life when speaking to a professional could help you plan for those bigger life goals.
A financial adviser is a qualified professional who can help you plan your finances and give you advice on products and services to help you get to where you want - such as buying a home, planning for a family (opens in new tab), retirement (opens in new tab) or inheritance tax planning.
Depending on your needs, you may decide to see a financial planner or an independent financial adviser. We explain the differences to help you decide.
The right financial advice: What is the difference between a financial planner and a financial advisor?
There are two types of financial professionals that you could speak to: a financial planner or a financial advisor.
Financial planning takes a holistic approach to your financial and personal situation. It is the process of understanding where you are, where you want to be, and how to best get there. "It's ostensibly about money, but it's more about life," says Martin Bamford, chartered financial planner and a fellow of the Personal Finance Society (opens in new tab).
A financial adviser on the other hand will recommend products to meet your needs, focusing more on a single problem and closing any shortfalls you face. A financial planner recommends these products as the final step in their process, once a clear plan has been established.
"Also from a regulatory point of view, financial planning is a non-regulated activity, although it tends to be wrapped up in the regulated business of financial advice, whether independent or restricted", adds Bamford.
What is financial guidance?
There is also something called financial guidance which a lot of charities offer for free (opens in new tab). This can be very useful, especially if you don't have the money to pay for financial advice. However, these are not regulated by the Financial Conduct Authority (opens in new tab). This means that should you act on this guidance and something goes wrong with the choice that you make, you cannot complain to the Financial Ombudsman (opens in new tab).
What is the difference between an IFA and a restricted financial advisor?
You can also subdivide financial advisors into two: independent financial advisors (IFA) and restricted advisers. They both do similar things and are regulated by the FCA. The difference is that IFA will offer you advice about products from different companies across the market, being independent of any financial firms. A restricted advisor on the other hand may only offer you recommendations from one or a handful of companies or in one area that they specialise in, for example mortgages or pensions. It's worth noting that you might find that a financial advisor isn't actually called a financial advisor but might be a mortgage advisor or an insurance broker.
Which is right for me?
"A financial adviser is an ad hoc product-transaction-based relationship with the client, focussing more on a single problem," says David Braithwaite, director and principal financial adviser at Citrus Financial (opens in new tab). So if you are wanting help with a specific financial issue such as setting up a pension, finding insurance or investing your money, then a financial advisor or broker is your best option.
It might be that you have come into an inheritance and are wondering where best to invest that lump sum of money for the long term. A financial advisor can look at all the options using their expert knowledge to scour the market and come up with an investment strategy for you.
What they won't do is look at whether investing that money is really the best solution for you given your personal circumstances and financial goals. Here a financial planner may be more useful.
How much will it cost me?
There is a common misconception that financial advice is only for those with buckets of cash. While this is not certainly not the case, speaking to a professional doesn't come for free either.
"It is a highly regulated profession," says Claire Walsh, chartered financial planner, "and just like getting legal advice from a lawyer, initial charges will typically be £1000+".
Exactly how much you pay will depend on a number of factors including whether you choose to speak to a financial advisor or planner, what you are wanting to achieve and the complexity of your situation. Also, like most services, different advisors will charge different amounts and also have different charging structures, for example hourly rates, fixed charges for a particular service or an ongoing fee.
According to the Money and Pensions Service (opens in new tab), the hourly rate for a financial advisor can range from £75 to £350 per hour with the average price being £150.
Financial planners tend to work on a fixed fee, which on average will be somewhere in the range of £1,500 - £3000. Again this depends on the complexity of your financial situation. This price will normally include setting up any financial products. You can also expect to pay extra for future check-ups, if you want them.
How do I get started?
If you have decided that speaking to a financial advisor is right for you, here is a checklist of how to get started:
Know what you want. If you are looking to set up personal insurance, there is no point speaking to a mortgage broker! By knowing what you want to get help with in advance, it will narrow down your search and help in your first meeting with any potential advisors.
Read the reviews. Websites such as Unbiased (opens in new tab) and Vouchedfor (opens in new tab) are a good place to go to find advisors that have been rated and reviewed. It's always worth speaking to family and friends too to see if they have any recommendations. Check reviews on google and read what advisors write in public spaces such as Twitter. It sounds like a lot of effort but remember this is someone you are trusting with your finances.
Check their CV. Make sure that the advisor you choose is educated to Level 4 or above of the national Qualifications and Credit Framework, is regulated by the FCA and holds a Statement of Professional Standing.
Don't just go with the first option - most advisors will offer a first meeting for free, but don't feel that you have to choose them as a result. Check out a few first and make sure you feel that this is a person you would be happy working with. Come armed with lots of questions.
Ask for an upfront quote - make sure you understand how their charging structure works and exactly what you can expect to pay. Get a few different quotes before making your decision so you have an idea of what you can expect to pay.
Is financial advice right for me?
Whether financial advice is right for you at this point in your life depends on a number of factors including:
whether you can afford it
what you are looking for. You don't generally need an adviser for opening bank accounts or ISAs, unless you have complex needs and a large amount of money to invest.
your own financial competency
"We tend to work with clients who have already accumulated significant wealth, to help them make important decisions about spending that money in later life", says Martin Bamford. "There is also a role for financial planning at a younger age, during the 'wealth accumulation' phase of your life, but the costs are likely to be off putting when less money is at stake."
While it is true that generally the wealthier and more complicated your circumstances the more value financial planning can provide, says Walsh, everyone can benefit and "often the true value is only felt and experienced over the longer term".
Braitwaite agrees and says: "When it comes to anything long term with money even the slightest advantages along the way can add up."
Georgie is a multi award-winning financial broadcaster and journalist. She is a trusted voice on all matters personal finance and consumer affairs, hosting a number of money podcasts and appearing regularly on TV, radio and in print. Georgie speaks with both authority and personal experience. Before moving into money journalism, Georgie spent a decade traveling around the country as a BBC sports broadcaster, however a spinal injury changed that. Georgie's journey into and out of debt due to her injury sparked a deep interest in consumer rights, financial education and social mobility, which drives much of her work today.