Gender pay gap: Industries that pay women the most and least revealed
New data reveals which industries have the largest gender pay gap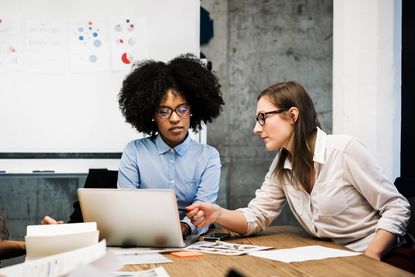 (Image credit: Getty images)
New research reveals out of 20 industries analysed, women received higher pay in only three of the sectors, keeping the gender pay gap on our radar in 2023.
Meaning women continue to be underpaid at work compared to men in at least 17 industries, according to Reboot (opens in new tab).
The Office of National Statistics (opens in new tab) (ONS) says overall, the gender pay gap has been declining slowly over the years, but recently the gap among full-time employees rose from 7.7% in 2021 to 8.3% in 2022.
We tell you the top industries women continue to be paid less in as well as the most.
Industries women are paid least in compared to men
Research by Reboot (opens in new tab) reveals the top ten industries with a gender pay gap.
Swipe to scroll horizontally
| Industry | Pay gap (%) |
| --- | --- |
| Real estate activities | -31.12% |
| Information and communication | -26.07% |
| Education | -25.82% |
| Financial and insurance activities | -22.81% |
| Accommodation and food service activities | -21.82% |
| Public administration and defence; compulsory social security | -19.59% |
| Administrative and support service activities | -19.17% |
| Professional, scientific and technical activities | -17.19% |
| Agriculture, forestry and fishing | -17.15% |
| Human health and social work activities | -13.37% |
Here's what you can take away:
At least a quarter of industries pay men over 20% more than women.
Real estate has the most significant gender pay gap whereby women get paid 31.12% less than men.
The 'financial and insurance activities' sector consists of 44.04% women, yet they are still underpaid compared to men by 22.81%.
Industries women are paid most in compared to men
Women are paid more than men in only three of 20 industries analysed
Swipe to scroll horizontally
| Industry | Pay gap (%) |
| --- | --- |
| Activities of households as employers of domestic personnel | +36.94% |
| Construction | +17.68% |
| Mining and quarrying | +9.64% |
The top paying industry for women compared to men doesn't come as a shock as 72.31% of their workforce is women.
This also plays into conventional gender roles as 'activities of households' includes jobs such as maids, cooks, gardeners and babysitters.
In contrast, construction which is a male-dominated industry makes the list as only 14.66% of women represent the workforce.
Tasmyn Brittain works in construction and shares her experiences working in the industry: "There is a slight surprise if I turn up on a building site - most men seem taken aback to see a woman on site in full PPE.
I'm definitely outnumbered in the office in terms of women versus men. A lot of the women in construction, or at least my place of work tend to be in admin or HR roles, rather than physically working in the factories or on site."
Out of eight of the 20 industries analysed, less than 30% of the workforce are women, so it seems women are paving their way into industries that treat them more fairly.
Read more
Vaishali graduated in journalism from Leeds University. She has gained experience writing local stories around Leeds and Leicester, which includes writing for a university publication and Leicester Mercury.
She has also done some marketing and copywriting for businesses.
When she is not writing about personal finance, Vaishali likes to travel and she's a foodie.