Which supermarkets are rationing fresh fruit and vegetables?
Some supermarkets are struggling to get enough fresh fruit and vegetables on the shelves as bad weather has hampered harvests. We look at how this could affect you and what you can do.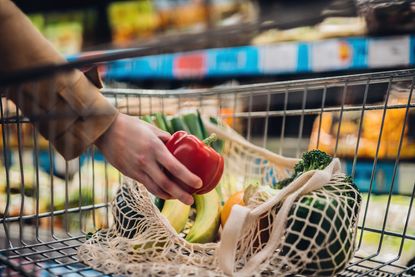 (Image credit: Getty images)
Tesco, Asda, Aldi and Morrisons are some of the supermarkets that are putting limits on the quantity of fresh fruit and vegetables customers can buy.
While not all items are being limited – restrictions are in place on items including tomatoes, peppers and cucumbers as well as lettuce, broccoli, cauliflower and raspberries.
Why are supermarkets rationing fruit and veg?
Bad weather across parts of northern Africa and Europe has caused problems with harvests. This in turn has led to a reduced supply of some seasonal fresh fruit and vegetables, which has fed through to the supermarket shelves.
High energy prices are also having an impact according to a BBC report, (opens in new tab) especially with food grown in greenhouses in the UK and the Netherlands.
A spokesperson for the British Retail Consortium said: "Retailers are working hard to keep shelves stocked, and temporary restrictions, introduced by some retailers, will help ensure that stock lasts a little longer".
While any restrictions may be short-lived – some supermarkets have been quick to introduce limits for customers.
Which supermarkets are limiting fruit and veg?
We contacted the major supermarkets including Tesco, Sainsbury's, Asda, Morrisons, Aldi, Waitrose and the Co-op to ask about restrictions when buying fresh fruit and vegetables.
Of the ones who got back to us – here's what they said.
Tesco says it has introduced a temporary buying limit of 3 items per customer on tomatoes, peppers and cucumbers. This applies when buying both loose items and packaged produce.
Asda says it has limits on 8 fresh produce lines. These are tomatoes, peppers, cucumbers, lettuce, salad bags, broccoli, cauliflower and raspberries.
Customers can buy up to three of any of these products and the limits apply in all stores and online.
Asda says it has "signage in stores informing customers of the limits, and customers are unable to put more than 3 of each item through the till".
Morrisons says it has introduced a "maximum cap of two items per customer across tomatoes, cucumbers, lettuce and peppers".
Co-op says there are no restrictions in place on any fruit and vegetables.
Waitrose says it's not imposing any limits on the amount of fresh fruit and vegetables customers can buy.
Sainsbury's is also not imposing any limits.
Buy what you need when you can
There's no point trying to stockpile fresh fruit and vegetables as they don't have a long shelf life. It's best to buy what you need when you can.
Changing your shopping habits and swapping fresh for frozen may mean you can find what you need, and buying frozen food can often be cheaper.
This also means there's no waste as you can just get out what you need.
If fresh fruit and veg are in short supply, or you can't get to the supermarket until later in the day - you can also buy tinned fruit and vegetables.
However, as with fresh food, produce may need to be used within a few days once the tin is opened.
Swap your fruit and veg habits
While some salad items may be in short supply – it's worth considering changing your shopping habits and buying the fruit and veg that is in stock.
Environment Secretary Therese Coffey suggested that turnips could be an option if some other fresh vegetables are in short supply. However unless this is something you buy regularly, you may be stuck on ways to cook them. For ideas on ways to cook the vegetables you can buy, our sister site GoodtoKnow has a whole recipe section (opens in new tab).
Storing fresh fruit and vegetables correctly can also prolong their life – as some foods should never be stored in the fridge. This includes tomatoes which many households may routinely store in the salad drawer.
Read more
Sue Hayward is a personal finance and consumer journalist, broadcaster and author who regularly chats on TV and Radio on ways to get more power for your pound. Sue's written for a wide range of publications including the Guardian, i Paper, Good Housekeeping, Lovemoney and My Weekly. Cats, cheese and travel are Sue's passions away from her desk!