8 great free days out and entertainment with the kids over Christmas
keeping the kids busy at Christmas can be costly. Here's what you can do for free or cheap during the festive break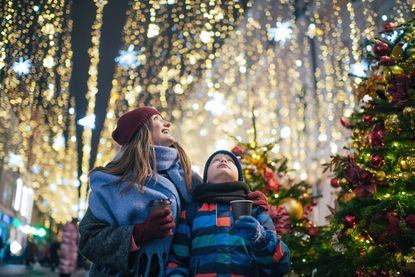 (Image credit: Getty images)
Christmas can be an expensive time of year, but there's ways to enjoy some free days with the family.
With most households strapped for cash in the current cost of living crisis and schools about to break up, the stakes are even higher when it comes to finding fun and free ways to keep the kids entertained over the Christmas holidays.
Here's eight ways to make some Christmas memories without breaking the bank.
Track Santa: how to follow Santa's trip across the globe
This is a fun one for all the family as thanks to Norad - North American Aerospace Defense Command – you can track Santa as he clocks up some serious air miles on his epic trip around the world throughout Christmas Eve.
Keep checking throughout the day from morning till night to see him at different times around the world – with Australia and New Zealand among his first visits.
Take a trip to see the Christmas lights
This one depends on where you live as to how sparkly and stunning your annual Christmas lights are, but if you live near enough to a big town or city, it may be worth a trip after dark.
Manchester city centre for example has lots of giant illuminated sculptures across the city including a giant Santa. In London the 'Spirit of Christmas' light display will be on around the Regent Street area until 3 January 2023. Carnaby is also very festive.
Some Winter Wonderland sites like the one in Exeter have free entry. However you will need to pay for any activities including rides or ice skating, so it could turn into an expensive night unless your children are happy just taking in the festive atmosphere.
Snuggle up with a Christmas movie
There's no shortage of Christmas movies - and you may even be able to stream for free - see our article on how to get the best streaming deals.
Check out the TV schedule to find when the great classic Christmas movies are on like the Polar Express, Home Alone or Elf and if you miss them just watch again on catch up.
If you've got Netflix, add a few Christmas films to your list in advance. If you've got Sky, you can watch Apple TV Plus free for six months - the offer is available until 31 March 2023, but just make sure you stick a note in your diary to cancel otherwise payments are ongoing at £6.99 a month.
Once you've chosen your movie - get out the blankets and cushions – whisk up some hot chocolate with marshmallows and cream and enjoy cinema on the sofa.
Visit a museum
Post Christmas when you've all been sitting around together for too long, why not head out for a family day at a free museum.
Lots of the big museums are free and if you're in London you can take your pick from ones including the Natural History Museum, Science Museum and British Museum. While entry is free, you may still need to book tickets in advance and some exhibitions will have an entry fee.
Further afield there's also lots of free museums including the National Museum of Scotland in Edinburgh and the Imperial War Museum North in Manchester.
Free nature trails
The suggestion of 'going for a walk' may not exactly get cheers of enthusiasm from your kids (depending on their ages) but if you find something to do along the way, they may even end up enjoying it.
The Woodland Trust is a conservation charity with one thousand areas of woodland across the UK and many have both long and short trails to follow. You can find your nearest one with the 'find woods' postcode tool.
At Heartwood Forest near Sandridge in Hertfordshire you can follow the Magical Meander trail to see the woodland characters. This is a 1.5 mile trail that takes about one hour.
Magical walking tours
Check out the free Potter trail around Edinburgh's Old Town – a spellbinding free walking tour - though it it's not suitable for children under seven.
Lasts around one hour and runs daily at midday and 4pm (excluding Christmas Day and Boxing Day). Starts from Greyfriars Bobby statue.
Visit your local library
Many local libraries run organised activities for children during school holidays. And even if they don't – popping along is a good excuse to get the kids out of the house and borrow some books for free. Plus there's often free Wi-Fi so if yours is playing up – a trip to the library can mean peace and quiet all round while the kids connect online.
There may be different services depending on where you live – Libraries Unlimited run 54 libraries and 4 mobile libraries across Devon and Torbay and often have a range of free events.
Most council run libraries are usually open to 23 December and then again from 28 December but worth checking first.
Take the kids for a free lunch
If you're a Tesco shopper you can exchange Clubcard vouchers for three times their value and get vouchers for restaurants including Pizza Express, Zizzi and Bella Italia. Means a free family lunch out though if you're looking to go over the Christmas holidays – probably worth booking ahead.
In most cases you can't 'double discount' so you can't usually expect to use Tesco vouchers as well as any '2 for 1' deals and vouchers.
Sue Hayward is a personal finance and consumer journalist, broadcaster and author who regularly chats on TV and Radio on ways to get more power for your pound. Sue's written for a wide range of publications including the Guardian, i Paper, Good Housekeeping, Lovemoney and My Weekly. Cats, cheese and travel are Sue's passions away from her desk!