Food delivery apps: Just Eat vs Deliveroo vs Uber Eats
Food delivery apps Just Eat, Deliveroo and Uber Eats have revolutionised ordering takeaways. But it can be tricky working out which is the cheapest food delivery app. We put the trio to the test.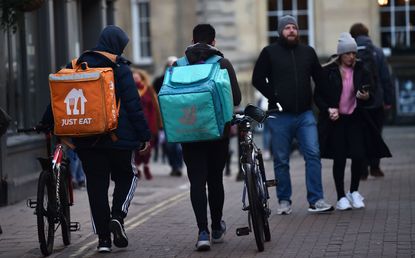 (Image credit: Nathan Stirk / Getty images)
Food delivery apps Deliveroo, Uber Eats and Just Eat have transformed takeaways, allowing us to order our favourite meals from hundreds of independent local restaurants and fast-food chains with just a few taps on our phones.
You can even order essentials like milk and toilet roll from a supermarket, or get some drinks and popcorn delivered for a movie night at home.
But it can be difficult to work out which app to use, especially considering the different fees, discount codes, free trials and membership options on offer.
Hungry? Let's get started with our review of the three apps to work out which one is best.
Warning: The fees are confusing, and some may call them sneaky! It could be cheapest to order direct from the restaurant instead of using an app, so make sure you read to the end to find out what our investigation uncovered.
Top tip: save money ordering direct from the restaurant
If your ultimate goal is to get the cheapest deal for your take-away, then ordering direct from the restaurant is your best option.
Food courier apps charge restaurants and grocery stores commission to be on their apps, which could be as much as 30% of an order.
As a result, businesses sometimes inflate their prices on the app to offset these costs. By offering lower prices to customers who order directly from them, it also means they sidestep having to pay the commission.
The consumer group Which? found several examples of shops and restaurants charging different amounts for the same item.
For example, at a Lebanese restaurant a chicken shish cost £12.95 when ordering direct.
But the same item was £13.95 on Just Eat and Uber Eats, and £14.95 when ordered on Deliveroo.
It also found pricing differences when ordering groceries from Co-Op. And yes, you've guessed it, ordering via an app cost more. Buying a list of items at a Co-op store cost £35.40. But ordering the same items on your phone via Deliveroo cost £48.09.
The bottom line is that while clicking on one of the takeaway apps might feel easy and convenient, you could be paying a premium.
Try and order direct from the restaurant, cafe or shop if you can: you could save money, plus all the money will go to the business rather than a big chunk being swallowed by a delivery app.
Lisa Webb, a consumer rights expert at Which?, told The Money Edit: "Amid the cost of living crisis, consumers should choose their takeaway app carefully as delivery and service fees can differ. Ordering directly from the restaurant is often cheaper, with all the money going to the local restaurant and, if anything goes wrong, it might be easier to resolve."
If you are however using the app, which can be convenient sometimes, then we compared the costs below.
Food delivery apps
Deliveroo
Deliveroo works with 160,000 restaurant and grocery partners, promising deliveries in under 30 minutes.
As well as restaurants and cafes, customers can order from shops like Co-op, Marks and Spencer and Waitrose. You can even buy non-food items from Boots and WHSmith.
It recently announced a controversial partnership with buy now, pay later firm Klarna - a move that experts fear could lead customers to build up debt in return for an expensive takeaway.
All this aside, how do the fees stack up? Unfortunately, there is no one fixed fee or even a single percentage fee that Deliveroo charges.
There are three fees that can be added:
---
Swipe to scroll horizontally
| | |
| --- | --- |
| Delivery fee | Variable and it depends on location (you pay less for nearby restaurants). Some restaurants use their own delivery drivers; in which case, the restaurant sets its own delivery fee. We found fees as low as 99p and as high as £4.49 - but you may find charges even higher than that. |
| Service fee | A percentage of the order amount prior to any promotions or discounts. The percentage varies; it could be 5%, 10% or a different amount. The minimum service fee is 99p, and the maximum is £2.49. |
| Small order fee | When your total is less than the restaurant's minimum, Deliveroo tops it up with a fee. This is set by the restaurant or grocery store, but could be around £2. |
---
First-time customers often get a discount code - for example, use UKROO10 and get £10 off a first order worth £15 or more (ends 1 January).
There is also a subscription plan that gets you free delivery from participating restaurants when you meet the minimum order requirements.
Deliveroo Plus costs £7.99 a month for the gold plan (free delivery on orders of £10 or more), while the silver plan costs £3.49 a month (free delivery on orders of £25 or more). But, the service fee will still apply, as will the small order fee if applicable.
If you're an Amazon Prime member, you can get a year of free Deliveroo Plus (the silver plan).
In terms of how user-friendly the app is, Deliveroo scores 4.4 stars out of five stars on Google Play and 4.7 on the App Store.
Just Eat
Just Eat is a giant of the takeaway world, working with 680,000 restaurants and food companies in 22 countries.
It recently announced it would exclusively offer Domino's pizza across the UK and Ireland; no other takeaway app offers Domino's.
Just Eat runs various promotions, like Cheeky Tuesdays, which gives a 20% discount on participating local restaurants.
It also has a "Price Promise" that means if you pay more for your items when ordering a delivery meal from a restaurant on Just Eat than you would when ordering from the restaurant directly on their own online channels (such as their website or app), Just Eat will give you twice the difference in the form of a voucher.
There are two fees:
---
Swipe to scroll horizontally
| | |
| --- | --- |
| Service charge | Based on the order value. It works out as 5% of the order value, with a 50p minimum charge and £1.99 maximum. |
| Delivery charge | Typically ranges from nothing to £4.50. |
---
Restaurants can set a minimum spend on the app, but when The Money Edit looked, many didn't specify a minimum order amount.
Just Eat has 4.6 stars on Google Play, and 4.8 stars on the App Store, scoring it slightly higher than Deliveroo.
Uber Eats
Uber Eats launched in 2014 as a spin-off of its popular taxi app. Much like Just Eat and Deliveroo, it now operates in dozens of countries. It offers takeaways from thousands of restaurants, and groceries from shops and supermarkets including Iceland, Co-Op and Sainsburys.
Similar to Deliveroo, Uber Eat has three fees:
---
Swipe to scroll horizontally
| | |
| --- | --- |
| Delivery fee | Varies based on your location. You pay less for nearby restaurants. |
| Service fee | Based on your order's size, typically 10% of the basket, calculated on the total before any promotions or discounts are applied. The minimum fee is 99p and the maximum is £2.99. |
| Small order fee | For most restaurants, a fee will apply to orders under a certain amount. |
---
You can also pay for "priority" on certain orders, which costs an extra £1.99 to get a faster delivery. If you'd like to schedule your takeaway for a later time (or a different day), you can also do this in the app.
Users can subscribe to Uber One for £5.99 a month (there's a free trial for the first month), which waives the delivery fees, and gives a 5% discount off eligible Uber Eats deliveries plus 5% off eligible Uber Rides.
Uber Eats scores 4.4 stars on Google Play, and 4.8 stars on the App Store, putting it on a par with its competitors.
Time to compare…
Now we've compared the fees and features, it's time to see how the costs actually stack up when placing identical orders from the same restaurant or grocery store.
The same order from Pizza Express
We look at how the costs compare for exactly the same order from our local Pizza Express:
Swipe to scroll horizontally
| Header Cell - Column 0 | Just Eat | Deliveroo | Uber Eats |
| --- | --- | --- | --- |
| Margherita with extra mushroom | £12.95 | £12.95 | £12.95 |
| Classic lasagne with dough sticks | £16.40 | £16.40 | £16.40 |
| Sharing mini jam doughnuts | £7.45 | £7.45 | £7.45 |
| Three dips | £1.50 | £1.50 | £1.50 |
| Delivery fee | £0 | £1.49 | £2.29 |
| Service fee | £1.91 | £2.49 | £2.99 |
| TOTAL | £40.21 | £42.28 | £43.58 |
In this scenario, Just Eat comes out cheapest, due to the absence of a delivery fee, and a cheaper service fee. It is more than 8% cheaper than Uber Eats, the most expensive app.
The same order from an Indian takeaway
We look at how the costs compare for a smaller order, this time from a nearby Indian takeaway (The Tiffin Tin, in north London):
Swipe to scroll horizontally
| Header Cell - Column 0 | Just Eat | Deliveroo | Uber Eats |
| --- | --- | --- | --- |
| Chicken korma | £11.45 | £13.35 | £13.35 |
| Pilau rice | £2.95 | £3.65 | £3.65 |
| Mango lassi | £3.25 | £3.85 | £3.85 |
| Delivery fee | £0 | £2 | £2 |
| Service fee | £0.50 | £1.6 | £2.09 |
| TOTAL | £18.15 | £24.52 | £24.94 |
This time Just Eat comes out cheapest again - and by an even bigger margin than the Pizza Express order. What's interesting here is that the price for every single item is cheaper on Just Eat.
Restaurants and shops are free to change their menu prices according to the app, and clearly this Indian takeaway has lowered its prices on Just Eat. It could be that Deliveroo and Uber Eats charge more commission, so the Indian takeaway needs to raise its prices on those apps to offset these costs.
There is also no delivery fee, and only a modest 50p service charge (less than a quarter of Uber Eats' service charge).
Uber Eats again comes out as the most expensive, with a slightly higher total bill than Deliveroo.
The same order from a local grocery store
We look at how the costs compare for a small order from a nearby convenience store:
Swipe to scroll horizontally
| Header Cell - Column 0 | Just Eat | Deliveroo | Uber Eats |
| --- | --- | --- | --- |
| Diet coke 4 x 330ml | £5.69 | £5.69 | £5.69 |
| Dairy Milk giant buttons | £4.19 | £4.19 | £4.19 |
| Delivery fee | £1.99 | £3.99 | £3.79 |
| Service fee | £0.50 | £0.99 | £0.99 |
| Total | £12.37 | £14.86 | £14.66 |
Just Eat has scored a hat-trick, coming out as the cheapest app on all three random restaurants and shops.
With this one, Deliveroo and Uber Eats have slapped on some hefty delivery fees (£3.99 and £3.79 respectively) for the customer's Diet Coke and chocolate fix, compared to Just Eat's lower £1.99 charge.
The three apps have all applied their minimum service fee to this order. The customer using Just Eat benefits as the app's minimum fee is just 50p, whereas its competitors charge almost double at 99p.
The verdict
Clearly, Just Eat can give you the best overall price, according to the three test orders we created.
We also like the app's "Price Promise", so if you find that the items would have been cheaper if you'd ordered directly from the restaurant's own website or app, Just Eat will give you twice the difference in the form of a voucher. (But you do need to be quick - Price Promise claims must be submitted within 14 days of placing an order).
But, Just Eat does not have a monthly membership option that gives you free delivery, whereas its competitors do. If you order a lot of takeaways and / or grocery deliveries, you may find this to be a more cost-effective option. Just make sure you read the small print as the free delivery may only be available on orders of a certain size.
If you're an Amazon Prime customer, it's a no-brainer to switch on the Deliveroo Plus option on the Deliveroo app. Although, if you have time, it could still be worth quickly comparing the same order on Deliveroo Plus with Just Eat, in case the latter has lower menu prices plus cheaper fees, which could make the total cost smaller.
It's also worth flicking between the apps to see which restaurants have special offers. If you know you want, say pizza, or Chinese food, but aren't fussed about which exact restaurant, you may find certain ones have discounts like 25% off the entire menu, buy one get one free, or exclusive meal bundles.
Why are the fees so confusing?
Trying to work out what fees each app charges was surprisingly difficult, and investigating the world of takeaway apps turned into something of a Herculean task.
The apps don't tell you their charges until you've actually added food to your basket and created an order.
We also found it tricky just finding a straightforward list of the fees to expect when using the app.
The apps work with third parties (the restaurants and grocery stores) who are able to set their own delivery fees and minimum orders, so this adds an extra layer of complication.
While Just Eat came out cheapest on our three tests, they were arguably the sneakiest with their pricing, as they didn't reveal the full extent of the fees (and the total cost) until the final page when you input your payment details.
By comparison, Deliveroo and Uber Eats seemed to be more upfront, revealing the total cost on the penultimate page, before you proceed to the payment page.
At any rate, the experience left The Money Edit with a bad taste in its mouth (and no, that wasn't due to a dodgy takeaway). The fees seemed vague and opaque, and didn't seem to be presented in an upfront way.
We spoke to legal expert Gary Rycroft, a partner at Joseph A Jones & Co Solicitors, about our findings. He said: "The Consumer Rights Act makes clear any charges to be paid by a consumer should be 'upfront' and clear before a contract is formed, so here I think that should be before the order is placed.
"Strictly speaking, what is happening with fees not being disclosed until the last stage in the ordering process may not be unlawful, but it is sneaky and certainly not within the spirit of the law, which was drafted so that consumers have the legal right to make informed choices."
He added: "I fear some takeaway apps are exploiting a legal grey area and exploiting human behaviour that once we have spent time setting up an online order our stomach wants us to press the button to proceed asap, even though our head may query the fee."
Ruth Emery is contributing editor at The Money Edit. Ruth is passionate about helping people feel more confident about their finances. She was previously editor of Times Money Mentor, and prior to that was deputy Money editor at The Sunday Times. A multi-award winning journalist, Ruth started her career on a pensions magazine at the FT Group, and has also worked at Money Observer and Money Advice Service. Outside of work, she is a mum to two young children, a magistrate and an NHS volunteer.