Holidaymakers lose nearly £3,000 to scams, bank warns
Fake flights, hotels and caravans leave holidaymakers out of pocket by thousands of pounds. Here's what to look out for and how to stay safe from holiday scams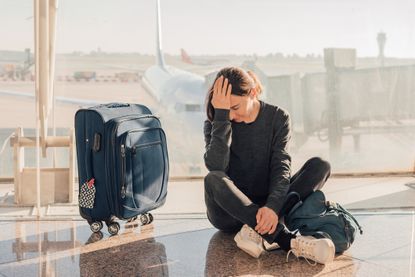 (Image credit: getty images)
Holidaymakers are losing an average £3,000 to scammers after paying for bogus flights or accommodation, Lloyds Bank found.
The research found that there was a particular increase in scams involving caravan stays as more people choose to have a staycation.
The volume of scams linked to holiday bookings has increased by a (33%) third over the past year, Lloyds Bank said.
See more: Top WhatsApp scams to avoid in 2022
Scams linked to people booking short stays in caravans has more than doubled - a 108% increase - over the past 12 months. The average amount lost was £374.
The average amount lost to a flight scam was £2,955, with victims of package holiday scams losing £2,342 on average. Victims of hotel-related scams lost £1,231 typically.
Many scams start with false adverts on search engines or social media. Victims often click on a link taking them to a website and believe they are dealing with a legitimate company.
Some fraudsters lurk on real accommodation listing sites, convincing victims to transfer cash directly rather than through the official platform.
Liz Ziegler, fraud prevention director at Lloyds Bank, said: "Now that most pandemic restrictions have come to an end, many of us will be looking forward to a more traditional summer holiday this year. But with demand soaring and prices rising fast, would-be holidaymakers can't afford to let their guard down when hunting for the best deals.
"Scammers are ready to cash in on any last-minute surge in bookings, so it's vital that consumers know how to stay safe.
"Book directly with trusted sites or travel agents, avoid following links on social media, and always pay by card for the greatest protection. Remember, if it looks too good to be true, it almost certainly is," she said.
Looking to book a holiday? Here's how to avoid becoming a holiday scam victim.
How to avoid scams when booking a holiday?
Watch out for text messages, emails or ads offering you cheap deals, which do not appear to be available elsewhere.
It is safer to book a holiday through a reputable agent or directly with an airline or hotel. You can check an agent's authenticity via the Association of British Travel Agents.
If you're booking directly with an individual, ask them questions about the room, location and the area to get an idea of how genuine it is. A scammer may hesitate or give you incorrect information.
If you're paying via a website, make sure it's a secure website, which you can spot if there is a padlock symbol in the address bar, followed by 'https'.
When looking at a website, look out for spelling errors, poor grammar or unclear images - genuine sites will not have these.
Be cautious of anyone asking you to pay using a bank transfer or cash. It is safer to use your credit or debit card and to pay with the long card number to ensure you are protected under section 75 (for credit cards) and chargeback (with debit cards).
What to do if you have been a victim of a holiday scam?
If you think you have been a victim of a holiday scam, contact your bank immediately.
You should also report the crime to Action Fraud on 0300 123 2040, or via its website.
Take a look at the Take Five Stop Fraud website to see what the latest scams are.
Look After My Bills Newsletter
Get the best money-saving tips, tricks and deals sent straight to your inbox every week. Make sense of your money in partnership with The Money Edit.
Tom Higgins is a journalist covering all aspects of the financial world, from investing and sustainability to pensions and personal finance. He graduated from Goldsmiths, University of London in June 2020 and has since written online and in print for the Financial Times group, New Statesman media group, numerous trade magazines, and has worked with Bloomberg on social media projects. He has a deep interest in environmentalism, social change, and data-driven storytelling. He can be found tweeting at @tomhuwhig.