Festival ticket scam warnings – how to protect yourself
Concert ticket scams have rocketed by more than 500% over the past year, while festival fraud has more than doubled. Here's how to keep yourself safe ahead of the festival season.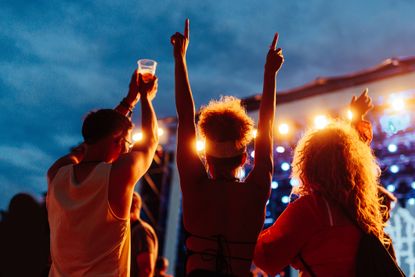 (Image credit: Getty)
Festival and concert-goers must be on guard against ticket scams this summer or else risk losing hundreds of pounds to ticketing scams, Lloyds Bank has warned, after a huge surge in the number of ticket fraud reports.
With the demand to attend live events soaring in the aftermath of the pandemic, the number of cases of people being scammed, when buying concert tickets, rocketed by 529% over the past year. Victims lost £110 on average, according to the bank.
Meanwhile, the number of scams reported by those attempting to buy music festival tickets more than doubled, up by 128% over the past 12 months compared to the previous year. There were also big increases in the number of scams relating to bookings for comedy and theatre shows, though the volume of cases for both was much smaller.
Worries about whether tickets are fake, how to get money back from a ticket scam and how to buy tickets securely risk leaving many of us feeling worried, and definitely not in a party mood.
Among the most common artists being targeted, based on reports by Lloyds Banking Group customers, Harry Styles tops the bill, having almost sold out a string of dates at Wembley this summer. Lewis Capaldi, Coldplay and Calvin Harris are among the other artists being targeted by scammers.
Festival pairing, Reading and Leeds, are reportedly among the most targeted festivals, with scam artists also targeting Wireless in Finsbury Park, London, and Parklife in Manchester.
Glastonbury, the UK's biggest music festival, is broadly spared from ticketing scams as it handles its own ticketing operation, requiring punters to register months in advance with a photographic ID, which is then used to verify their identity when they reach the gates.
How do festival and concert scams work?
Ticket scams usually involve fake websites, social media posts or emails offering tickets at discounted prices, or access to events that have already sold out at inflated prices, but fraudsters are continually changing their approaches to con more people out of their money.
"With the demand to attend live events soaring as the warmer weather approaches, they'll waste no time in targeting music fans as they rush to pick up tickets for the most popular gigs and festivals," Liz Ziegler, fraud prevention director at Lloyds Bank, said.
A common approach that is not unique to ticket fraud is purchase scams. These happen when someone is tricked into sending money via bank transfer (also known as a Faster Payment) to buy goods or services that don't exist. In this example, victims are asked to pay upfront for the tickets, but once the payment is made, the scammers disappear. This leaves the buyer without the tickets and out of pocket. Lloyds said fraudsters know they can cash in on desperate fans willing to pay much more for tickets that are in high demand.
But even those of us who try to buy legitimate tickets could risk falling foul of scam artists. Well-publicised issues experienced by genuine online ticketing platforms, including Ticketmaster, have left many loyal fans unable to buy tickets through authorised sellers, creating more opportunities for fraudsters.
"It's easy to let our emotions get the better of us when we find out our favourite artist is going to be performing live, but it's important not to let that excitement cloud our judgement when trying to get hold of tickets," Ziegler added.
How to stay safe when buying concert and festival tickets
Buy from trusted retailers – only purchase tickets from well-known, reputable ticket-selling platforms. Take extra precautions when buying tickets from third-party sellers.
Avoid paying by bank transfer – if you do decide to buy a ticket from a third-party seller, do not pay by bank transfer. It was not designed as a way of paying for goods and services online and offers little protection if something goes wrong. It's the electronic equivalent of handing over your cash to someone in the street.
Pay with your debit or credit card – this helps to protect your money should something go wrong, thanks to the well-established Section 75 credit card refund and Chargeback rules. PayPal is another option that's usually safer than paying by bank transfer.
Avoid deals that look too good to be true – tickets for sale at low prices or for sold-out events should ring alarm bells. Ask yourself if the deal seems realistic.
Be cautious on social media – you don't know if the user profile or tickets are genuine. It's easy for fraudsters to create fake ads including pictures of real tickets.
Read more
Look After My Bills Newsletter
Get the best money-saving tips, tricks and deals sent straight to your inbox every week. Make sense of your money in partnership with The Money Edit.
Tom Higgins is a journalist covering all aspects of the financial world, from investing and sustainability to pensions and personal finance. He graduated from Goldsmiths, University of London in June 2020 and has since written online and in print for the Financial Times group, New Statesman media group, numerous trade magazines, and has worked with Bloomberg on social media projects. He has a deep interest in environmentalism, social change, and data-driven storytelling. He can be found tweeting at @tomhuwhig.