How to spot Facebook Marketplace scams and avoid losing your money
Facebook Marketplace scams typically involve a fake buyer getting in touch over an item for sale on the site. Here are the danger signs.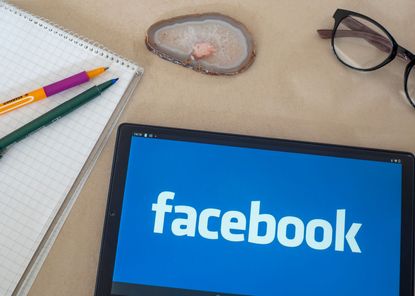 (Image credit: SOPA images / Getty images)
Look After My Bills Newsletter
Get the best money-saving tips, tricks and deals sent straight to your inbox every week. Make sense of your money in partnership with The Money Edit.
Thank you for signing up to The Money Edit. You will receive a verification email shortly.
There was a problem. Please refresh the page and try again.
Facebook Marketplace scams take advantage of what should be a handy way of selling your unwanted stuff, but not all the 'buyers' that approach you on the platform are as they seem.
Fraudsters posing as Facebook Marketplace buyers are continuing to use the same tactics in order to extort cash from their victims, as one genuine seller recently found out.
Claire* (*name changed) was selling a dishwasher on Facebook Marketplace when she was approached by what she thought was someone genuinely interested in the item. Not long later she was being asked to enter her card details into a fake DPD website in order to pay for 'insurance'.
Here we explain how Facebook Marketplace scams work, how you can spot them and get your money back.
How do Facebook Marketplace scams work?
After you've placed an ad for the item you're looking to sell, you're contacted by someone expressing interest. Messages are exchanged over the platform, a fee is agreed and details such as contact numbers and a pick-up address are confirmed.
But then there's a snag: the 'buyer' says they can't pick the item up themselves. Instead, they want to arrange a same-day collection by delivery company DPD.
The buyer not being able to come and collect the item themselves isn't the only problem - they also want you to pay a fee for 'insurance' to cover the supposed collection by DPD.
Many sellers are keen to get rid of an item they're selling, especially larger white goods they no longer need, so could easily find themselves talked into agreeing to pay the fee in order to get the sale over the line and the item off their hands. But this is the point at which the scam takes place.
Once you've agreed to pay the phoney insurance fee, the fraudster sends you a fake email posing as DPD, conveniently including a link to a site they want you to visit to pay the fee on.
If you click through, you're taken to a phishing site, again disguised in DPD's branding, where you're asked to enter your card details and make the payment.
This is exactly what happened to Claire, who clicked through to the fake website and attempted to pay the fee.
Fortunately in her case Claire's bank recognised the payment she was attempting to make was suspicious and blocked the transaction from going through. At this stage, Claire realised what was really going on and put a complete stop to the transaction.
But with such convincing tactics, many others aren't as lucky. If the payment had been successful not only would the money have been sent to fraudsters, but they would also have captured the victim's card details.
How can I tell if a Facebook Marketplace buyer is genuine?
Alarm bells should ring if someone you're arranging to sell an item to attempts to complete the transaction via a third party. As the seller you should never be placed into a situation in which you're making payments or being asked to visit third-party sites.
Take your time to assess any contact you receive and do not be rushed or panicked into making any rash decisions.
You should also take the time to check the profile of the potential buyer - if the profile is light on information, appears to be a pseudonym or contains no photos or activity then you may wish to tread carefully.
What should I do if I've fallen victim to a phishing site?
If you think you may have sent money to fraudsters and/or given your card details away in the process, you need to contact your bank via its genuine channels immediately.
Your bank should then work with you to secure your account, cancel the compromised card and issue a replacement. It should also work with you to get your money back.
How can I report Facebook Marketplace scams?
Facebook's website says you can report a scam buyer on Facebook Marketplace by navigating to your listing, locating the messages between you and the buyer and clicking the three dots.
Sellers can be reported in the same way.
Fake emails and phishing websites should also be reported to the National Cyber Security Centre on report@phishing.gov.uk - action can then be taken to remove these websites before anyone else falls victim.
A spokesperson for DPD said: "We are aware of this particular scam and can confirm that DPD would never be involved in marketplace collections, 'insurance fees' or cash payments like this. We would advise people to be very wary of any approach similar to this via marketplaces.
"While we continue to do everything we can to stay one step ahead of fraudsters, we cannot prevent cybercriminals from targeting individuals.
"With emails purporting to be from DPD, our advice is always to check the email address is valid. Often this is forged and looks different from the three domains we use: dpd.co.uk, dpdlocal.co.uk or dpdgroup.co.uk. Also check any links are to the site you're expecting to see. Fraudsters will attempt to trick individuals by changing letters or numbers within links.
Anyone who believes they have been a victim of online fraud should report it to the National Cyber Security Centre at report@phishing.gov.uk.
Meta, which owns Facebook, was approached for comment but did not respond.
Related articles
Look After My Bills Newsletter
Get the best money-saving tips, tricks and deals sent straight to your inbox every week. Make sense of your money in partnership with The Money Edit.
George is a freelance consumer journalist with a keen interest in scams and housing. He worked for the Consumers' Association for seven years where he was the editor of Which? Conversation - his work on exposing new scams saw him often quoted in the national press.
George has been at the forefront of the cladding and building safety crisis, campaigning for the rights of leaseholders and giving a voice to those caught up in the scandal - as a result he was nominated for Property Journalist of the Year in 2021 at the Property Press Awards.