Should I extend my lease?
Looking to extend your lease? We look at the pros and cons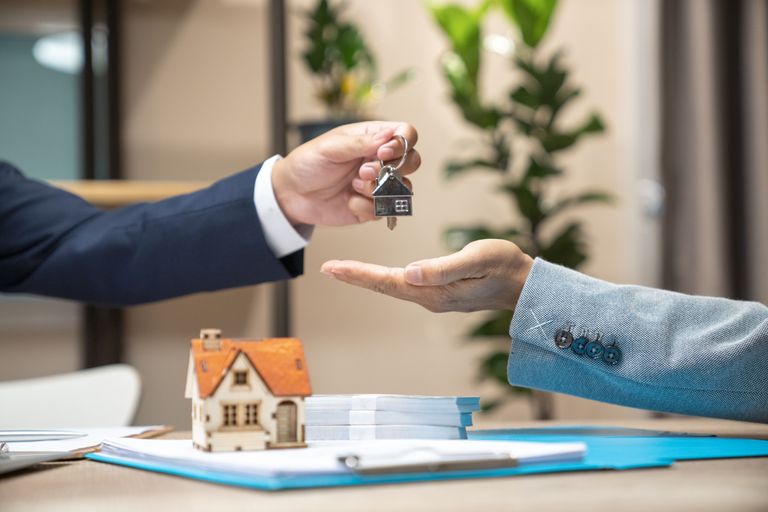 (Image credit: Getty images)
Millions of homeowners live in leasehold properties, where they own a lease to inhabit their home for a fixed period, rather than the property itself. They have a landhold who retains the freehold to the property - and they have to negotiate on matters such as buildings insurance and communal areas.
One of the tricky issues for leaseholders is deciding whether to extend a lease - and if so, when to do it, how to do it, and how much to pay. Extending a lease can be very costly, with homeowners racking up bills that come to thousands of pounds.
The good news is that the government has proposed to make the process simpler and cheaper. On the downside, however, it's not clear when the rules will come into effect - and that puts leaseholders today in an even trickier position.
''Whilst the reforms definitely seem beneficial in the long run, it does pose a problem for the market at present," warns Stuart Collar-Brown, founder of property firm My Auction. "Many homeowners who would be extending their leases now might be inclined to wait until these reforms are made official."
Below, we look at the government's lease extension proposals, as well as why you might want to extend a lease and how to do it.
What are the proposed leasehold reforms?
There are about 4.5million leasehold homes in England, of which 3.1million are flats. Following years of pressure, the government announced new rights for leaseholders in January 2021. The proposals include:
Homeowners who extend their leases will be able to increase them by 990 years. Currently, flat owners can increase their leases as often as they like, but only for 90 years each time, while house owners can extend only once, and by only 50 years.
Extending a lease will become cheaper, because one of the costs of extension, the "marriage value", will be abolished. Ground rents will also be capped for those who are liable to pay them.
New leases will become cheaper. The Ground Rent Bill will remove ground rents on new leases, including those on retirement leasehold properties.
An online calculator will be introduced to make it simpler for leaseholders to
find out how much it will cost to buy their freehold or to extend their lease. The formula will include a discount for any improvements the leaseholder has made, and there will be a separate methodology for low-value properties.
A Commonhold Council will be established, consisting of leasehold groups, industry and government, with the aim of making commonhold ownership more widespread.
Commonhold gives leasehold flat-owners more control over the management of their developments.
The government says the measures "part of the biggest reforms to English property law for 40 years", but there is no definitive timescale for implementation.
According to Alex Ingram-Hill, head of valuation and surveying at estate agents John D Wood & Co, the most important proposal for leaseholders is the abolition of marriage value. "For leaseholders with leases under 80 years, the removal of marriage value could save significant money, as this can account for up to 50% of the premium in some cases. If this is enacted, it would be a massive change," he says.
Matthew Crockford, property associate at law firm B P Collins, says leaseholders could also save thousands of pounds in reduced ground rent over the term of an existing lease if it's extended, especially if the current ground rent is uncapped and subject to escalation.
Separately, there are also plans to give homeowners more rights to buy the freehold to their property. In January, the government launched a consultation saying it wanted to make the procedure "simpler, quicker and more flexible for leaseholders".
When will the leasehold reforms come into effect?
There are two parts to the legislation. The first stage is the Ground Rent Bill, which will remove ground rents on new leases. While the initial draft bill has been published, it hasn't been passed yet. This could potentially happen later this year.
The second part of the legislation will focus on the rest of the proposals. It is unclear when these will pass through Parliament. Crockford says the industry thinks the rules could be enacted in 2024/25 - but there is no certainty, and the current proposals could change significantly before they become law.
Why do I need to extend my lease?
Owning a leasehold gives you the right to live in a property for a set amount of time. A leasehold property is ultimately returned to the freeholder or landlord when the lease ends.
For example, a 134-year lease on a flat allows someone to live there for 134 years. But that does not mean you can run the lease down towards zero and not give it any thought until that happens.
A long lease of more than 100 years can add thousands of pounds to the property's value. A lease of less than 80 years can be a big turn-off for prospective buyers - that will knock money off the asking price when you come to sell your home. The lease also becomes much more expensive to extend as the clock ticks down.
"If leaseholders have a lease of 80 years or less, they should seek to extend their leases where possible to preserve the sale value of the home as lenders look at length of lease," comments Mark Hayward, chief policy advisor of industry body Propertymark.
Most lease extensions occur when a homeowner is looking to sell their property and they want to improve the marketability and price. But it also makes sense to consider this option when the lease is close to dipping under the 80-year threshold.
The number 80 is important. When a lease drops below 80 years, 50% of the marriage value is included in the price of extension. This is not payable when the term left is more than 80 years.
Crockford explains: "Marriage value is a calculation, usually carried out by an accredited surveyor, which determines the increase in the value of the property following the completion of the lease extension and reflects the additional market value of the property's longer lease.
"The leaseholder must pay half of that perceived uplift in the value of the property's lease as part of (and often in addition to) the premium payable to the landlord for extending the lease. The further that a lease's term falls below 80 years, the higher the perceived uplift in value of the property's lease will be once it has been extended."
As the lease gets shorter, its value starts to drop more sharply, which means the cost of extending the lease rises disproportionately. This is especially true when the remaining lease length is under 20 years.
It's not just about the money though. If a lease has less than 70 years left, it will be very difficult, if not impossible, to get a mortgage, since lenders are reluctant to make advances on such properties.
Should I wait for the new rules before extending my lease?
If you have fewer than 90 years on your lease and you think you may want to sell in the near future, the answer is probably no. We don't yet know when the reforms will be introduced, and it is also unclear how much money they will save leaseholders.
Ingram-Hill says the same applies applies to very short leases - sub 20 years - where there is less marriage value in the equation; the saving from removing marriage value is less, and the effect of waiting is much greater.
He adds: "For those in between, it is a case of how confident people are in the likelihood of this government delivering on these promises."
Crockford agrees. He points out that the new rules probably won't come into force for another three or four years, and the longer a leaseholder waits to extend their lease, the more expensive it becomes.
In other words, the amount you save from the new rules in the future could be less the savings you make from extending your lease now rather than waiting.
How do I extend my lease?
There are two ways to extend a lease: the statutory route and the informal (voluntary) route. The former applies to leaseholders who have owned their property for at least two years - they have a statutory right to extend.
In which case, the first thing to do is find a solicitor. They can serve a formal notice on the landlord confirming that you wish to extend your lease, and provide details of the premium you are willing to pay. A specialist valuer can help you calculate this premium.
The landlord has a set period in which to respond and can either agree or make a counter-offer. If no agreement is reached, the parties negotiate until terms are agreed. If you still can't agree, you can apply to a tribunal to have the matter settled.
Once you agree terms, you and your landlord have three months to complete the lease extension. This statutory route means that the leaseholder receives an extended lease of the remaining term plus 90 years at a peppercorn ground rent (this means ground rent is reduced to zero).
Alternatively, a leaseholder can approach the landlord informally at any time to request a lease extension. The landlord does not have to agree. There are no prescribed terms that the landlord must offer to the leaseholder regarding extended term or ground rent.
Voluntary deals can be quicker, and carry lower fees, but buyers should be wary of the terms a freeholder is offering, especially around ground rent.
If you are extending the lease on a house, different laws apply. You usually only have the right to extend the lease on a house by 50 years, rather than 90 years with flats. The freeholder could grant more than 50 years, but it doesn't have to.
How much does extending a lease cost?
There are several factors that affect the cost of an extension, including the value of the property and the length of the existing lease. If there is ground rent, this may also be a factor.
Bear in mind that in addition to the cost of the extension itself, there will be other costs. For example, the leaseholder normally pays the landlord's legal and other professional costs, as well as their own.
One top from the professionals is to find out whether any of your neighbours have extended their leases; if so, ask them what they paid to give you an idea of what is reasonable.
As an example, lease extension specialist Homehold says extending an 85-year lease on a £200,000 flat by the statutory 90 years could cost about £9,500. This is made up of £5,500 for extending the lease, and £4,000 in professional fees. That's quite a sum, but Homehold also estimates that the value of the property could increase by £16,500 as a result.
Ruth Emery is contributing editor at The Money Edit. Ruth is passionate about helping people feel more confident about their finances. She was previously editor of Times Money Mentor, and prior to that was deputy Money editor at The Sunday Times. A multi-award winning journalist, Ruth started her career on a pensions magazine at the FT Group, and has also worked at Money Observer and Money Advice Service. Outside of work, she is a mum to two young children, a magistrate and an NHS volunteer.