Energy Ofgem rebate scam warning: how to stay safe from latest fraud attempt
How to spot the Ofgem energy rebate scam as scammers try to take advantage of the cost of living crisis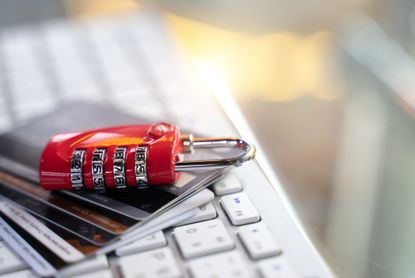 (Image credit: Getty images)
Energy rebate scams posing as Ofgem via fake texts, phishing emails and cold calls are becoming more dangerous as energy bills rise.
As inflation continues to rise and a new energy price cap to be announced on Friday, Ofgem has issued multiple warnings via its social media channels that thieves are posing as the regulator in order to steal bank details via fake websites.
Here's how to recognise the energy rebate scam attempts and prevent a bad situation from becoming much worse.
What do Ofgem energy rebate scam texts look like?
Ofgem's comms team posted an alert on neighbourhood social network Nextdoor containing an example of a text message that has nothing to do with it:
As is the case with most fake text messages (known as 'smishing'), a link is provided that takes you to a fake website posing as the organisation or brand it alleges to have been sent from.
In this case the message is urging you to complete an 'application' for the £400 energy bill rebate. Ofgem says that the website then requests that you supply your bank details. If you proceed, all you're doing in reality is handing those details over to the scammers behind the SMS.
How will I really be contacted about the £400 discount?
Remember, you will not be contacted about the Energy Bills Support Scheme in this way. The government has said if you have a domestic electricity meter and pay for energy via standard credit, payment card or direct debit you will automatically receive the deduction to your bills over a six month period from October 2022.
But, if you have a traditional prepayment meter you will need to be extra vigilant for scams like this, as the Government has announced it will provide energy bill discount vouchers from the first week of each month which can be issued via SMS text.
They may also be sent via email or post and require you to take action to redeem them.
But the key information as provided by the Government is as follows: no household should be asked for bank details at any point.
What do Ofgem energy rebate scam emails look like?
Working in a similar way to the fake text messages, the phishing emails purporting to be from Ofgem also arrive out of the blue and attempt to send you on to a fake website:
⚠️There's reports thieves are emailing consumers saying they're from Ofgem & asking for direct debit details to refund the winter energy repaymentTHIS IS A SCAMCheck links & be #ScamAwareWhat to do you if you've received a suspicious email ➡️https://t.co/ufab0pb6tI pic.twitter.com/RoLeMAM4keAugust 23, 2022
See more
These fake websites again request your bank details, in this case your card number, expiry and CVV/CVC number.
How can I spot Ofgem energy rebate scam cold calls?
Ofgem states that it would never sell you energy or to ask for personal information. Nor would it come to your property.
If you've received a call that tries to rush or panic you into a decision, do not proceed, especially if the caller is requesting sensitive information such as bank details or passwords.
Ofgem has issued its own advice for avoiding impersonation scams here.
I think I've been scammed, what should I do?
If you think you may have given sensitive information away to fraudsters, contact your bank ASAP via its official channels. Depending on exactly what's taken place, the bank should work with you to cancel your card (if necessary) and recover your money.
Never sit in silence. Always report a scam and get your money back.
How do I report these scams?
Fake text messages can be reported by forwarding them to 7726 (spells SPAM on the keyboard), while phishing emails can be reported to the National Cyber Security Centre on report@phishing.gov.uk
You can also report these scams to Action Fraud.
Ofgem can then be told directly about scammers impersonating the regulator by contacting it on consumeraffairs@ofgem.gov.uk
It can be helpful if you provide a screenshot and brief description of the communication you're reporting.
Are there other Cost of Living related scams to watch out for?
As shown by the pandemic, fraudsters will attempt to take advantage of any crisis by posing as Government departments, the NHS and any other brand you'd associate with the detail of what's going on in the world.
The Cost of Living crisis and even extreme heatwaves are no different - there are also reports of cold calls from 'water companies' requesting payment for hose pipe usage and others impersonating not just Ofgem, but energy companies themselves.
Don't get rushed into taking action, if you're ever unsure the contact you've received is genuine, take a moment to assess the situation. Contact the brand or organisation via its official channels and ask it to verify what you've received - it could well end up making all the difference at a time when things are already difficult enough.
Look After My Bills Newsletter
Get the best money-saving tips, tricks and deals sent straight to your inbox every week. Make sense of your money in partnership with The Money Edit.
George is a freelance consumer journalist with a keen interest in scams and housing. He worked for the Consumers' Association for seven years where he was the editor of Which? Conversation - his work on exposing new scams saw him often quoted in the national press.
George has been at the forefront of the cladding and building safety crisis, campaigning for the rights of leaseholders and giving a voice to those caught up in the scandal - as a result he was nominated for Property Journalist of the Year in 2021 at the Property Press Awards.