Emergency alert test: what to expect and how to avoid being scammed
Everything you need to know about the UK's first emergency alert test, which takes place this Sunday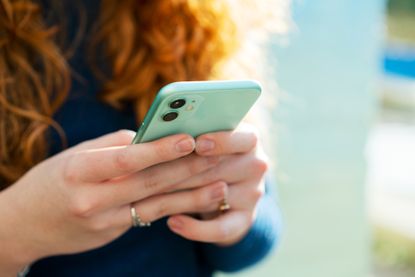 (Image credit: Getty images)
Everything you need to know about the first UK emergency alert test, from what the alert will look like to how to avoid scams.
Millions of mobile phones in the UK will sound a loud alarm at 3pm on Sunday 23 April, as the government tests out its "emergency alert" system. The purpose of the alert is to test a new way of warning people of any life-threatening emergencies nearby, for example, a fire or severe flooding.
Other countries already use the emergency system such as the United States, Japan and Netherlands.
Here's the full low-down on what to expect on Sunday and how to make sure you don't fall for any scams.
Will everyone get the emergency alert?
The alert will be sent to all mobile phones that are connected to the UK's 4G or 5G networks. If you have an old device and rely on the 2G or 3G network you won't receive the alert. Note: only certain versions of iPhone or Android support emergency alerts.
iPhone users need to have iOS 14.5 or later (note that iPads do not support alerts).
Android and tablet users need to have Android 11 or later. For older Androids, you can check your settings and see if you can turn on "emergency alerts", if the option is there.
To check what version your device is running on:
For iPhone users: Open settings, then tap "general" and then "about".
For Android users: Open settings and tap "about", or search "software information".
What does the alert look like?
When you receive the alert on Sunday at 3pm, you can expect a message on your home screen with a sound and vibration for up to 10 seconds.
The sound will ring even if your phone is on silent and you will hear the alert being read out.
The message will say:
"This is a test of Emergency Alerts, a new UK government service that will warn you if there's a life-threatening emergency nearby.
"In a real emergency, follow the instructions in the alert to keep yourself and others safe.
"Visit gov.uk/alerts for more information.
"This is a test. You do not need to take any action."
After the alert has finished, you can swipe the message away or click "OK" on your home screen.
This video gives an idea of what the alert will look like on your phone:
How to spot and avoid emergency alert scams
Lisa Webb, scams expert at the consumer group Which?, says: "Scammers will use any hook they can to try and steal money and personal information from victims, and unfortunately the government's upcoming nationwide test of its new emergency alerts system will be no exception.
"It's vital anyone who receives the official test alert is aware that no action is required. If you are asked to download an app or provide information, this is likely to be an unscrupulous fraudster trying to trick you and should be ignored at all costs."
Which? told The Money Edit that people should in particular be on their guard against text message scams.
The government's message in the alert says "You do not need to take any action", so if you receive a text message, email or even phone call asking you for your location, bank details, email address or anything in relation to the emergency alert, you should ignore it.
Webb adds: "The government has said it will be including a website link with more information about the alerts in the message it sends out, but it's worth considering looking this information up separately through the official government website rather than risking clicking on lookalike links from fraudsters.
"People can report any scam calls or texts they receive to 7726. If you or a loved one do fall victim to a scam then contact your bank immediately and report it to Action Fraud."
What to do if you don't want the alert
Some people, for example, someone living with domestic abuse who has a hidden, secret phone, might want to stop the alarm from going off. The easiest way to opt out of the alert test is to switch off your phone before the test on Sunday at 3pm.
Lucy Hadley, head of policy at the charity Women's Aid, says: "The emergency alerts pose a risk, not only because an abuser could discover a survivor's second phone, but also because they could use this as a reason to escalate abuse."
Note: putting your phone onto silent mode won't make a difference, the alert will still come through. To opt-out altogether, switch your phone off completely.
How to opt out of future alerts
The government advises keeping the emergency alerts setting on. But after the test, if you do not want to receive any future emergency alerts, there is a way to opt out.
Here's how you can opt out of future alerts: Open settings and search "emergency alerts", and turn off notifications for "severe alerts" and "extreme alerts".
Vaishali graduated in journalism from Leeds University. She has gained experience writing local stories around Leeds and Leicester, which includes writing for a university publication and Leicester Mercury.
She has also done some marketing and copywriting for businesses.
When she is not writing about personal finance, Vaishali likes to travel and she's a foodie.