eBay vs Vinted - which is better for selling your preloved items?
We find out which is better for selling your preloved goods online, eBay or Vinted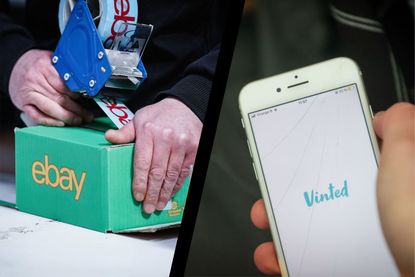 (Image credit: Ki Price / VIRGINIE LEFOUR )
Whether the goal is to make a bit of extra cash on the side or declutter your wardrobe, selling online is the way to go but which platform is best to sell them on, eBay or Vinted?
Shopping and selling on online marketplaces like eBay and Vinted have become a lot more popular over the years as there's been more focus on environmental benefits.
When reality TV show Love Island partnered with eBay for their 2022 summer series, eBay saw searches for 'pre-loved fashion' increase by 700%, according to Influencer Intelligence.
So we compare both, eBay vs Vinted to find out which is worth your while.
eBay vs Vinted
Should I sell on eBay?
We give you the low down on the most important points you need to know before selling on eBay.
Number of users
eBay has 135 million users according to eDesk.
Selling fees
As a seller, you get up to 1,000 listings free and for anything beyond that, you pay 35p per listing.
eBay also takes a commission for what you sell under their 'final value fee'. So, on every sale you make, eBay charges a 12.8% final value fee on every sale which includes the item's price, postage, taxes, a 30p fixed charge per order and other fees.
So, if you sold an item for £10, you take home £8.72 and eBay takes their £1.28 cut.
Different rules apply if you make a sale of more than £2,500, in which case you pay an additional 3% fee on the amount that is over £2,500. To break it down, if you made a sale of £3,000, you would get charged a 3% fee on the £500 that is above £2,500.
And don't panic if your item doesn't sell. There will be no final value fee and you can always relist the item.
Selling options
Swipe to scroll horizontally
Upgrade
Description
Fee per listing
Buy it Now price
This is a fixed sale price that is shown to shoppers
50p
Auction listing
An auction listing allows buyers to bid on the active items you list. Whoever gives you the highest bid wins the listing.

Row 1 - Cell 2
Reserve price
You can set a 'reserve price' which means a minimum price, so it prevents your item from selling until it reaches a minimum amount. If you choose the reserve price option, a winner won't be chosen until that minimum price is reached.
Row 2 - Cell 2
Subtitle
A line of text that is shown beneath your listing in the search results. This helps the listing stand out.
£2
List in two categories
Listings can get more exposure if you add a second category for it to show in.
35p
Gallery Plus
This is when a buyer hovers over your listing image in search results (in thumbnail view), and your images get larger.
£2.50 or free when listing clothing, shoes, accessories, home, furniture and DIY.
Scheduler
You can schedule when your listings go live.
Private sellers- free for the first 1,100 listings.
Other sellers- free for 1,000 listings.
After that, there is a 6p charge per listing.
Promoted listing
You have the option to advertise your listing to boost its visibility.
Depending on what type of advert you choose, you will get charged either a flat fee or a fee based on a percentage of the sale.
Special duration
You are able to choose a one or three-day duration for your listing.
35p. Private sellers with a basic shop get 100 free listings that include special duration.
Shipping fees
Sellers take care of shipping costs, but this doesn't mean you will be out of pocket.
You have control over what you want to change and you have the option of either passing the full shipping cost onto the customer or part of it, within the item's full price.
See our full eBay seller's guide for tips when charging a shipping fee, how to list your items for success and our top tips for selling.
Should I sell on Vinted?
Rival platform Vinted is another popular choice for selling preloved goods. Here's a breakdown of fees and important information.
Number of users
According to Craft data, Vinted has over 45 million users.
Selling fees
There is no selling fee on Vinted for sellers. But, there are options to boost your listings which you have to pay for.
Selling options
So, as well as using the free platform to sell your preloved items, Vinted has two other options which boost your listings to get them seen by more users. Vinted lets you 'bump' your listings or opt for their 'Wardrobe Spotlight' feature.
You can bump your listings for either three or seven calendar days, and your listing will appear in users' newsfeed, and catalogue searches and it pushes your items out to a specific target audience that would have interest in your product.
This feature doesn't have one fee for all. Vinted determines a fee based on how much you are selling the product for, and you should note that after bumping your time, if you change the price, Vinted can also change your fee.
If your bumped item gets removed by Vinted because it didn't comply with their guidelines, then you are not eligible for a refund.
Another paid feature on Vinted called Wardrobe Spotlight' pushes multiple listings out in one go. The only caveat is that you must always have five items in your wardrobe.
This means, if one item gets sold and you are left with four in the wardrobe, the paid feature will stop running until you add another item.
Similarly, if Vinted removes one of your items, the paid feature will stop running and you will not be eligible for a refund.
Wardrobe spotlight costs £6.96 to use and your items get pushed out on users' newsfeeds, most favourited items, catalogue search results and filters.
Check out our full guide on how to sell on Vinted which walks you through how to work these paid features on the Vinted app, as well as our top tips when it comes to selling.
Shipping fees
Most of the time the buyer pays the shipping fee which is added at checkout to the total price. You will get a pre-paid label to put on your parcel.
As there are a few shipping options available, some may ask for an upfront payment which means you will have to pay in the interim, and then you can add the cost to the item you're selling and get reimbursed for it later. Vinted uses Evri, InPost, Yodel and UPS Access Point.
The verdict
eBay has many more users on the platform than Vinted, and it gives sellers a lot more options to boost listings than Vinted.
Also, there's a lot more scope for selling different types of goods on eBay like clothing, homeware and electronics. Vinted is mostly known for selling clothing and accessories.
But that doesn't mean you should discount Vinted. When it comes to costs and a simple, straightforward process, Vinted wins.
Vinted charges no fee to sell on the platform (a big tick), and they take no commission, so you take away the full amount of what you sell.
On eBay, you can sell your first 1,000 listings for free, but after that, you pay 35p per listing. So if you think selling online is going to be a long-term thing, you should factor that cost in. And don't forget, eBay charges a commission on your sales under their final value fee. They take away 12.8% of the final price. So, if you sold an item for £10, they take £1.28 commission and you get just £8.72 of your sale price.
When it comes down to it, both platforms are good to sell on but it depends on your goals. So, when choosing between eBay and Vinted, you should ask yourself these questions:
Is selling online a short-term or long-term venture?
How much do I aim to make per five listings or per month?
Will my items sell without promotion or do I need more options to boost my listings?
Vaishali graduated in journalism from Leeds University. She has gained experience writing local stories around Leeds and Leicester, which includes writing for a university publication and Leicester Mercury.
She has also done some marketing and copywriting for businesses.
When she is not writing about personal finance, Vaishali likes to travel and she's a foodie.