EasyJet and BA flight cancellations: what are your refund rights?
Has your EasyJet or BA flight been cancelled? We explain how to claim a refund and compensation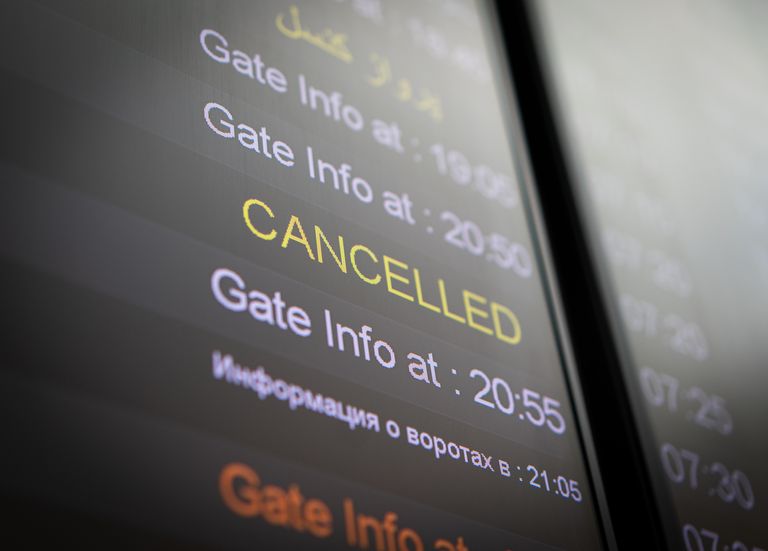 (Image credit: Getty)
Thousands of passengers looking to make an Easter getaway continue to have their plans disrupted as British Airways and EasyJet cancel more flights.
On Wednesday (6 April) British Airways axed at least 78 flights at Heathrow, while EasyJet cancelled at least 30 at Gatwick. There were 62 cancellations on Monday and at least 222 flights across Saturday and Sunday.
The high number of cancellations has led to travel chaos and misery at airports, with holidaymakers confused about whether they'll be able to jet off on their trips - and whether they're entitled to a refund or compensation.
Anna-Marie Duthie, travel insurance expert at the financial analyst Defaqto, said: "For many families, this Easter was the first opportunity to get away [since the end of Covid travel restrictions], however there has been more disappointment for travellers with the recent flight cancellations. Anyone planning to travel should ensure they know what they are entitled to and where to turn should they be affected."
We explain what you can do if you've been affected by the EasyJet and British Airways disruption. You may also find our guide on your rights if your holiday is cancelled useful too.
WHY ARE FLIGHTS BEING CANCELLED?
EasyJet said the disruption to its flights was caused by 'higher than usual levels of employee sickness' due to Covid, and that it was cancelling 'some flights in advance, in order to give customers notice'.
Meanwhile, the delays and cancellations seen on BA's flights are due to a major IT meltdown on March 30.
There are also staff shortages at airports and airlines, which is making the issue worse.
Passengers of both airlines have complained on social media, and there are reports of huge queues at airports such as Birmingham and Manchester, and long waits to get through to airline customer services on the phone.
MY FLIGHT HAS BEEN CANCELLED - DOES THE AIRLINE HAVE TO REBOOK ME A NEW ONE?
If an airline cancels your flight, it must offer to rebook you for another one. This should be on a route that gets you to your destination as close to your arrival time as possible. This may mean flying with a different airline, or even with Eurostar if it is to a location like Paris or Amsterdam.
This applies to all passengers regardless of the reason for the cancellation or how much notice you were given about the cancellation.
According to the regulator the Civil Aviation Authority, if the cancelling airline has another flight on the same day, it can rebook you on that. This extends to partner airlines (for example, for British Airways, that includes Iberia, Aer Lingus and Qatar Airways).
If the replacement route is from or to a different airport, the cancelling airline must provide or pay for any additional transport. For example, if you were supposed to fly from Heathrow and this flight has been cancelled, and BA has rebooked you a new ticket on a plane departing from Gatwick, it would also need to arrange transport or pay your expenses to get to Gatwick.
However, airlines can be reluctant to rebook an alternative route for affected passengers. If this happens, you can buy your own ticket and then claim it back.
You can claim it back online for both BA and EasyJet. But beware, Airlines can be slow to process these claims so it could be weeks before you get your money back.
WHAT ARE MY REFUND RIGHTS?
If your flight has been cancelled, you have a right to choose between a full refund or to be put on an alternative flight to your destination.
So, you can only choose a refund or rebooking, not both.
You are also entitled to a refund for the full price of your ticket if you miss a connecting flight due to your first flight being cancelled.
Any refund should be a cash refund (in practical terms, this means having the cost paid back to you via the original payment method that you used to book the flight). Airlines may offer vouchers or air miles - but you do not need to accept this. EU Regulation 261, which was written into UK law at the end of the Brexit transition period, means you are entitled to a full cash refund.
If the airline is unhelpful and you paid for your flight with a credit card, an alternative is to contact the card provider to ask for a refund, as it is jointly liable along with the airline under Section 75 of the Consumer Credit Act 1974.
We are receiving lots of questions around vouchers, refunds and entry requirements so we've pulled together some updates and top tips to help you.Head to YouTube to watch our video now:https://t.co/c9Q1ZZ6BtDMarch 11, 2022
See more
CAN I CLAIM FOR MEALS AND/OR A HOTEL STAY IF MY FLIGHT IS CANCELLED?
If your flight's delayed for at least two hours, and the journey is less than 1,500 km (for example Glasgow to Amsterdam), then the airline must provide you with "a reasonable amount of food and drink, often provided in the form of vouchers", according to the CAA.
The airline also has to give you a "means to communicate" (this typically means paying for two phone calls or emails), and free hotel accommodation and hotel transfers if an overnight stay is required.
For longer flights, the delay has to be bigger before an airline's obligation to provide you with refreshments kicks in. For journeys of 1,500km-3,500km (for example, East Midlands to Marrakech), the delay must be at least three hours. Meanwhile flights over 3,500km (such as Heathrow to Hong Kong) must endure a delay of at least four hours.
If you are given a voucher and feel it is inadequate, you can claim for reasonable additional expenditure.
Bear in mind that airlines are unlikely to reimburse you for alcohol or luxury hotel stays.
AM I ENTITLED TO COMPENSATION?
BA and EasyJet passengers who receive little notice about their cancelled flight may be entitled to compensation.
If you received fewer than seven days' notice of the cancellation, you can claim compensation based on the timings of the alternative flight. If the flight is under 1,500km, you can claim £220 for delays of at least two hours.
For 1,500km – 3,500km journeys, you must be delayed by at least three hours to receive £350 redress.
Passengers on long-haul flights of over 3,500km are entitled to compensation of £260 or £520 depending on the delay.
If you are told about the cancellation between seven and 14 days before you are due to fly, the compensation rules are slightly different, with the amounts ranging from £110 to £520.
If you receive more than 14 days' notice, you are not entitled to compensation. However, you must still be offered the chance to rebook your journey or be given a full cash refund.
While many passengers should be able to claim compensation for the BA and EasyJet disruption, not all delays qualify. Reasons for an airline to refuse compensation include technical issues with an aeroplane, security risks, severe weather and drone disruption.
CAN I CLAIM ON MY TRAVEL INSURANCE?
Your travel insurance may offer cover for delays.
Some insurers may pay out a lump sum based on the length of delay, while others will refund you for costs such as overnight accommodation or alternative transport.
However, delay cover usually only kicks in if the delay is due to adverse weather, strikes or mechanical aircraft failure. So, it may not cover any delays caused by the cancelled flights with BA and EasyJet.
Dig out your policy and check the wording to find out if you can make a claim. If you have a packaged bank account, your bank may provide travel insurance, so double-check the terms and conditions on that policy too.
Anna-Marie Duthie commented: "If you have been unable to claim your money back from the airline or paid by debit card, your insurer may cover you. Most policies (95% of annual travel policies) will also provide cover for the cost of incidentals, such as meals, refreshments and essentials you need for the time you are delayed.''
According to Defaqto, the most common payout from insurers for an initial flight delay is £20. The maximum is £250.
The minimum period of delay covered varies from two to 24 hours, with the most common being 12 hours.
Ruth Emery is contributing editor at The Money Edit. Ruth is passionate about helping people feel more confident about their finances. She was previously editor of Times Money Mentor, and prior to that was deputy Money editor at The Sunday Times. A multi-award winning journalist, Ruth started her career on a pensions magazine at the FT Group, and has also worked at Money Observer and Money Advice Service. Outside of work, she is a mum to two young children, a magistrate and an NHS volunteer.