Flight cancellations: what are your refund rights?
With flight cancellations and delays expected to continue over the festive period due to strike action and bad weather, we explain your rights, and how to claim a refund and compensation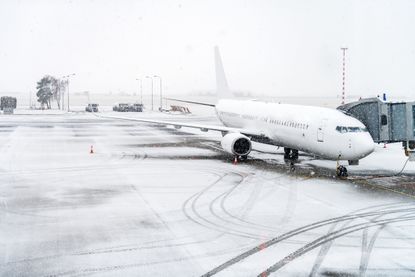 (Image credit: Getty images)
If you've been caught up in flight cancellation chaos, make sure you know your refund rights to ensure you are not left out of pocket. After snow caused widespread travel disruption in mid-December, it looks like Christmas getaways for many could also be affected due to bad weather and/or strike action by airport staff.
Hundreds of flights were cancelled yesterday after heavy snow grounded aeroplanes. Affected airports included Heathrow, Gatwick, Stansted and Belfast City.
Further bad weather this month could bring more misery for travellers, with holidays disrupted and plans to spend Christmas with friends and family ruined.
Strikes by key staff will compound problems further. Unite members employed by Menzies will take part in strike action from 16 December for 72 hours, affecting baggage handling at Heathrow.
Border Force staff at airports including Heathrow, Gatwick, Manchester, Birmingham, Glasgow and Cardiff will strike between 23 and 31 December.
Meanwhile, Eurostar security staff will strike on 16, 18, 22 and 23 December, which the RMT union says will "severely affect Eurostar services".
If you've got a flight coming up that you're worried could be disrupted - or a recent flight was delayed or cancelled - we explain your refund rights and whether you can get compensation.
My flight has been cancelled - does the airline have to book me a new one?
If an airline cancels your flight, it must offer to rebook you onto another one. This should be on a route that gets you to your destination as close to your arrival time as possible. This may mean flying with a different airline, or even with Eurostar if it is to a location like Paris or Brussels.
This applies to all passengers regardless of the reason for the cancellation or how much notice they were given about the cancellation.
Lisa Webb, Which? consumer law expert, comments: "Flight cancellations due to snow can be extremely frustrating, but travel companies still have a duty of care to passengers so should provide clear information about their rights to assistance or a refund.
"If flights are cancelled, airlines must offer refunds or rebooking on another flight at the earliest available opportunity, even if that means booking a seat with a rival carrier."
According to the regulator the Civil Aviation Authority (CAA), if the cancelling airline has another flight on the same day, it can rebook you on that. This extends to partner airlines (for example, for British Airways, that includes Iberia, Aer Lingus and Qatar Airways).
If the replacement route is from or to a different airport, the cancelling airline must provide or pay for any additional transport. For example, if you were supposed to fly from Heathrow and this flight has been cancelled, and BA has rebooked you a new ticket on a plane departing from Gatwick, it would also need to arrange transport or pay your expenses to get to Gatwick.
However, airlines can be reluctant to rebook an alternative route for affected passengers. If this happens, you can buy your own ticket and claim it back.
You can claim it back online for BA and EasyJet. But beware, airlines can be slow to process these claims so it could be weeks before you get your money back.
What are my refund rights?
If your flight has been cancelled, you have a right to choose between a full refund or to be put on an alternative flight to your destination.
So, you can only choose a refund or rebooking, not both.
You are also entitled to a refund for the full price of your ticket if you miss a connecting flight due to your first flight being cancelled.
Any refund should be a cash refund (in practical terms, this means having the cost paid back to you via the original payment method that you used to book the flight). Airlines may offer vouchers or air miles - but you do not need to accept this. EU Regulation 261, which was written into UK law at the end of the Brexit transition period, means you are entitled to a full cash refund.
If the airline is unhelpful and you paid for your flight with a credit card, an alternative is to contact the card provider to ask for a refund, as it is jointly liable along with the airline under Section 75 of the Consumer Credit Act 1974.
Can I claim for meals and/or a hotel stay is my flight is cancelled?
If your flight's delayed for at least two hours, and the journey is less than 1,500 km (for example Glasgow to Amsterdam), then the airline must provide you with "a reasonable amount of food and drink, often provided in the form of vouchers", according to the CAA.
The airline also has to give you a "means to communicate" (this typically means paying for two phone calls or emails), and free hotel accommodation and hotel transfers if an overnight stay is required.
For longer flights, the delay has to be bigger before an airline's obligation to provide you with refreshments kicks in. For journeys of 1,500-3,500km (for example, East Midlands to Marrakech), the delay must be at least three hours. Meanwhile flights over 3,500km (such as Heathrow to Hong Kong) must endure a delay of at least four hours.
If you are given a voucher and feel it is inadequate, you can claim for reasonable additional expenditure.
However, bear in mind that airlines are unlikely to reimburse you for alcohol or luxury hotel stays.
Am I entitled to compensation?
This depends on the reason for the delay or cancellation, and also the amount of notice you received.
Extreme weather is considered an extraordinary circumstance, outside of an airline's control, so it is unlikely travellers affected by the snow will receive compensation.
Other reasons for an airline to refuse compensation include technical issues with an aeroplane, security risks and drone disruption.
However, you are usually entitled to compensation if your flight was cancelled due to strike action, and you were not notified of this at least 14 days prior to your scheduled departure.
If you received fewer than seven days' notice of the cancellation, you can claim compensation based on the timings of the alternative flight. If the flight is under 1,500km, you can claim £220 for delays of at least two hours.
For 1,500-3,500km journeys, you must be delayed by at least three hours to receive £350 redress.
Passengers on long-haul flights of over 3,500km are entitled to compensation of £260 or £520 depending on the delay.
If you are told about the cancellation between seven and 14 days before you are due to fly, the compensation rules are slightly different, with the amounts ranging from £110 to £520.
If you receive more than 14 days' notice, you are not entitled to compensation. However, you must still be offered the chance to rebook your journey or be given a full refund.
Can I claim on my travel insurance?
Your travel insurance may offer cover for delays.
Some insurers may pay out a lump sum based on the length of delay, while others will refund you for costs such as overnight accommodation or alternative transport.
Dig out your policy and check the wording to find out if you can make a claim. If you have a packaged bank account, your bank may provide travel insurance, so double-check the terms and conditions on that policy too.
Anna-Marie Duthie, travel insurance expert at the financial analyst Defaqto, comments: "Your travel insurance may provide some cover but this may not be much. Nine out of ten (90%) products will pay £50 or less for the initial period of delay for essentials during that time.
"It is worth checking what cover you have in place and keeping all receipts in case you need to make a claim. For anyone travelling this week, it is worth checking before you set off to save yourself a chilly wait at the airport."
According to Ceri McMillan, spokesperson for Go.Compare Travel, travellers should make sure they buy travel insurance as soon as they book a holiday or flight, "as buying insurance after a strike has been called will mean you won't be covered".
She adds: "Some travel insurance policies may cover delays caused by strikes, but that cover might depend on what your airline does, the length of the delays and the policy that you have taken out. For instance, some policies may cover delays of up to 12 hours while others would only cover you if you have been delayed for 24 hours or more.
"You might also be able to get compensation from your travel insurance for costs associated with missed connections due to the strike action.
"Travel insurance policies and the levels of cover they provide vary significantly, in fact some specifically exclude cover for strikes, which is why it's so important to check the details of your policy before you buy and fly to ensure you know what you are covered for."
Watch out for 8 mistakes that could invalidate your travel insurance
Look After My Bills Newsletter
Get the best money-saving tips, tricks and deals sent straight to your inbox every week. Make sense of your money in partnership with The Money Edit.
Ruth Emery is contributing editor at The Money Edit. Ruth is passionate about helping people feel more confident about their finances. She was previously editor of Times Money Mentor, and prior to that was deputy Money editor at The Sunday Times. A multi-award winning journalist, Ruth started her career on a pensions magazine at the FT Group, and has also worked at Money Observer and Money Advice Service. Outside of work, she is a mum to two young children, a magistrate and an NHS volunteer.