The £150 disability cost of living payment: who will get it and when?
Six million disabled people will get a second £150 cost of living payment in 2023. Here's what you need to know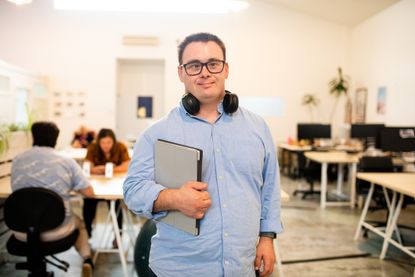 (Image credit: Getty images)
Six million people with a disability will receive a second £150 cost of living payment in 2023. The support was announced in the Autumn Statement by Chancellor Jeremy Hunt.
It comes after the first £150 disability payment in September, which was considered a one-off, tax-free sum for those who claim, or are in the process of claiming, certain disability benefits.
It's expected the new payment will work similarly to the first one but we'll update this article as soon as we know more.
Disability equality charity Scope said the payment to support disabled people will not go far enough due to soaring inflation and energy prices.
James Taylor, Director of Strategy at disability equality charity Scope, said the charity has seen a 670% increase in referrals to its Disability Energy Support service to help disabled people who are struggling financially. "Imagine having to choose between staying warm, feeding your family, or powering essential medical equipment," he said.
Meanwhile, there will also be another £300 for pensioners and £900 for households on means-tested benefits next year.
Here we explain who got the first £150 disability payment, when and how, to give some indication of how the second £150 disability payment will work.
Who will get the £150 disability payment?
You are likely to get the second £150 disability payment if you receive certain disability benefits, or were in the process of making a successful claim as of 25th May 2022. This was the case for the first £150 disability payment.
The benefits you need to be claiming or applying for are:
Disability Living Allowance for adults
Disability Living Allowance for children
Personal Independence Payment
Attendance Allowance
Constant Attendance Allowance
Scottish Disability Benefits (known as Adult Disability Payment and Child Disability Payment)
Armed Forces Independence Payment
War Pension Mobility Supplement
You must have received a payment of one of these qualifying benefits for May 25, 2022 to get the payment.
If you are someone who gets a disability benefit from the Ministry of Defence (MOD) and a disability benefit from the DWP, you will get the £150 Disability Cost of Living Payment from DWP only.
The £150 disability payment is tax-free, and won't count towards the benefits cap or affect any existing benefits you currently claim.
Who won't qualify for the £150 disability benefit?
The first £150 payment was paid to those claiming certain disability benefits, or with claims in, on 25 May.
It meant that if you had applied for disability benefits beyond this date, or your earlier application had been turned down, you didn't get the extra money.
The £150 disability payment didn't apply to carers. However, if carers are on means-tested benefits, they will have received the £650 payment for low income households, and will be in line to receive the new £900 payment.
How will I get the £150 payment?
The first £150 disability payment was made from 20 September.
If you were eligible for it, you didn't have to do anything. There was no need to apply for it as payments were made automatically and paid directly to the account that your benefits get paid into.
Sue Hayward is a personal finance and consumer journalist, broadcaster and author who regularly chats on TV and Radio on ways to get more power for your pound. Sue's written for a wide range of publications including the Guardian, i Paper, Good Housekeeping, Lovemoney and My Weekly. Cats, cheese and travel are Sue's passions away from her desk!
With contributions from